An NYPD cruiser collided with a vehicle in Brooklyn on Thursday night, injuring six people, the NYPD said.
The cruiser and the white sedan crashed into each other around 8:30 p.m. at the intersection of Willoughby and Marcy avenues in Bed-Stuy.
The collision crushed the front-ends of the cruiser and the car. The sides of both vehicles were also damaged.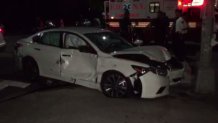 Two police officers were among the six people injured in the crash, the FDNY said. The officers were taken to Methodist Hospital with minor injuries. The four individuals in the sedan were evaluated at the scene.
The cause of the crash isn't yet known. Police said the officers were on their way to investigate a report of an armed man when the accident happened.