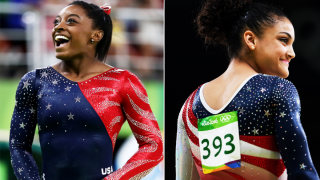 There is no shortage of must-see action on Day 10 of the 2016 Rio Olympics. New Jersey's Laurie Hernandez, who already has a gold medal from Team USA's win in the team final last week, bested teammate Simone Biles on the balance beam, while the men's volleyball team advanced to the quarterfinals. Track star Allyson Felix was beaten by Shaunae Millers of the Bahamas in a dramatic finish as she raced for her first Olympic 400m gold medal.
Without further ado, here are our 4 to Watch on Day 10:
DON'T MISS THE ACTION: For a complete rundown of all the day's events in Rio, visit the streaming schedule page for NBCOlympics.com. Watch every event of the 2016 Rio Olympic Games live there, on the NBC Sports App and connected set-top boxes and catch the highlights in primetime on NBC.
1. NJ's Laurie Hernandez Takes Home Silver on Beam, Simone Biles Takes Bronze
[Rio2016 - Gymnastics]Olympian in the Making: Laurie Hernandez
New Jersey up-and-comer Laurie Hernandez took home the silver medal in the beam final, besting the incomparable Simone Biles by a score of 15.333 to 14.733. Both U.S. gymnasts fell to Netherland's Sanne Wevers, who posted a stunning score of 15.466 to take home the gold. Biles, who already has gold medals in Rio from the team final, the individual all-around and the vault, adds some bling of a different color to her rapidly expanding medal tally, and Hernandez adds some silver hardware to the gold she earned with Team USA.

[[388401331, L]]
The beam final marks the end of Rio competition for Hernandez, the youngest member of the U.S. women's gymnastics team who outscored almost everyone to qualify second to the event. Biles' final event is the floor Tuesday.
SEE HIGHLIGHTS: Hernandez attacks routine in beam final to score silver; Biles misses gold after near-fall on beam;
MORE:
[Rio2016 - Gymnastics]Higher, Stronger, Fiercer: Final Five Dazzle in Team Final
2. U.S. Sprinter Allyson Felix Seeks to Capture 1st Gold in 400m
[Rio2016 - Track and Field]Best Photos From U.S. Olympic Track and Field Trials
Shaunae Miller of the Bahamas fell over the finish line to beat Allyson Felix in a dramatic women's 400 meter final on Monday night.
Miller had a sizeable lead coming into the final 100 meters, but Felix closed the gap only to see Miller surge ahead as the line loomed. Steps from home, Miller appeared to overstride and stumble, but she caught the wire 0.07 seconds ahead of Felix.
Felix was trying to break a tie with five other women who have four track and field golds each. Still, Felix became the most decorated American woman in Olympic track and field history with seven medals, breaking a tie with Jackie Joyner-Kersee.
At 30 years and 271 days, Felix also became the oldest woman to medal in the 400. Shericka Jackson of Jamaica got bronze.
SEE RIO HIGHLIGHTS: Allyson Felix wins her first Olympic 400m race
MORE: How Allyson Felix trains for gold
Allyson Felix through the years [PHOTOS]
[Rio2016 - OLY]America the Beautiful: The Women of Team USA
3. U.S. Women's Field Hockey Team Falls in Quarterfinals
[Rio2016 - OLY]Team USA's Littlest Fans Cheer on Moms and Dads in Rio
After a surprising start in Rio, the U.S. women's field hockey team, which finished last in London 2012, fell to Germany 1-2 in the quarterfinals, ending their bid for an Olympic medal.
The U.S. women went into the fourth period down 0-2 and closed the gap with a goal by Katelyn Falgowski, but they couldn't tie up the game. Though disappointing, the loss caps an Olympic effort that saw the U.S. stun by going undefeated in its first three games to finish second in pool play, an accomplishment nobody would have expected after its performance in London.

The Americans haven't medaled since 1984.
WATCH: NYer Melissa Gonzalez, USA field hockey surprise in Rio
4. U.S. Men's Volleyball Team Cruises to Quarterfinals
The U.S. men's volleyball team defeated Mexico in three sets Monday to clinch a spot in the quarterfinals. Team USA won 25-23, 25-11, 25-19 and will next play in the knockout round on Wednesday.
Your Olympic Spirit Shines Bright
After being swept in their Olympic opener by Canada and then losing to Italy, the Americans earlier found their groove against Brazil and carried that into Saturday's four-set victory against France.
"We knew that we had to win these or else we'd pretty much be out," outside hitter Aaron Russell said after the victory against France. "We just kind of stayed strong together, bonded together and were able to come up with some big wins. There is no choice."
SEE RIO HIGHLIGHTS FROM RIO: U.S. volleyball advances to quarterfinals

MORE: USA men's volleyball stays alive