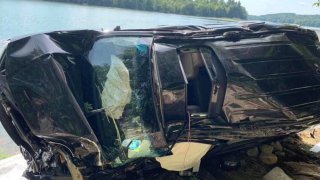 Four people were hurt when an SUV flew off the road and nearly crashed into a Westchester County reservoir but ended up sideways on the waterbed Tuesday, authorities say.
Few details were immediately available on what happened near Miller Avenue and Route 202 in Somers around 11 a.m.
Somers fire officials said all four people were out of the vehicle by the time authorities arrived. They were all taken to hospitals, though the extent of their injuries wasn't immediately clear.
Multiple local emergency agencies, along with New York State Police and environmental teams, responded. Fire units and a Department of Environmental Protection hazmat team remained on scene into the afternoon to deal with a fluid spill in the water.
A cause of the crash is under investigation.
Copyright NBC New York