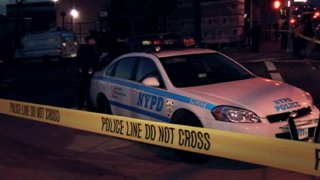 Police are investigating two separate shootings in the Bronx that left two people dead and five wounded Tuesday night in the span of an hour, authorities said Wednesday.
Cops responding to a call for shots fired on Olinville Avenue in Allerton around 10 p.m. found the victims at an apartment building.
A 21-year-old man, later identified as Jessie Bynum, had been shot in the head and died. The wounded survivors included a 33-year-old woman shot in the arm, a 23-year-old man shot in the thigh and a 22-year-old man shot in the back.
All of those victims are expected to survive. It wasn't clear what sparked the gunfire. No arrests have been made.
It was one of two deadly shootings in the borough Tuesday night. A few hours earlier, cops responding to a call near East 180th Street and Mohegan Avenue found three men with gunshot wounds. A 22-year-old was hit multiple times and was pronounced dead at a hospital. He was later identified as Wayne Goodwin, of East 180th Street.
A 47-year-old man and a 21-year-old man each took a bullet to their legs but are expected to survive. No arrests have been made in that case, either.
Anyone with information on either shooting is asked to call Crime Stoppers at 1-800-577-TIPS.
Copyright NBC New York