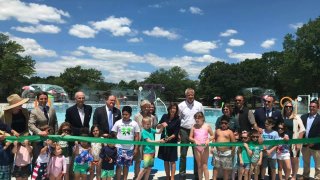 A $30 million swimming pool that can fit up to 3,500 people will open on Saturday at the Franklin D. Roosevelt State Park in Westchester County.
Gov. Andrew Cuomo on Thursday announced the upcoming opening of the nearly 328-by-128-foot pool, touting that the massive investment in the state park system's largest pool will help boost tourism and help local small businesses.
"New York is home to some of the world's best parks and outdoor recreation opportunities, and Franklin D. Roosevelt State Park is no exception," Cuomo said in his announcement. "Our ongoing investments in our state parks system are boosting tourism all across the state, and these improvements will offer yet another exciting new experience for residents and visitors alike to enjoy for generations to come."
The original pool was constructed in 1963 and "had reached the end of its useful life," the state said. The giant, renovated pool now has a zero-depth entry slope and its end is as deep as nine feet, and the parts of the bottom are decorated with 26 new colorful spray features.
Other improvements were also made around the pool, including new restrooms, renovated concession building and more efficient water filtration equipment.
Beginning Saturday, the pool will be open on weekends and holidays from 11 a.m. to 6:30 p.m. and weekdays 11 a.m. to 5:30 p.m. The cost of entry is $3 for all ages, in addition to the regular vehicle use fee.
Copyright NBC New York