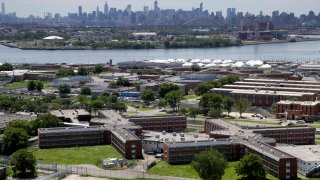 Authorities are investigating the death of a 25-year-old inmate in his cell at Rikers Island, the New York City Department of Correction said.
Brandon Rodriguez was found unresponsive in a cell at Rikers' Otis Bantum Correctional Center around 12:40 Tuesday, officials from the department said.
According to the DOC, officers discovered Rodriguez unresponsive in his cell, administered life-saving measures (CPR), and called for a medical emergency. Medical staff pronounced him dead shortly after.
"We are working closely with all relevant agencies to investigate the cause and circumstances so that we may better understand how this happened," Correction Commissioner Vincent Schiraldi said in a statement. "Mr. Rodriguez's loved ones have our utmost sympathy, this is an awful, painful tragedy."
Sharon Covino, an attorney who represented Rodriguez, said her office is investigating the circumstances of the death. The City's Office of Chief Medical Examiner will determine the cause of death, the DOC said.
Rodriguez was arrested Aug. 4 on Staten Island. The Staten Island Advance reports that he was arrested following a domestic incident.
Brooklyn Defender Services, The Bronx Defenders, The Legal Aid Society, Neighborhood Defender Service of Harlem, and New York County Defender Services issued the a statement regarding Rodriguez's death, which read in part: "While we are still learning the specific circumstances of Mr. Rodriguez's death, it comes at a time when COVID-19 and already-dangerous conditions are wreaking havoc in the jails and increasing the threat to incarcerated people's lives in myriad ways.  Rikers Island is dangerously overcrowded. The jail population has surged past pre-pandemic levels, while the failure of DOC staff to report to work has left many of our clients without adequate food, medical attention, or access to basic services that the City is legally required to provide."
Copyright AP - Associated Press