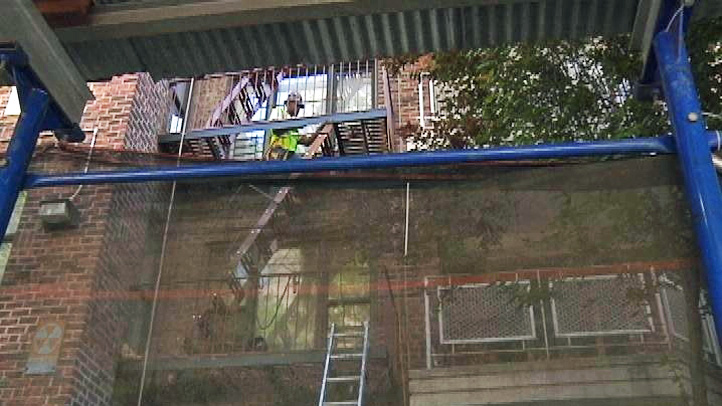 Some residents were allowed to move back into their Bronx apartment building three weeks after they were forced to leave when the building's fire escapes were removed for renovations.

Residents from 11 apartments on the first two floors of 2400 Webb Ave., a 75-unit complex in University Heights, were able to move back into their apartments Wednesday.

These 11 apartments don't need fire escapes because of their proximity to the ground, but residents were still evacuated to make way for fireproofing work, which the landlord has now completed, a spokeswoman from the Buildings Department confirmed.

Residents from 64 upper-floor units won't be able to return to their apartments until the fire escapes are replaced.

City building inspectors evacuated the complex on June 5 after a contractor who was working on the facade removed all the fire escapes.

The city said the removal of the fire escapes presented a fire hazard and that the move was never approved in the permitting process.

The building's owner, Goldfarb Realty, blamed the contractor for the confusion and offered tenants money to pay for temporary housing.

Fire escapes for two apartment lines have been delivered and are currently being installed. The Buildings Department said contractors hope to complete this first round of installations by early July, which will allow tenants from 25 apartments to move back in.

The remaining fire escapes will hopefully be installed by late July, the Buildings Department said.

Goldfarb Realty declined to comment Thursday on when the work will be completed.
Get the latest from NBC 4 New York anytime, anywhere. Follow us on Twitter, Facebook and Google+. Get our apps here and sign up for email newsletters here. Get breaking news delivered right to your phone -- just text NYBREAKING to 639710. For more info, text HELP. To end, text STOP. Message and data rates may apply.