A longtime civilian member of the NYPD who was found shot in the head in a Queens apartment Monday has died, while a downstairs neighbor who was hit by gunfire when she went to check on her remains hospitalized, authorities say.
The two victims -- the police aide, a 51-year-old woman with 11 years of NYPD service, the other a 48-year-old woman who was shot in the abdomen and shoulder -- were taken to Elmhurst Hospital following what a senior official said appears to be a domestic incident at the Fresh Pond Road home around 8:15 a.m.
The shooting happened in a third-floor apartment above an electronics store off Palmetto Street. Police say that's where 51-year-old NYPD administrative assistant Migdalia Ortega was struck by gunfire.
Authorities said at a press conference hours after the shooting said Ortega worked in information technology at police headquarters for 11 years, and that she had relatives who work for the NYPD.
The other victim, Ortega's downstairs neighbor, was shot twice when she went upstairs to check on the other woman after hearing some commotion. Cops said the shooter just opened fire on her and may have followed her down the hall, firing.
Police said the shooter is believed to be 55-year-old Pedro Cintron, and that the shooting "appears to be a domestic violence incident between the man and the victim." The department released an image of Cintron, who police are looking for. He is said to have been Ortega's boyfriend.
Police believe that Cintron got into a black vehicle and sped off after the shooting.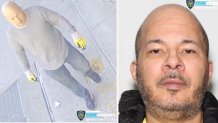 An investigation is ongoing.
Copyright NBC New York