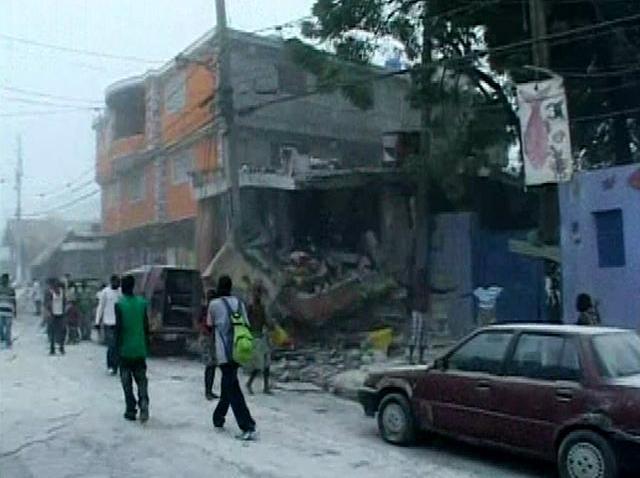 NEWARK, N.J. — One New Jersey church group traveling in Haiti survived the 7.0-magnitude earthquake that struck the Caribbean nation, and a member of a second group sent a text message indicating it might be OK as well.
Frank Fowler, senior pastor of the Trinity United Methodist Church in Hackettstown, in western New Jersey, called a church member from the airport to say the group was OK, said Emily Fowler, his stepdaughter.
The 15-member group, which includes two high school students, traveled to Haiti on a humanitarian mission to provide birth kits, diapers and other supplies, Fowler's wife, Karen, said Wednesday.
Tom Thorp's wife and 17-year-old daughter are on their first trip to Haiti on a humanitarian mission with the church,.
Like the rest of this community, Thorp spent a long sleepless night worrying about the fate of his family and friends. Just after noon Wednesday, the pastor called to say they were safe, together and okay.
"The relief I felt was like nothing I've ever felt before. I was glad I was home alone - I only shared my emotions with the dogs," Thorp told NBCNewYork. "I'm very proud of them, as much as it was a risk to go, it was the right thing. I know they're cared for by the members of the team and by God and when you're doing the right thing, God takes care of you."
The group left last Saturday and is due back this Saturday. At the time of the earthquake they were to have traveled from the capital city of Port-au-Prince to an orphanage in Bon Repos, about 20 miles away, and were to stay in a one-story building in a compound with round-the-clock guards and two wells with fresh water, Karen Fowler said.
"If I know the group in Haiti, they're probably more worried about us here in the States worrying about them," she said.
About 20 people made up the second group, which traveled from Mercer County and landed in Port-au-Prince hours before Tuesday's quake.
At a news conference Wednesday, Camille Crichton-Sumners said she received a text message from her sister-in-law, a member of the Kingdom Church of Ewing, that said she was OK but couldn't phone. The messages also said to "start the list," an apparent request to spread the word.
Previously, Minister Archie McBride said the group made contact once it safely arrived on Tuesday afternoon. The group is due to return home on Jan. 17.
The members come from one of three churches : the Presbyterian Church of Lawrenceville, the Shiloh Baptist Church in Trenton or Kingdom Church of Ewing.
The group landed in Port-au-Prince around 1 p.m. Tuesday and went directly to Thoman in the mountains, according to the Mercer County churches.
Shiloh Baptist Church pastor Rev. Darrell LaRue Armstrong was on the trip along with other church members.
Presbyterian Church of Lawrenceville said it was in contact with the State Department.
"Communications are not working well within Haiti and therefore it would be difficult for our group to contact us," the church said.
Daniel Andre, a Haitian-born municipal worker from Paterson, couldn't find the words to describe the devastation.
"We already face so many big issues; now, from the ordinary person to a highest official over there, many are hurt and killed, the palace is in scrambles — and we don't have an emergency response system in Haiti to deal with this," he said.
Andre was on the phone Tuesday evening from his home to a sister in Port-au-Prince, where she had traveled to a prepay international phone center to call him and update him on family matters. The phone cut out several times before the line went dead.
Andre assumed it was a faulty connection, until his two cell phones and home phone all started ringing with news of the quake. He hasn't been able to get through to his sister, or any relatives in Haiti, since.
Bernier Lauredan, president of the New Jersey-based branch of the Haitian League, a national nonprofit consortium of Haitian groups, said the group was organizing teams of U.S.-based Haitian doctors to travel from New York's JFK airport to Haiti when American Airlines can coordinate the flights.
"This is the worst we have seen in a long time, it's the equivalent of 700 Hiroshima-sized bombs hitting," said Lauredan, who was trying to get through to a brother who had flown to Haiti on Sunday. Lauredan received confirmation earlier Wednesday that at least one of his relatives had been killed.
"We are going through a tough time," he said. "We still keep Haiti in our hearts, but Haiti needs a coordinated plan, so it doesn't have calamities like this."
Copyright AP - Associated Press