What to Know
A sixth New York region will meet Gov. Andrew Cuomo's criteria to reopen Tuesday, while another isn't far behind; Mayor Bill de Blasio said Monday he thinks NYC will meet Cuomo's 7 metrics in June
New Jersey batting cages, tennis courts, golf ranges, community gardens and more outdoor activities reopen Friday; Connecticut will allow al fresco dining in just a few days
Nationally, confirmed virus cases topped 1.5 million Monday ,with more than 536,000 of them in the tri-state area. The region accounts for almost half of America's 90,000-plus confirmed COVID deaths
UPDATE: 7th New York Region to Reopen Wednesday; Some Hospital Visits Will Resume
Another New York region will meet the criteria to reopen and enter Phase I on Tuesday, Gov. Andrew Cuomo said, moving the state another inch closer to a return to "normal." Still, an anxiety-wracked public is asking whether summer camps will run in the face of disturbing new data on COVID and kids, and how it will all play into the chance of school resuming as usual in September.
Despite the unknowns, the economic gears are beginning to churn. Western New York, home to the Buffalo Bills, will begin its reopening Tuesday, becoming the state's sixth region to do so, while the Capital Region looks to qualify in the coming days. Cuomo is encouraging pro sports to resume (without fans). You can now golf in New Jersey -- or charter a fishing boat after stopping to pick up some curbside supplies from a newly opened retail store. By Wednesday, outdoor dining resumes at restaurants in Connecticut. Most tri-state beaches will open on Friday.
Those in New York City stay closed for now, with barricades ready to be put up at places like Orchard Beach in the Bronx if residents try to flock there once again.
"We are not doing this. It's not beach season. This is a pandemic," Mayor Bill de Blasio said.
But the mayor said he is hopeful they will be able to reopen before the end of summer. Lifeguards are being trained accordingly. In other parts of the city, there is a movement to get some restaurants that are adjacent to closed plazas or streets — like Stone Street in Lower Manhattan — to possibly open soon with more business allowed outdoors.
The city is still weeks away from allowing any non-essential businesses to open, however, with de Blasio saying that the "first half of June (will be) the first opportunity to relax anything. Basic dynamic we have now are gonna hold."
Ultimately, the mayor says his goal is to get New York City safely through summer -- and focus on making enough sustained progress to be able to reopen schools as usual in September.
Region by Region Status
Source: New York State; Report as of May 18
As far as Cuomo's reopening criteria, the city has met just three of the seven benchmarks. While de Blasio has announced comprehensive contact tracing plans, the infrastructure and training aren't yet fully in place. The mayor said Monday he expects the city to accomplish that goal by early June. He expects to overcome the other remaining roadblocks, which are tied to hospital capacity and new daily admissions, around the same time.
"All of the pieces — the test kids, the test sites, the labs, the tracers — all of these pieces are coming together to give us the huge, robust test and trace program we need to push back this disease and move forward in this city," de Blasio said Monday.
New Concerns Emerge on COVID and Kids
This past weekend looked about as close to a normal mid-May weekend as you'll see in parts of the five boroughs. Sidewalks buzzed with activity as masked pedestrians enjoyed the glorious weather. Neighborhoods regained some of the vibrance that makes them uniquely New York City.
Yet in at least one family-friendly Brooklyn community, and likely in others, the sunbathed sidewalks appeared uncustomarily devoid of a common presence: Children.
As of Monday, New York City had identified up to 145 cases of a new pediatric syndrome linked to COVID-19. The CDC has issued a nationwide health alert on what it calls multisystem inflammatory syndrome in children (MIS-C), and de Blasio says he plans to have an updated case total later this week that incorporates the agency's new guidance. The syndrome has been reported in nearly half the nation's states, including New Jersey and Connecticut.
At least three children in New York have died. MIS-C doesn't look or "smell" like COVID, Cuomo says -- but state health department data shows 90 percent of the children displaying symptoms tested positive for the virus or the antibodies, indicating they had it at some point.
The condition is still rare, but it may manifest differently in different children, as NBC New York has reported. It may be a latent response to COVID-19 exposure, though children who suffer it may have none of the respiratory ailments known to accompany the novel coronavirus. This syndrome inflames their blood vessels; ultimately, it may attack their hearts.
The new syndrome has Cuomo's team reconsidering guidelines for camps this summer, the governor said -- even before they released any initial guidance.
"It's only 100 kids and then you look. I think that's going to go up," the governor said.
His tone was eerily similar to how he would speak of the initial unknowns of COVID itself back in early March, as he cautioned New Yorkers that infection was likely far more widespread than diagnostic tests indicated it to be.
A Disciplined, Data-Driven Approach to Reopening
New York has tested 7.1 percent of its population, nearly double the percentage of the tested U.S. population and more per capita than anywhere in the world. Cuomo wants even more New Yorkers tested, saying the state can conduct up to 15,000 tests a day but has only been conducting about 5,000 tests a day. He had the test done on himself during his Sunday briefing to demonstrate the ease. A day later, he reported that he was not among the state's positive cases, calling it a "relief."
New York has identified more than 350,000 of those, about a quarter of the infections confirmed nationwide, which eclipsed 1.5 million Monday, according to NBC News. Combined, the tri-state area has well more than a half-million positives, though its governors admit the actual count could be many times that.
They say their states must proceed cautiously and in accordance with the data, aware that any missteps could trigger a viral resurgence they can least afford.
"New York responded to the COVID crisis with great unity and great discipline," Cuomo said Monday. "We need that same discipline as regions begin to reopen."
New Jersey Gov. Phil Murphy echoed those sentiments later in the day, as he unveiled a multi-stage plan to get his state to a "new normal."
"We are currently in Stage 1, and we will aim to move through each stage quickly, but also judiciously, with the public health of our communities and all New Jerseyans in mind," Murphy said.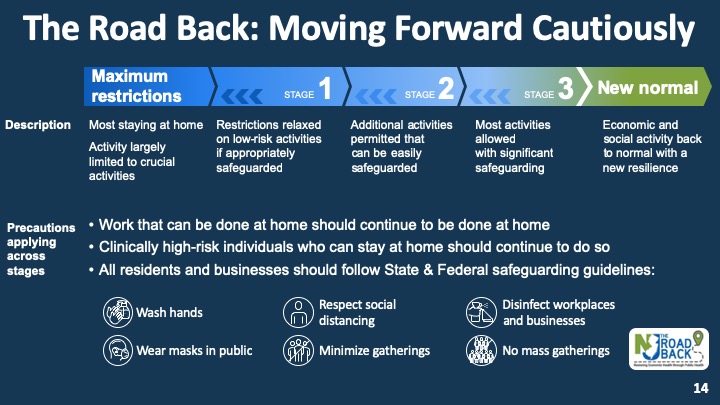 Stage 2 may include expanded retail, safeguarded restaurants with outdoor seating, limited personal care and possibly indoor dining, museums and libraries, all with significantly reduced capacity. More dining options could resume in Stage 3, which may also allow critical in-office work, limited entertainment, expanded personal care and bars with limited capacity.
Part of progressing to future stages involves increased testing there as well, and a new means of doing so for those in hi-rise buildings debuted on Monday. Residents of some Fort Lee buildings will be able to get tested right at their residence, with floors getting called down one by one to get tested by a mobile coronavirus unit. Thousands of people live in the densely populated high-rises, and more than 20 buildings have already signed up to participate, with antibody testing being planned as well.
Certain precautions like social distancing, personal hygiene and face coverings will continue through each stage. People who can work from home will be encouraged to do so. High-risk individuals should stay home if they can.
Restrictions will be relaxed based on improvements in health and New Jersey's capacity to safeguard health, Murphy said. They could be reinstated if health metrics deteriorate or people stop complying with proven mitigation measures.
Cuomo has cautioned the same as it relates to the reopening of New York; regions that see setbacks will have to pause their process until the issues are addressed. Public health has to drive the economic recovery, the governor says.
"We should also set our goal high ... I say it should not just be about we're going to reopen," Cuomo said. "It has to be about building back better than before."
Movement Trends
Too many lives have been lost already. New York state's confirmed toll reached 22,729 Monday, as Cuomo added 106 more names. New York City accounts for more than 15,200 of the confirmed fatalities statewide. The city's health department reports nearly 5,000 probable virus deaths, which bring the five boroughs' toll above 20,000 when added to the state's confirmed count.
On top of that, the CDC identified another 5,300 "excess" deaths in March and April not immediately linked to COVID, but not explained by any other normal pattern either.
New Jersey has lost 10,435 people as of Monday, while Connecticut has reported nearly 3,500 deaths. Nationally, the grim toll eclipsed 90,000 over the weekend, according to NBC News. America's top experts expect it to grow higher.
A new virus projection model, one that utilizes data from dozens of the divergent ones out there to develop a composite model of sorts, predicts the nation could lose another 20,000 people or more over the next four weeks.
Experts say the crisis won't "really" be over without a vaccine. Optimism on that front came Monday, when a widely watched U.S.-backed human clinical trial showed positive early results. All 45 subjects developed antibodies. A final testing phase is expected to begin in July.
Copyright NBC New York