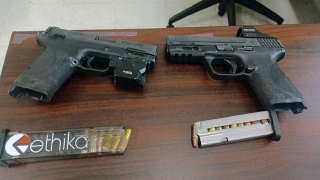 A 15-year-old boy was allegedly caught with two loaded guns at his Queens school Wednesday, police say.
Charges are pending against the boy, whose name has not been released because of his age.
According to the NYPD, the boy was found with the guns at York Early College Academy, which apparently shares space with public school J.H.S. 008 Richard S. Grossley at the 167th Street address.
A source within the School Safety Agents' union said ammo cartridges were also found on the boy.
No injuries were reported in the incident, which happened around noon. It wasn't clear why the boy allegedly brought the weapons or how he got them. No other details on the circumstances were immediately provided by the school or law enforcement.
The Department of Education forcefully condemned the infraction.
"Guns have absolutely no place in our schools, and behavior like this will not be tolerated," a spokesperson said. "The Department of Education is wholly committed to making sure our students, schools and communities are safe. Our school staff and School Safety Agents immediately and safely recovered these items following a concern raised by a community member. All protocols were followed, and we are working closely with NYPD regarding follow-up actions."
According to its website, York Early College Academy serves almost 650 students in grades 6 through 12, along with those in special education programs.
Copyright NBC New York