When 2-year-old Kayden Kinckle took his first steps on prosthetic legs, he didn't want help.
"I got it, I got it, I got it," Kayden said with each step. A YouTube video documenting the milestone for the Englewood, New Jersey, kid's family and friends has since been viewed more than 800,000 times.
His parents say he has always been this confident despite doctors' doubts.
"If he wants something, he will get it and that could be good sometimes and bad sometimes," Kayden's father, Kevin Kinckle, told NBC. "He's always been a warrior."
Kayden was diagnosed in utereo with omphalocelea, a birth defect in the abdominal wall that causes an infant's intestines, liver and some other organs to grow outside the body. Kayden also had a band wrapped around his legs in the womb — causing deformities that required him to have his left leg and right foot amputated in January. One out of 7,000 children are born with opmhalocelea, and nearly half of all babies born with opmhalocelea also have other birth defects, according to the Children's Hospital of Philadelphia.
The numbers of children living without limbs are unclear because of doctor's confidentiality agreements, according to the Amputee Coalition. Nearly 2 million people across the United States have limb loss.
Kayden's mother Nikki Kinckle said doctors had advised her to consider whether to carry her baby to term. She said the suggestion didn't make her angry, because it was a "fact" that her baby would face serious challenges.
"The nurse asked me if my house was wheelchair-accessible, and that was hard," Nikki said.
The proud parents have received a volley of messages online from people who have been inspired by Kayden's can-do attitude and charisma. NFL athlete Michael Vick shared Kayden's video with the caption, "Luke 1:37- For with God nothing shall be impossible… 'I got it, I got it' lol." Vick's post contributed to the video going viral around the Fourth of July. Messages of support have included those from other amputees, cancer patients and people who are paralyzed, his mother said.
Kayden still uses his walker but insists on independence, his father said. The fiery 2-year-old is antsy to stay off the couch. He crawls "very well" without his prosthetics and loves playing basketball with his parents. Kayden even tries to teach his 9-month-old sister, Cherish, how to crawl. After the surgery in January, Kayden still didn't slow down.
"The day after the surgery, he was shooting baskets with me and his mother," Kevin Kinckle said.
The family continues to raise money on GoFundMe.com, which had $73,839 donations as of July 29. The family's first goal was $50,000 to cover past medical expenses such as the surgery and his first pair of prosthetics. After Kayden's viral video success, the couple pushed the goal to $500,000.
"We were made aware that prosthetics are an ongoing thing for life, physical therapy is once a week. He may need more walkers or crutches as he gets olders and his weight changes," Kevin Kinckle said. "We need to adjust as he grows and as technology grows we want the top-of-the-line stuff for him."
Women OK After Train Rolls Over Them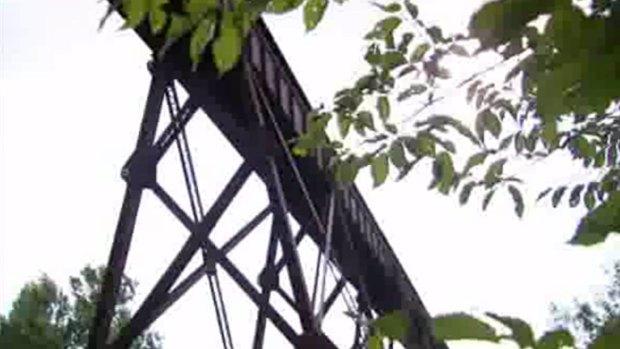 The couple talks about Kayden's future all the time. They feel Kayden has proven that he can do anything.
"He is a face of adversity," Kevin Kinckle said. "Whatever he wants to do, we are confident he can do it, whether it's a lawyer or doctor or athlete."