What to Know
Seven people have been arrested in connection with the fatal stabbing of 15-year-old Lesandro Guzman-Feliz
The teenager, known as Junior, was stabbed in the neck with a machete in front of a Bronx bodega last week
It's not clear if authorities are still looking for other suspects
UPDATE: 6 Waive Extradition in NYC Boy's Machete Kill, Face Death Threats Against Themselves and Their Families

Seven people have now been arrested in connection with the deadly stabbing of a 15-year-old boy last week outside a busy Bronx bodega, a crime the victim's family says is a case of mistaken identity.
Cops announced the arrest of the first suspect, 19-year-old Kevin Alvarez, of the Bronx, Sunday on charges of second-degree murder, manslaughter, gang assault and assault. Police sources tell News 4 that Alvarez may have been the one seen in surveillance video dragging the boy from the store.
Six more suspects, men between the ages of 18 and 24 from the Bronx, Long Island, and Paterson, New Jersey, were charged overnight in the death of 15-year-old Lesandro Guzman-Feliz, who was stabbed in the neck with a machete in front of a bodega in the Belmont neighborhood of the Bronx on Wednesday.
[NATL] Top News Photos: Pope Visits Japan, and More
An extradition hearing is scheduled for those six suspects on Tuesday. Details on the charges they face weren't immediately clear. Alvarez's arraignment is scheduled for Monday afternoon. Attorney information for him wasn't known.
Alvarez faced an angry crowd outside the police station where he was initially processed; emerging from the station Sunday night, people screamed for justice for Guzman-Feliz. "That was a baby!" one person screamed at Alvarez.
A memorial for Guzman-Feliz, known to his friends as Junior, continues to grow. Family and friends of the boy, who had been part of the NYPD's Law Enforcement Explorers program, say his attackers mistook him for someone else. His aunt and father said Sunday night they were touched to see a crowd who gathered to mourn the boy and relieved to have heard about Alvarez's arrest.

On Monday, after learning of the additional half-dozen arrests, Guzman-Feliz's father said, "I want these people in jail for life. That's what I want."
He said he was grateful for the outpouring of support. Celebrities including Cardi B and Rihanna have taken to social media to express their sorrow over the boy's killing; former Knicks star Carmelo Anthony and wife Lala went to the family's Bronx home when they heard Junior was a fan of Anthony.
"I can't imagine this type of pain and sadness," Lala Anthony wrote on her Instagram, posting a photo of her and Carmelo with Junior's mother. "His family is strong and may God bless them forever."
Guzman-Feliz's father said Monday, "I'm surprised everybody come to check it out for my son. My son's a really good boy. So I'm really happy for everyone supporting me."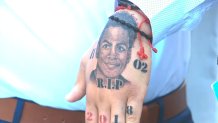 Guzman-Feliz's mother, meanwhile, has said the alleged killers have "changed her heart."
"I feel different," Leandra Feliz said. "They killed me."
It's not clear if police are looking for additional suspects in the case.
These Countries Have the Highest Threat Levels for Traveling, According to the U.S. Department of State