What to Know
Police are looking for a 14th suspect in the June 20 death of Lesandro Guzman-Feliz, known as "Junior"

Frederick Then, 20, is being sought in the machete attack on Guzman-Feliz outside a Bronx bodega, which was caught on camera

The killing captivated the nation for its caught-on-camera brutality and the apparent mistaken identity of the victim
The NYPD says they're now looking for a 14th suspect in the caught-on-camera machete killing of a 15-year-old boy outside a bodega in the Bronx in June.
Frederick Then, 20, is being sought for questioning in the June 20 killing of Lesandro "Junior" Guzman-Feliz, which captivated the nation for its caught-on-camera brutality and the apparent mistaken identity of the victim. Video shows the teen being dragged outside the bodega and attacked by a gang of five men who stabbed him with knives and hacked him with a machete as he struggled to defend himself.
The boy was slashed in the neck and died after running to a hospital three blocks away. Thirteen suspects have been arrested in the teen's death; all are alleged gang members.
Then is described as about 6-feet-1 and 150 pounds. Anyone with information is asked to contact Crime Stoppers at 800-577-TIPS.
Accused Gang Members Appear in Court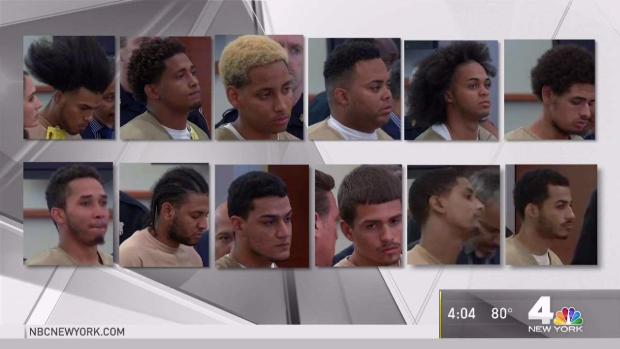 Guzman-Feliz had been part of the NYPD's Explorers program, a group for youths interested in a law enforcement career. The New York City Police Foundation announced it planned to set up a scholarship in his name.
Authorities say they do not believe Guzman-Feliz was affiliated with any gang.