A middle schooler from the Jersey Shore is another young victim of the ever-growing opioid crisis after testing found a mixture of heroin and fentanyl killed him.

Vincent Weiner, 13, was found dead June 4 at his mother's home in Middle Township, New Jersey. He died sometime during the night, discovered in his bed around 10 that morning, authorities said.

The Cape May County District Attorney's Office said Monday that toxicology testing revealed the teen's death was a direct result of a drug overdose. Both heroin and fentanyl, a much stronger opioid, were found in his system.

Detectives said Weiner was actively taking the illicit substances though they did not reveal the specific method.
Vincent's mother, Jamie Lund, said her "heart is broken, shattered into a million pieces" over the boy's passing. Lund said she's not sure how he got the drug. She's urged anyone who knows to tell her and police.
"If he had been using, it was unknown by all of us...there were no signs of anything," she told NBC10.
Lund described Vincent as a happy, goofy kid, but he was sometimes bullied in school. She learned of the bullying shortly before his death.

"The two weeks or so prior [to Vincent's death] there had been unusual behavior at school, it was discovered that he had been cutting. And stories of bullying in school began to surface," Lund said. He was set to enter eighth grade this fall.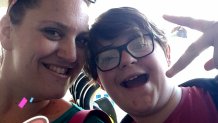 Fentanyl is a powerful opioid approximately 100 times more potent than heroin. When used illegally, it is often converted to powder form by drug dealers.
Cape May County's forensic lab has recently seen an increase in heroin laced with fentanyl, prosecutor Robert Taylor said.
The proliferation of opioids continues to claim more lives across the nation than car crashes and homicides. The Centers for Disease Control and Prevention estimates 142 people die from a drug overdose every day. Half of the deaths are linked to opioids.
Over about an hour's span last Wednesday, 16 people nearly died during a purported opioid "free giveaway day" in Camden. All were revived using the overdose reversal medicine, naloxone.

Once rare, adolescent drug overdoses doubled between 1997 and 2012, a Yale School of Medicine Report found. A 2015 survey by the Center for Behavioral Health Statistics and Quality found 21,000 adolescents (ages 12 to 17 years old) had used heroin in the past year.
President Donald Trump declared the opioid epidemic a national emergency last week at the urging of the presidential opioid commission. The commission is led by New Jersey Gov. Chris Christie, who has focused his last months in office around combating the opioid epidemic.

Taylor urged families to talk with their loved ones about the dangers of illegal drugs and to report any drug or criminal activity to the by visiting the Cape May County Sheriff's Office website or calling the Cape May County Crime Stoppers at 609-465-2800.