A DOT truck collided with a Honda Civic so hard it dragged the car into a stationary yellow cab, leaving at least four people injured, one of whom was flatlined and brought back to life, officials say.

The chain-reaction crash happened just before 2:30 a.m. in Murray Hill near 3rd Avenue and East 34th Street, according to authorities.
Two people who were inside the Honda were taken to an area hospital to be treated, police said.
The driver of the truck and taxi both remained on the scene and suffered minor injuries, police said.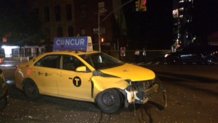 Surveillance video obtained exclusively by News 4 shows the tractor trailer heading east on 34th Street, crossing a green light at Third Avenue. Suddenly a Honda Civic blows into the intersection, and the vehicles collide. Truck pushes the Civic 300 feet into a yellow cab.
The sound shook Corey Cohen, who lives above the street.
"The truck was literally leached onto him and just dragged him, and I heard it from my living room," he said. "I heard the car dragged on the pavement."
Cohen described a frantic scene as someone inside the Civic apparently lost consciousness.
"They were just screaming, 'Wake up,'" he said. "That's what I heard: 'Wake up, wake up, bro.' They were screaming, 'Wake up and he was unconscious.'"
The area was blocked off for about four hours while police investigated, but it reopened to traffic just before 6:30 a.m.
The driver of the Civic is facing charges in the crash; police say it appears alcohol may have played a role.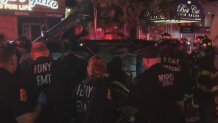 Meanwhile, a second serious crash happened just after 4 a.m. on 2nd Avenue and 35th Street, involving a livery cab that turned over, police said.
One person was taken to an area hospital to be treated, police said. However, their condition was not immediately known.
The area is blocked off to traffic.
Top Tri-State News Photos