A multi-car crash on Grand Central Parkway by Jamaica Estates resulted in a death and many injuries Sunday morning, authorities said.
One car traveling eastbound crossed the guardrail into the westbound lane when the crash occurred, police said.
A man in his 20s who was one of the passengers in the four cars involved died on the scene, police said.
Cars were found mangled and turned over.
Eight people were taken to North Shore University Hospital and Jamaica Hospital. Two are in critical condition, one is in serious, but stable condition and five suffered minor injuries, police said.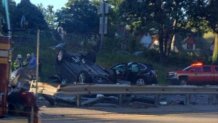 Ron Spikes, a passer-by, said, "It's a sad thing to see, you leave your house, you never know if you're going to make it back home."
The investigation is ongoing. All eastbound lanes were shut down for more than seven hours.
The identities of the people involved in the crash were not made public.