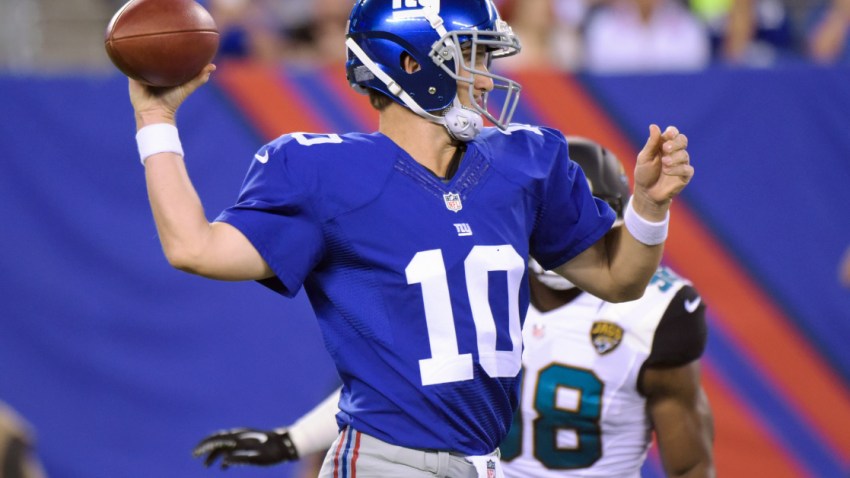 Blake Bortles had another impressive preseason outing for Jacksonville, leading the Jaguars to three field goals in his only drives in a 22-12 loss to the New York Giants on Saturday night.
Bortles, who was 11 of 15 in a preseason opener, hit 8 of 16 passes for 98 yards. His chances for scoring touchdowns were hurt by poor offensive line play at times, a holding penalty in the red zone and a drop.
Josh Scobee capped the first drive for the Jaguars (1-1) with a 52-yard field goal and Jason Myers converted from 51 and 49 yards.
News
Top news stories in the tri-state area, in America and around the world
Eli Manning and the Giants (1-1) struggled for the second straight week, with the two-time Super Bowl MVP finishing 4 of 14 for 46 yards in three series. Odell Beckham Jr. was targeted five times, had no catches and one red-zone drop.
What's alarming was that the Giants' offense was supposed to be their strength this season. It's now produced a field goal in seven series.
Steve Spagnuolo's defense showed more improvement in the second game, bending but not breaking and setting up one of Josh Brown's five field goals with a sack and forced fumble by former Jacksonville linebacker J.T. Thomas.
The other bright spot for the Giants was the play of backup quarterback Ryan Nassib, who completed 19 of 35 for 217 yards, including an 8-yard touchdown pass to Dwayne Harris in the fourth quarter.
Copyright AP - Associated Press