Gillibrand, Schumer Hold Big Poll Leads for Senate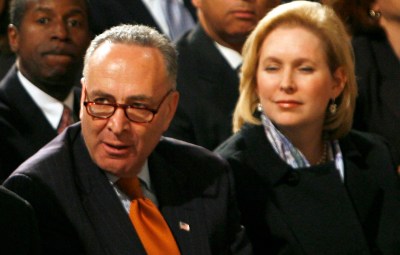 Democratic Sen. Kirsten Gillibrand leading Republican rival Joe DioGuardi by 23 points as Tuesday's election nears, a new poll shows.
The Quinnipiac University poll of likely voters shows Gillibrand with 57 percent of the vote compared to 34 percent for DioGuardi. The poll shows Democratic Sen. Charles Schumer with twice the support of Republican challenger Jay Townsend, 64 percent to 32 percent.
The poll released Wednesday surveyed 673 likely voters from last Monday through Saturday. It has a margin of error of plus or minus 3.8 percentage points.
DioGuardi is campaigning at an Albany-area dry cleaner Wednesday and will make a stop in Binghamton.
Gillibrand is making stops in Syracuse, Rochester and the Buffalo area to promote legislation that would benefit recent veterans.