President Clinton Endorses Cuomo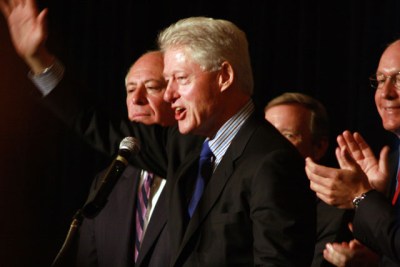 Former President Bill Clinton has announced his support for Democratic gubernatorial candidate Andrew Cuomo at a rally at the New York City College of Technology in Brooklyn.
The rally was headlined by President Clinton, as Cuomo prepares for the final push before Tuesday's election between him and GOP candidate Carl Paladino.
Meanwhile, Cuomo continues to extend his lead over the firebrand Paladino. A Siena College poll released last week shows Cuomo with a 37 percentage point lead -- ahead 63%-26% among likely New York Voters.
"With less than two weeks until Election Day, it's going to take more than a minor miracle by the Paladino campaign to turn the gubernatorial race around," said Siena College pollster Steven Greenberg.
In addition to losing to Cuomo in a potential election, the poll also showed that 69% of voters viewed Paladino unfavorably. In addition, the same percentage of people would agree with the statement that Paladino is a "loose cannon." Even Gov. David Paterson, whose administration has been plagued by setbacks and scandals, was only viewed unfavorably by 58%.
"While Cuomo continues to enjoy a very strong favorability rating among New York voters, Paladino's favorability rating continues to erode," said Greenberg. "Three times as many New York voters view Paladino unfavorably as view him favorably. To say the least, that's a difficult position for a candidate for the state's top office to find himself in."
The poll was conducted from October 14-18, ending just before the scheduled debate, and has a margin of error of 3.9 percentage points.