Local Races to Watch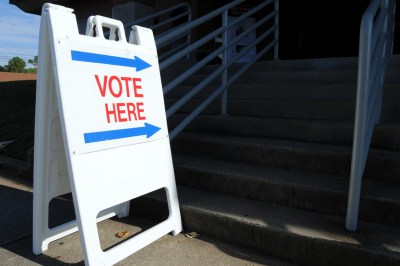 With incumbents facing a deeper challenge to their positions this year, several long-term politicians, including embattled Rep. Charles Rangel and Senator Charles Schumer look likely to hold on to their posts. In the governor's race, opinion polls indicate that
Andrew Cuomo
is leading Tea Party challenger
Carl Paladino
by a wide margin, but in the race for Attorney General and Comptroller, the candidates are in a dead heat. Here's some of the races to watch and the latest poll numbers going into Tuesday's vote.
New York Governor
Carl Paladino (R) vs. Andrew Cuomo (D)
Siena Poll 11/1 - 58% to 33% Cuomo over Paladino
Daily Beast Election Oracle = Cuomo with 80% chance of win

Fiery Tea-Party backed candidate Carl Paladino came from nowhere to knock off Republican party stalwart Rick Lazio in the primary, yet his angry brand of politics (plus a knack for
controversial
statements
) doesn't seem to be resonating with voters in a general election. Cuomo is seen as a lock to win the governorship, and although Paladino was able to rally late to win the primary, it doesn't seem likely that he'll be able to pull it together this time.
New York Senate Special Election
Siena Poll 11/1 - Gillibrand with double digit lead
Real Clear Politics 10/11- Gillibrand +16.0%
Daily Beast Election Oracle- 53%-47% Gillibrand
While little known Westchester congressman (and father of American Idol host Kara) Joe DioGuardi had hoped to tie Democratic incumbent Kirsten Gillibrand to the
dysfunctional administration
of David Patterson, whom she was appointed by, it doesn't seem like those claims have stuck, as Gillibrand seems to have a solid lead. She is well funded and popular around the state, and will give the Republicans a tough time in beating her.
Connecticut Senate Race
Richard Blumenthal (D) over Linda McMahon (R)
Rasmussen Reports 53% to 46% - Blumenthal (+7)
Quinnipiac 10/25 -53% to 46% - Blumenthal over McMahon

After Senator Chris Dodd announced that he would be retiring after this current term, it seemed that Attorney General Richard Blumenthal would be poised to take over. However,
over $22 Million
and a bevy of
"smackdown" related puns
later, Linda McMahon, former WWE chief executive has made the race much closer than expected, and has a chance to pull ahead as November inches closer. Both candidates have run into trouble during the campaign, as Blumenthal was recently caught
exaggerating his military service
, and McMahon's association with the WWE's
less-than-squeaky-clean-past
has caused problems
New York State Attorney General
Siena Poll 11/1 - Donovan and Schneiderman tied at 44%
While the poll numbers show Democratic candidate Eric Schneiderman with a slight lead over Republican candidate Daniel Donovan, those numbers may be
slightly misleading
. As of October 9
th
, 24% of New York voters were undecided and 39% might change their minds. Both candidates have attempted to define themselves during this race as someone who will try to clean up the corrupt political climate of Albany. Donovan has said that, if elected, he would give the Attorney General more jurisdiction in corruption cases and would require legislators to disclose their outside incomes, while Schneiderman has compared himself to Andrew Cuomo and has said that his priority would be to expand the office's public integrity branch and have staff to safely bring complaints about state and local officials.

New York Comptroller

Tom DiNapoli (D) vs. Harry Wilson (R)
Siena Poll 11/1- DiNapoli and Wilson tied at 44% (12% undecided)
Harry Wilson, who has earned the backing of former Republican Gov. George Pataki, is a Scarsadale, Westchester County resident and former hedge fund manager who has ephasized his independence as a boon for the office, currently held by DiNapoli. DiNapoli, who came in on the heels of the Alan Hevesi scandal, has attacked Wilson for his ties to Wall Street and his alleged role in laying off workers and trimming benefits. For his part, Wilson has castigated DiNapoli for being an Albany insider.
New York's 19th congressional District
John Hall (D) vs. Nan Hayworth (R)
FiveThirtyEight—51.4-48.6 Hayworth over Hall
Siena Poll—47%-46% Hall over Hayworth

The Republican Party, looking to retake the House, will certainly be looking at this hotly contested race for New York's 19th district. While Democratic incumbent John Hall was a surprise winner in 2006 and a sure thing in 2008, his status seems shaky as of late, as the district he represents may be growing more conservative. Him and Republican candidate, Dr. Nan Hayworth, are in a dead heat, and this race is considered one of the important ones for the Republicans to re-take the House.