Cuomo Coasts to Victory in NY Governor's Race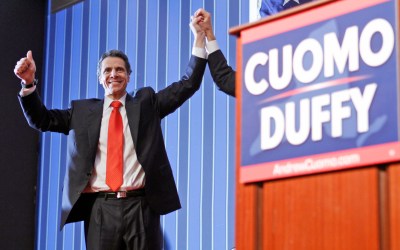 Andrew Cuomo was elected governor of New York on Tuesday, a victory that brings to an end a long and nasty campaign that pitted the seasoned Democratic politician against a successful and brash Buffalo businessman with Tea Party backing.
With 97 percent of the precincts reporting, Cuomo won 62 percent to 34 percent over Republican challenger Carl Paladino.
To a jubilant crowd, Cuomo thanked New Yorkers for sending him to the governor's seat that was also once occupied by his father, but he made no mention during the victory speech of his opponent, Paladino.
Promising to clean up Albany, Cuomo said "the people have spoken and they've been loud and clear. It was my pleasure to listen...they want reform and they want government in Albany changed. The mandate tonight is to clean up Albany and to have elected officials that represent the people of this state and not the special interests."
He said managing the state's budget, cutting spending and taxes are top priorities. There is "no economic future for the people of new York if we are the highest tax state," he said.
Paladino was hoping to pull off an upset not unlike his nomination by the GOP after defeating mainstream challenger Rick Lazio in the primary. While Cuomo did rout him, Paladino managed to win his home county of Erie, further denting what used to be a Democratic stronghold upstate. And although Paladino told reporters after voting on Tuesday that "this is my last campaign," he had a different message for supporters who gathered at the Buffalo Hyatt for his concession speech.
"You haven't heard the last of Carl Paladino!" he bellowed, wielding a red baseball bat. "We will prevail."

Cuomo, the state's current attorney general, had kept a strong lead in the polls and in fundraising, often blanketing TV ads statewide that even the millionaire Paladino couldn't match.
Throughout the campaign, Paladino tried to muster voter anger aimed at Albany in a time of financial and ethical woes in the state. His gaffe-prone campaign saw him repeatedly knocked off message as Paladino faced questions whether his anger could be channeled into strong governance.
In a concession speech where he didn't actually concede, Paladino smiled broadly as he took the stage in Albany. "I'm humbled," he began. Calling his campaign "hard fought," he thanked his family and supporters for their hard work. Of his supporters, Paladino said they had been mischaracterized as "angry."
"We are tired of politicians spending like drunken sailors. Tired of back room deals. Tired of politicians suffocating potential," he said. "We are mad as hell and we're not going to take it anymore," he said.
Paladino petitioned his way into the Sept. 14 Republican primary then won in a shocking landslide against the party leaders' choice, Lazio. He parlayed that into the Conservative endorsement, critical for Republicans running statewide, after that party's leaders had passed him over.
And with that tumultuous start, the campaign at times got very ugly. Paladino made allegations about Cuomo's fidelity during his former marriage -- even though he himself had admitted to an extramarital affair.
Then Paladino even got into a loud, and videotaped, altercation with New York Post's Albany Bureau chief Fred Dicker, when the reporter questioned him about the veracity of said allegations.
At a campaign event in Brooklyn, Paladino's comments on homosexuality triggered an uproar when he said he didn't want children "brainwashed" into believing homosexuality is an "equally valid or successful option." He later said his comments were taken out of context and that he supported a live-and-let live approach to sexual choice. He said he opposed gay marriage, however.
Cuomo's camp seized on the comments, saying, "Mr. Paladino's statement displays a stunning homophobia and a glaring disregard for basic equality," and added those and "other views he has espoused make it clear that he is way out of the mainstream and is unfit to represent New York."
Meanwhile Cuomo's own announcement that he was running for governor came only after agonizing months of speculation that he would vie for the nomination -- as current Governor David Paterson endured a barrage of criticism and finally decided not to run for a full term.
As his campaign took off full swing, Cuomo introduced his "Plan for Action" that vowed to clean up Albany, get the state's fiscal business in order, "rightsize" government, put New Yorkers back to work and advance individual rights.
Paladino vowed to cut taxes by 10 percent and spending by 20 percent and said he'd "take a baseball bat" to Albany.
Cuomo also thanked his Lt. Governor running mate, Rochester Mayor Bob Duffy. "People need a government that they can trust and be proud of once again, Cuomo said Tuesday night. "And they are going to get it."