Some Hiccups Reported with New NY Voting Machines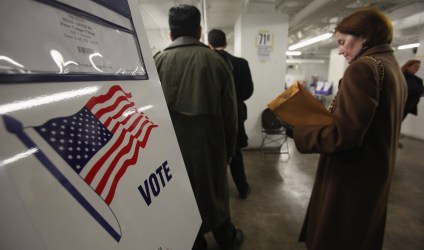 New York's new automated voting machines were put to the test for the first time in a general election Tuesday, and despite scattered reports of problems, voting appeared to go more smoothly than during the chaotic September primary.
The nonpartisan Election Protection Coalition, which was monitoring operations through a combination of poll watchers and a hot line, said it had received some reports of problems including broken voting machines, but not as many as last time.
"It's not as much of a disaster as the primary was, so that's good," said Marjorie Lindblom, a partner at the law firm Kirkland & Ellis LLP, which hosts the hot line for the group.
In Westchester County, one of the three ballot-scanning machines at the Mount Kisco church where the Democratic candidate for governor, Andrew Cuomo, voted Tuesday morning was out of service.
"You're phasing in a new system. I'm sure there will be hiccups as we go," Cuomo said after being told of the problem, which didn't hamper his ability to vote. "We'll keep our fingers crossed that there are no real disruptions."
The new machines, which resemble ATMs, are replacing an 80-year-old lever system to comply with new federal requirements. They optically scan paper ballots that voters mark with pen.
"It said it counted my vote, so hopefully that is true," said Sam Zalutsky, 41, after voting in Manhattan.
New York City's public advocate, Bill de Blasio, also reported fewer complaints on Tuesday than the Sept. 14 primary, when thousands of poll workers had not been properly trained and dozens of poll sites opened late.
"While there are still some hiccups in the process," de Blasio said, "my office is seeing less confusion and delays at the polls this time around."
Mayor Michael Bloomberg, who called the rollout of the machines in September a "royal screwup," said Tuesday was an improvement.
The process, he said after voting on the Upper East Side, "in all fairness, was different, smooth."
New York City officials said the city's 311 hot line had received more than 7,400 election-related calls throughout the day, with 729 calls classified as complaints about the new ballots and the new machines. Some 674 calls were to complain about a poll site, and another 185 calls came in to complain specifically about a poll worker.
One reader on NBCNewYork's facebook page, Pat Gerrity, griped: "As usual the Workers were rude and unhelpful! Had to ask how to use the new system and was treated as if I should have known. Was not given a privacy sleeve had to ask what to do with my ballot and was rudely told to go over there and scan it. Was looked at like an idiot when I told them I didn't know how to scan. Yes it was very easy but I had never done it and was uncomfortable with the system at first. Oh by the way I was the only one that spoke English at the table."
But, on Twitter, @stenro tweeted at us: "Smooth, quick and pleasant- though I did have flashbacks of taking the SAT."
After the rocky start with September's primary, the New York City Board of Elections fired its executive director last week, and ran the general election with interim leaders.