Avella Ousts 40-Year Incumbent; Control of State Senate Still Unclear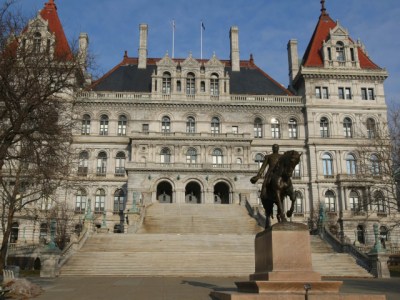 After nearly 40 years in the State Senate, Republican Frank Padavan will not return to Albany, one of several incumbents ousted during Tuesday's midterm election.
Two-time Councilmember and Democrat Tony Avella will take over as Senator from the 11th district.
"Not only did we beat a 38-year incumbent, we beat a popular 38-year incumbent," said Avella, who had a laundry list of people to thank, from the United Federation of Teachers (UFT) to his campaign workers. "This was your election."
The vote was part of a wild night of seesawing race totals and margins as close as a single vote and has left majority control of New York's state Senate uncertain, but with Republicans having a good chance of seizing control of the chamber.
Democrats and Republicans traded wins and losses into Wednesday, and majority control appeared to depend upon two races, one in which incumbent Democrat Sen. Craig Johnson of Long Island was trailing and another in which incumbent Democrat Sen. Antoine Thompson of Erie County had a narrow lead.
That will likely leave majority control of the chamber to recounts and absentee ballots in a process that could take weeks.
"It appears we have won at least 32 seats, possibly 33," said Scott Reif of the Republican Senate campaign committee.
Democrats weren't claiming victory.
"After three of our challengers claimed significant victories, we remain optimistic, but there are still thousands of votes to be counted, and every vote counts," said Austin Shafran, spokesman for Democratic Senate campaign committee.
The result also could be a tie among the highly partisan conferences in the 62-seat Senate. Democrats now have a 32-30 majority, achieved just two years ago.
A tie would leave no clear majority, even though the Democratic Lt. Gov.-elect Robert Duffy could break at least some ties, although whether that would include anything but procedural matters remains unclear.
The chaos at the end of Election Day was fitting for the chamber that has been in high political mode since Democrats seized the majority after a half-century of Republican rule.
The Democrats' one-vote margin in the face of a unified Republican bloc led to gridlock and power plays that became a national embarrassment.
The influential gay rights' advocate Empire State Pride Agenda said it had volunteers knock on more than 10,000 doors in Queens, staffed phone banks, sent mailers and helped 2,000 college-age residents to vote to help Democrat Tony Avella defeat Republican Sen. Frank Padavan. Avella had 53 percent of the unofficial vote with all precincts reporting.
"Tony Avella defeat of Senator Frank Padavan is good news and a significant step forward for all who support equality and justice for New York's (lesbian, gay, bisexual and transgender) families," said Pride Agenda Executive Director Ross D. Levi. Avella's win is a huge victory for us and for all New Yorkers."
A bill to legalize gay marriage was lost in the Senate a year ago, but Gov.-elect Andrew Cuomo hopes to revive the measure.
The count was as close as a single vote