GOP Topples 6 House Democrats in Reliably Blue New York
Empire State could be swept up in pro-Republican wave sweeping the nation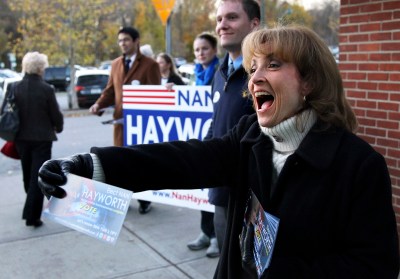 The antiestablishment, pro-Republican wave sweeping the country could unseat as many as eight House Democrats on Tuesday in reliably blue state New York.
Democratic incumbents from Long Island to Rochester were scrambling to hold onto their jobs as strong, well-funded Republican challengers promised jobs and an end to deficit spending in Washington if elected.
In what was widely expected to be a Republican pickup, Tom Reed, the former mayor of Corning, handily won the seat in the 29th District outside Rochester once held by Democratic Rep. Eric Massa with 56 percent of the vote over Democrat Matthew Zeller. Massa abruptly resigned in March amid accusations he had sexually harassed male staffers.
In eastern Long Island, four-term Democratic Rep. Tim Bishop held off strong challenger Republican businessman Randy Altshuler, winning 51 percent to 49 percent with 99 percent of precincts reporting.
On Staten Island, the most Republican-leaning of New York City's five boroughs, freshman Democratic Rep. Mike McMahon lost a close race with former FBI agent Michael Grimm (48 percent to 51 percent with 100 percent of precincts reporting). And in the lower Hudson Valley, GOP candidate Nan Hayworth defeated two-term Rep. John Hall 53 percent to 47 percent with 93 percent of precincts reporting.
Several seats in upstate New York looked to be cliffhangers, particularly two in Republican-leaning areas that Democrats won in special elections last year. Democratic Rep. Scott Murphy lost the battle to Republican Chris Gibson (55 percent to 45 percent with 99 percent of precincts reporting) in an Albany-area district Murphy won after Kirsten Gillibrand was appointed to the Senate.
But Democrat Bill Owens bucked the trend in the Adirondack region in northern New York, holding on to defeat Republican businessman Matt Doheny (48 percent to 46 percent with 99 percent of precincts reporting) for a seat Owens won just one year ago in a special election to replace Republican Rep. John McHugh, whom President Obama named to be Army secretary.
Democrats currently control 27 of the state's 29 congressional districts.