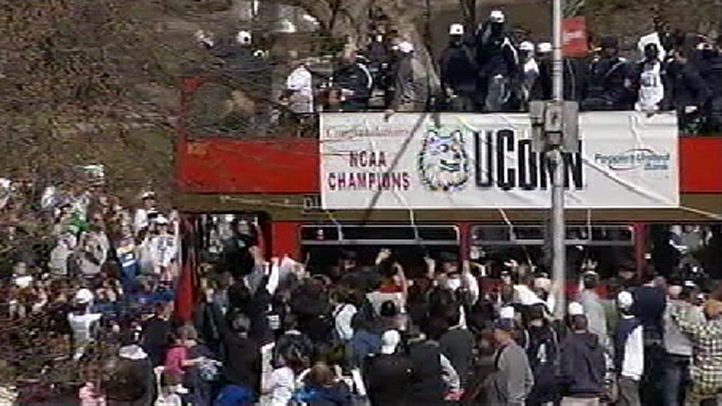 Basketball fans lined up four and five deep Sunday to catch a glimpse of UConn's men's basketball team as they paraded through downtown Hartford, Connecticut celebrating their third national title.

The Huskies rode on a double-decker bus waving to fans who celebrated their 53-41 win over Butler on April 4 in Houston. They were escorted by bands, jugglers, politicians and even dogs from a local Siberian Husky club.

Star guard Kemba Walker took pictures of the crowd as fans held up signs praising the Bronx native. One read, ``One Nation Under Kemba.''
Many of the fans said they came just to get a glimpse of Walker, 20, who announced last week he is leaving school a year early to play professionally in the NBA. Teammates pointed and laughed at one sign, which depicted Walker in a New York Knicks jersey.

Walker averaged 23.5 points, 5.4 rebounds and 4.5 assists during his junior season. He scored a school record 965 points, accounting for 45 percent of the Huskies' offense.

``He's a champion,'' said 8-year-old Christian Mereschuk of Enfield. ``He's the best player on the team. I want to play for the Huskies like him and then I want to play for the Miami Heat in the NBA.''
Center Alex Oriakhi blew kisses at the crowd, filled with children. Myrna Rivera, 43, of Hartford brought her family. She said the UConn basketball teams set a great example for the kids.

``It shows the youth in Connecticut that they can work hard and be the best that they can be,'' she said. ``This is what the boys and the girls basketball teams represent, giving hope to those that feel there is no hope.''

The parade wound its way from the Capitol and around Bushnell Park, before heading down Capitol Avenue for a rally on the north steps of the state house.

This was the eighth time there has been a parade in Hartford to celebrate a UConn national championship. This is the men's third championship. The women's basketball team has won seven.
News
Top news stories in the tri-state area, in America and around the world
The state held a rally, but no parade after the women's championship in 2003 after the start of the war in Iraq. In 2004, an estimated 300,000 people showed up for a joint parade after both men's and women's teams won NCAA titles.

Cathy Maher, 29, of Cromwell, was attending her first UConn victory parade.

``I think this is the basketball capital of the world,'' she said. ``It's really exciting.''

The weather cooperated Sunday, with partly cloudy skies and temperatures in the uppers 50s.

The team captured the imaginations of many fans with an amazing postseason run that included five victories in five days to win the Big East tournament in New York, and six consecutive wins in the NCAA tournament.

``It's good for the state of Connecticut,'' said Doug Wilson, 34, of Plainville.
``It's good for the people, the fan base. And I'm glad the men finally won, because the women have like seven national championships. I get tired of the women sometimes.''

Copyright AP - Associated Press