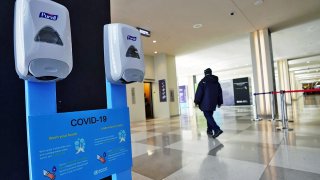 Two people in New York City are being tested for COVID-19, more commonly known as the novel coronavirus, the city's Health Department said Sunday.
The two people traveled to the city from Iran, a spokesperson for the department told News 4.
"There are currently two people under investigation for #COVID19 in NYC," New York City's Department of Health and Mental Hygiene said in a tweet Sunday afternoon.
"Tests for novel #coronavirus are now being performed by @HealthNYGov's lab, which means we will be able to get results back much sooner," the department added, without specifying how long it would take.
The department's spokesperson said the tests are being evaluated at the New York State Department of Health's Wadsworth Center in Albany.
The department's announcement on Sunday came a day after officials announced that a resident of New York City who recently came back from a trip to Italy and was being monitored for COVID-19 tested negative.
Gov. Andrew Cuomo on Saturday also announced that New York State would begin doing its own testing for COVID-19, noting this would "expedite wait time and improve NY's ability to more effectively manage the coronavirus situation as it unfolds."
Symptoms are likely to appear as soon as two days after exposure, or up to two weeks later, according to the CDC.
So far in the tri-state, there has been one confirmed case of the illness that has now been found on every continent except Antarctica. NYC Health Commissioner Oxiris Barbot previously said that due to the federal government expanding its criteria for virus testing to include Iran, Italy, Japan and South Korea, more people are expected to be tested.
"Viruses don't respect borders and this broader definition will help us cast a wider net to detect the virus. We expect the number of cases under investigation to grow," Barbot said.
New York City's Bellevue Hospital is one of several local medical centers that are preparing for a possible outbreak. It is home to 1,200 beds that could be readily available in case the virus becomes widespread, according to Mayor de Blasio.
Copyright NBC New York