What to Know
Mayor de Blasio announced Wednesday a "staggering" nearly 11,000 new COVID cases across the five boroughs -- and said that daily rate would likely continue to go up over the next few weeks; Numbers from the state and CDC suggest it could be even higher
Still, NYC officials say there is no reason to panic; the head of the city's public healthcare system sought to drive home the point when asked to reconcile "hysteria" over the sheer case surge with pleas for calm
"It's not because I'm worried about a deluge of sick patients," he said. "What I'm worried about is a large number of my staff exposed to omicron and then on 10-day isolation. That's the staffing problem"
The first U.S. omicron case was reported on Dec. 1. It took the heavily mutated variant less than three weeks to establish its dominance in America -- and nowhere is its unprecedented infectiousness more evident than in the New York area.
Mayor Bill de Blasio announced Wednesday a "staggering" nearly 11,000 new COVID cases across the five boroughs. He said the daily rate would likely continue to rise for the next few weeks, at least, as the new variant sweeps the region. The numbers from the state (17,221) and Center for Disease Control and Prevention (20,454) were even more stunning, as both figures would have NYC representing nearly a tenth of all cases nationwide from Tuesday.
The CDC estimates more than 90% of current cases in the metro area -- one that for its genomic surveillance purposes includes New York, New Jersey, Puerto Rico and the Virgin Islands -- are associated with omicron. That's up from 25% last week.
The agency has said New York and New Jersey were detecting omicron at four times the national average rate. The Garden State's latest numbers show a similar pattern, spiking 42% in a day as cities rush to impose mask rules and shut schools.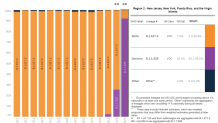 Delta, which for months exerted near-total dominance on New York area cases, is now believed to account for less than 8% of new infections, according to CDC data. And while that remains New York's prime variant of concern as far as its impact on hospitalizations, the sheer pace of omicron's spread has stunned health experts.
"Intense surge, limited impact," de Blasio said regarding the severity of omicron cases thus far. "That does not suggest doing the same things we did last year. That suggests a different game plan. Vaccination is the game-changer."
President and CEO of NYC Health + Hospitals Dr. Mitchell Katz sought to drive home the point when asked to reconcile the perceived "hysteria" over the sheer surge in new cases with officials' continued assurances of calm.
"What you're seeing as a mixed message is how people respond to the transparency of the data," Katz told the reporter who asked the question. "What the data show is cases are astronomically increasing, no question. Cases themselves, we've never seen as high levels. Very sick people? No."
Katz said his 11 H + H hospitals have 54 COVID patients in the ICU at this point. That's down from 970 at the latest peak this past March. It's only 34 patients higher than the lowest number (20) his network experienced over the course of the pandemic. Katz said that should add some perspective to the numbers, and shed more light around his own previously professed concerns about the omicron surge.
"It's not because I'm worried about a deluge of sick patients," Katz explained. "What I'm worried about is a large number of my staff exposed to omicron and then on 10-day isolation. That's the staffing problem that I'm worried about."
Source: CoVariants
Amy O'Kruk/NBC
"We continue to see mild disease," he added, though noted the question of whether unvaccinated hospitalized patients with omicron have more severe experiences than vaccinated hospitalized patients with omicron requires further study.
New York City's variant reporting data hasn't had a chance to catch up to the spread. It still lists omicron as accounting for 1% of tested COVID samples in the five boroughs, though acknowledges that its data "does not yet reflect the spread."
The five boroughs' rolling daily case average is up more than 141% over the rolling average for the prior four weeks, while hospitalizations are stable by the same metric after a marginal increase earlier this month.
Statewide, Gov. Kathy Hochul reported record-breaking daily COVID cases for four straight days before the number fell a bit Tuesday (22,258). Hospitalizations, though, topped 4,300, the highest total since April 7 and a 125% jump since Nov. 1.
Both de Blasio and Hochul have sought to assuage public concerns ahead of the holidays. Both assure New Yorkers the current climate is nothing like March 2020 or even December 2020, that vaccinations remain the most effective tool to beating back COVID, including the omicron strain. Both have said multiple times this week there will be no shutdowns.
De Blasio warned New Yorkers a few days ago that the omicron case surge will likely only get worse before it gets better, though the surge is expected to be far milder and far less lengthy than delta's earlier this year. Much of this expectation depends on people getting vaccinated and especially getting boosted, he says.
The Democrat launched a booster incentive program on Tuesday that awards $100 to anyone who gets a booster dose at a city-run or SOMOS partner site by Dec. 31.
Long lines at testing sites have been a bigger issue than vaccine lines lately. De Blasio announced another seven would open this week on top of the 23 already pledged, bringing the city's testing options up closer to 120 amid the demand.
Five new city mobile sites launching on Thursday will supplement the effort by handing out free at-home tests for New Yorkers. The locations of the trucks weren't immediately released, but the mayor said they'd be throughout the city.
"We know the COVID era will end, hopefully as early as 2022," de Blasio said Wednesday. "If we do the right thing, if we get vaccinated, we know the COVID era will end. We have powerful tools and we know the COVID era will end."
De Blasio's triumphant talk of recovery has been harder to swallow for some New Yorkers, as the one-time pandemic epicenter reels from this latest case onslaught and breakthrough infections shake Broadway to its core. Although this omicron outbreak is expected to be mild in terms of infection severity, it has renewed questions around holiday gatherings, especially when it comes to New Year's Eve.
De Blasio had said tens of thousands of fully vaccinated people could return in person to Times Square this year. That was just a few weeks ago. The mayor says his team is still in discussions about have to make it safer. He has pledged to announce a decision on the end-of-year bash before Friday.
While much is still to learn about omicron -- and what could come next -- de Blasio has said research shows it is most certainly more transmissible than any previous strain and likely more vaccine-resistant, but that vaccinations are still effective.
Source: CoVariants
Amy O'Kruk/NBC
That appears most true when it comes to preventing severe illness from omicron. Mounting evidence shows two vaccine doses have plunging efficacy against the newest variant of concern. Boosters provide even more protection, Pfizer and Moderna have said their data shows. And any doses of the three main COVID vaccines provide more protection than no doses at all, the CDC director has said.
While about 1% of all New York residents have tested positive in the last 10 days, Hochul, de Blasio and leading national experts continue to drive home those points.
Indoor mask rules, vaccine mandates and other protective measures have been re-implemented to slow the spread, and New York's leaders ask their pandemic-weary people to ride out this wave a bit longer.
"Cases are rising due to the winter surge, but this is not March 2020 - we knew this was coming and New York is taking action to make vaccines, boosters, and testing more widely available," Hochul said in a statement Tuesday.
"We know what works - get vaccinated, get the booster, mask up, and exercise caution in indoor public spaces," she added. "Now is the time for all of us to do our part and help protect those more vulnerable to make sure we all get through this holiday season safely."