What to Know
NYC Mayor Eric Adams continues to push vaccinations and testing as the five boroughs battle their worst COVID-19 wave in a year; hospitalizations topped 5,000 for the second straight day Tuesday — numbers not seen since May 2020
Omicron has about 50 genetic mutations and more than half of them are linked to one critical spike -- the one that allows the virus to attach to human cells and infect the host
Omicron, the first NY case of which was reported Dec. 2, accounted for 93.8% of sequenced samples uploaded to GISAID, over the last two weeks, though CDC estimates its share could be as high as 99.1%
New York City Mayor Eric Adams announced a three-point plan Wednesday to bolster support for health workers on the frontlines of the COVID-19 pandemic and the facilities in which they work as increasing numbers of hospitals face staff shortages amid an omicron surge that shows no signs of slowing.
Seventy-five percent of New York City hospitals beds are filled at this point, Adams said from Elmhurst Hospital in Queens, which was hit with particularly intense severe case rates earlier in the pandemic.
He vowed not to let any city hospital face some of the unprecedented challenges of spring 2020 again -- and says he's prepared to give them the money to get through what he believes will be a few more weeks before the peak surge.
Adams' plan calls for shoring up resources at hospitals to ensure quality of care for New Yorkers throughout this omicron stage, especially in historically underserved areas, by "surging funds to every part of our healthcare network," providing a financial backstop for hospitals, staff and essential workers and more. Part of that backstop comes in the form of $33 million in loan funding to secure a safety net.
Those funds will help ensure adequate resources -- from protective equipment to medical supplies to essential workers' salaries to testing and vaccine administration and distribution efforts. They've already been deployed to support more than 2,000 hospitals and more than 26,000 patients, Adams said.
The mayor also announced $111 million in "immediate support" for the city's H+H network, the largest public health network in America, which stretches across nearly a dozen facilities across the city. Adams called public hospitals the first line of defense against COVID and said the investment would help avoid staffing shortages as well as secure needed supplies and other resources for months.
That will help increase the city's overall COVID capacity as it relates to various elements of the virus response as well, Adams said. His plan's third prong involves expanding staff and support at the city's Department of Health and Mental Hygiene, which has led the execution of the COVID response since the start of the pandemic.
"These last few weeks have been hard but more than that, these last few years, and we're full of fear, fatigue and uncertainty and we're all tired. I know that, and I see it every day, I see it on the faces of people," Adams said. "But medical professionals will tell you when you're dealing with an ailment, it's not only a physical recovery but it's a mental recovery."
"The climate that you're in, how you're treated, how people engaged with you, helped you -- that positive energy is so important and we must instill that positive energy here in Queens and throughout this city," the mayor added. "We're not going to succumb our allow our lives to be defined by COVID. We're going to be stronger than ever when we cycle out of this period. We want to get stuff done."
Adams' Wednesday remarks in Queens came a day after the newly-sworn in Democrat visited Brooklyn's Woodhull Hospital, where he similarly thanked nurses, doctors and essential workers for their efforts over the past two years. He also said more resources are needed for hospitals that are being stretched thin, especially those in underserved communities.
"They need more than a handclap at 7. They need support seven days a week 365 days in a year to get the services they deserve," Adams said. "When COVID's at its peak, they were on the frontline getting stuff done every day for New Yorkers. They were protecting our most vulnerable I want to say to them I'm here to protect you and fight on behalf of what's important to you and your facilities."
Daily case counts have been eye-popping as of late, though experts say that metric is far less critical than trends in new COVID hospitalizations and deaths. That data, too, though, is increasingly a cause for concern.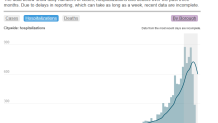 New York City saw another significant jump in hospitalization numbers Wednesday. The total reported was 5,713, up more than 2000 from the previous day and from 5,038 on Monday — the day admissions surpassed 5,000 for the first time since early May of 2020. The five boroughs' rolling hospitalization rate is up 62% over the averages for the prior four weeks.
Statewide, COVID hospitalizations are now approaching the 11,000-mark as new estimates released by the CDC estimate omicron's regional prevalence to be as high as 99%.
Omicron has about 50 genetic mutations and more than half of them are linked to one critical spike -- the one that allows the virus to attach to human cells and infect the host. That's part of the reason for its intense level of transmissibility.
While there are fewer patients who are severely ill, as Manhattan emergency room physician Dr. Craig Spencer explained, the sheer number of vaccinated and unvaccinated individuals who are testing positive can turn into a "huge influx" for hospitals because of how omicron is affecting them in different ways.
Still, the mayor maintains New York City knows more about the coronavirus now than it did during the early days of the pandemic and will use that knowledge to not only work towards its recovery but to hasten the end of the pandemic entirely.
"This isn't early 2020. This is 2022. We have vaccines. We have tools. We have resources to fight back in a real way," Adams said.
Two years ago, the city faced PPE and hospital bed shortages, but now staffing shortages threaten to slow down care for patients. Waits for COVID testing have also stretched hours long as some sites have had to close locations altogether.
At-home COVID tests are in such high demand that New Yorkers were seen literally climbing over one another in a bid to snare one of the free kits the city handed out at a series of giveaways across the five boroughs just before the new year.
To help relieve at least that burden, the NYC Test & Trace Corps says it has doubled the number of city-run test sites since December, opening more than 100 new fixed and mobile testing sites, and is now operating more than 200 testing locations.
Another 20 testing sites will open over the course of the next week as the city looks to shore its operations up even more. Clearly, the demand is there.
According to Test & Trace, city-run sites performed 17,000 tests -- or about 19% of the seven-day citywide average for PCR and antigen testing -- on Dec. 6. Three weeks later, city-run sites were conducting nearly three times as many tests and its share of the seven-day average for tests conducted citywide rose to 35%.
The unit has distributed more than a million at-home test kits in recent weeks and has made its at-home testing program available for immunocompromised residents as well as those aged 65 and older. Find the testing site nearest you here.
"Since the pandemic began, day in, day out, our teams have worked tirelessly to provide additional testing resources wherever they're needed, innovate ways to deliver testing as effectively as possible and engage community partners to determine site locations convenient to all New York's diverse communities," Shifra Goldenberg, NYC Test & Trace Corps Senior Manager of Site and Service Implementation and Director of Implementation for the Office of Ambulatory Care and Population Health at NYC Health + Hospitals, said in a statement.
"I am proud of our team members, including our healthcare workers and service operators providing testing on the frontlines of the pandemic, who have made this critical testing expansion possible and encouraged to see so many New Yorkers showing up to get tested and stop the spread," she added.
Copyright NBC New York