What to Know
NYC is eyeing new shutdowns for the first time in months to try to contain new clusters; in some parts, positivity rates have hit 6 percent
"This may be the most precarious moment that we're facing since we have emerged from lockdown," health chief Dave Chokshi said Friday
The largest cluster of four neighborhoods has been dubbed "The Ocean Parkway Cluster;" if no progress is made on positivity rates by Monday evening, non-essential businesses could be closed along with day cares
A screaming, unmasked heckler interrupted the start -- and later additional parts -- of a briefing by health officials in Brooklyn Friday as they provided an update on emerging COVID clusters there and in Queens that have become so severe they may prompt the first new shutdowns in New York City in months.
The heckler identified himself as Heshy Tischler, a regular on the anti-mask, anti-crowd restriction circuit, and repeatedly interrupted President and Chief Executive Officer of NYC Health + Hospitals Mitchell Katz, calling him a "filthy animal" as he discussed COVID safety. The mayor's office tried to get Tischler to put a mask on but he repeatedly refused, saliva visibly spewing out as he yelled. Later he erupted again at Test & Trace Director Ted Long, challenging the validity of test results.
"When a man lies, you have to be interrupted," Tischler exclaimed. "I will not allow the lies to be given out!"
The briefing, which also included Department of Health & Mental Hygiene Dr. Dave Chokshi, lasted less than 20 minutes; it's unclear if the heckler affected the timing. In the brief time he spoke, Chokshi made it clear that the situation is dire.
"This may be the most precarious moment that we're facing since we have emerged from lockdown," Chokshi said, warning the clusters could soon evolve into widespread transmission. "We will move as swiftly as the situation warrants ... If this growth continues, it will turn into widespread transmission potentially citywide."
The clusters have seen such alarming growth in the past week -- and again over the past few days -- that the health department says reopening rollbacks may be implemented for the first time in the city's recovery period if progress is not made. It set a Monday deadline for that.
"The immediate scaling back of activities" would apply only to the affected ZIP codes, not citywide, the health department said Thursday evening -- and could include bans of gatherings of 10 or more people, mask fines, private school and child care center closures and shuttering all non-essential businesses again.
The increase in positive COVID cases was largest in the Gravesend/Homecrest area, where the positivity rate hit 6.42 percent Friday. Other problems areas include Midwood (5.05 percent), Kew Gardens (4.18 percent), Edgemere/Far Rockaway (4.03 percent), Borough Park (3.9 percent), Bensonhurst/Mapleton (3.45 percent), Sheepshead Bay (3.34 percent), Flatlands/Midwood (3.1 percent) and Williamsburg (1.55 percent).
Many of those areas contain neighborhoods with large Hasidic populations, and the spikes are occurring in the middle of the High Holy days when many in those communities have been gathering indoors without masks. Mayor Bill de Blasio was asked if there were enough Yiddish-speaking contact tracers who would communicate and connect with the community, to which he said there was a "substantial" number who spoke Yiddish. Neighbors in some of the areas are upset as well, with some saying they've seen defiant anti-mask behavior in local stores as well.
While some of those areas saw slight declines in positivity rates since the health department's last update earlier this week (like Williamsburg), the others have seen notable upticks -- and the cluster appears to be affecting more neighborhoods than it had been earlier this week. The health department said there are early warning signs that the uptick has spread into surrounding areas, particularly in southern Brooklyn and northeast Queens. There has also been an uptick in hospitalizations in at least one southern Brooklyn hospital, which was expected with an uptick in cases.
Daily Percentage of Positive Tests by New York Region
Gov. Andrew Cuomo breaks the state into 10 regions for testing purposes and tracks positivity rates to identify potential hotspots. Here's the latest tracking data by region and for the five boroughs. For the latest county-level results statewide, click here
Source: ny.gov
Starting Friday, the health department will conduct regular inspections of all non-public schools within the clusters and their adjacent ZIP codes. Staff is being beefed up to enhance enforcement on mask and social distancing compliance. The city Health Department also issued a commissioner's order to non-public schools in the Ocean Parkway Cluster that will increase COVID risk-reduction measures (which are similar to the ones adopted by public schools throughout the city).
Sheriff deputies and the NYPD continue to monitor mask compliance, which the health department says is "overwhelmingly low" compared to other parts of the city. Katz said Friday's outburst was an indication of the obstacles the city has faced in getting mask compliance up.
"We are very distressed, people refuse to believe the truth. It's a deadly virus with easy ways to prevent it," Katz said.
Other outreach efforts to contain clusters the city has warned could evolve into widespread transmission include robocalls, direct mailing, newspaper ads, free hand sanitizer and mask distribution and enhanced testing and tracing. Officials say the effort started weeks ago in certain neighborhoods; tens of thousands of masks have been distributed and many community meetings have been held.
The initial spike occurred between Aug. 1 and Sept. 19, the department said. The newly termed "Ocean Parkway Cluster" is a group of four neighborhoods that has seen coronavirus rates triple during that seven-week period. Earlier this week, those four areas had accounted for one in five of all new COVID cases citywide since Saturday, though given the growth since, that ratio is likely higher now.
The latest indicators from the city show the new clusters are already contributing to a steady uptick in daily COVID cases but overall, New York City's infection rate is low, with just 1 percent of more than 38,200 tests conducted Wednesday coming back positive, according to the latest data released Thursday.
Brooklyn has the highest overall positivity rate by far of the five boroughs (1.7 percent); the other four are below 1 percent. Brooklyn's positivity rate improved slightly from Thursday, when it was 1.9 percent, though it has steadily ticked up over the course of the week, from 1.4 percent on Tuesday to 1.6 percent Wednesday to 1.9 percent Thursday before that 0.2 percent dip Friday.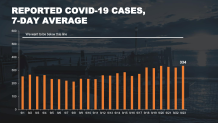 Mayor Bill de Blasio has warned looming reopenings like indoor dining may be reevaluated if the citywide infection rate hits 2 percent -- and if it hits 3 percent, that could immediately justify school closures. But that is not something the city is willing to consider doing any time soon.
"People are saying why not go all remote. No — a hell of a lot of parents want their kids in school and we owe it to them to do that and to do it safely," de Blasio said.
The mayor has said he believes the city can turn the tide in these neighborhoods if compliance improves significantly and immediately. If not, he has said "urgent action" must be undertaken.
Statewide, the infection rate also remains low. It has been at 1 percent or below for more than a month. But there are clear signs for concern. Gov. Andrew Cuomo said Thursday he is watching New York City closely, acknowledging the Brooklyn cluster without sounding any major alarm -- yet. He said New York is OK for now.
Asked Thursday whether the state would get involved in any containment efforts, Cuomo said the state only steps in if the local health department "is impotent or incompetent." He reiterated clusters are expected but said this one -- or others -- wouldn't affect the statewide reopening of schools unless they affect the statewide infection rate. And if that happens, it's no longer just a cluster.
Cuomo also points to a new case increase of more than 15 percent in 10 days nationally as a reason for continued vigilance. Five more states were added to the tri-state quarantine list this week amid the latest national increases, bringing the total number of restricted U.S. states and territories to 35.
"New York won't be completely safe until the other states are completely safe," Cuomo said Thursday.
Nationally, the confirmed U.S. COVID-19 case toll has topped 7 million and at least 200,000 people have died, according to NBC News. New York state alone has confirmed nearly a half-million cases and more than 25,000 confirmed deaths, though officials agree thousands more are probably virus-linked.
Copyright NBC New York