What to Know
Both NYC and state are reporting their lowest positivity rates since that metric started to be reported; Gov. Andrew Cuomo says NY's rolling positivity rate is now the lowest among all U.S. states
In the city, COVID-19 cases are down 95% since January, while the hospitalization rate is down 86%; Mayor Bill de Blasio is focusing his targeted outreach efforts now on kids age 12 to 17
A new in-school vaccine pilot will launch in four Bronx schools Friday and may spread to other boroughs; the mayor also plans vaccine block parties to engage parents and youth in the process
New York now boasts the lowest rolling COVID positivity rate in the country, Gov. Andrew Cuomo said Thursday, while statewide hospitalizations have fallen below 1,000 for the first time since the third week in October.
The metrics are equally as positive in the one-time epicenter of the pandemic. New York City Mayor Bill de Blasio said Thursday that new COVID-19 cases in the city are down 95% since January, while the positivity rate is down 91%. Hospitalizations and the hospitalization rate are down 69% and 86%, respectively, as well.
Both de Blasio and Cuomo credit vaccinations for the overwhelming improvements, and both continue to add new enticements to incentivize those less motivated or less inclined, for whatever reason, to get their shots. Specifically, they're focusing their latest targeted outreach on the youngest eligible recipients, those 12 to 17.
A day after announcing the first in-school vaccinations would debut in the Bronx Friday (and spread to other boroughs in the coming weeks if they prove successful) de Blasio introduced youth vaccine block parties as another means to reach kids.
De Blasio says the city plans youth vaccination block parties for the summer to support kids and parents, encourage vaccinations and answer any questions. It's part of his latest effort to reach the newly eligible 12-to-17-year-old age group.
Nearly 120,000 New York City kids age 12 to 17 have gotten at least one dose so far, de Blasio said, which is about 23% of the city's population in that age range and surpasses the national average (22%) for the same group, the mayor noted.
That said, those youth still lag their older cohorts in terms of vaccination rates -- statewide, just 0.2% of kids age 12 to 15 are fully vaccinated compared with a 36.2% full vaccination rate for those age 16 to 25, data shows.
Nearly 23% of New York kids age 12 to 15 have gotten at least one dose, though. While kids are less likely to experience severe outcomes from COVID, they can still get sick and potentially infect others more likely to be hospitalized or die, officials say -- hence a full-throttled effort at all government levels to motivate them.
To reach kids a bit older — the so-called "zillenials" — de Blasio said Thursday that a new "Shots and shots" program will send mobile vaccine buses to nightlife areas. The buses have already visited Bushwick, Astoria, the Lower East Side, Bronx Night Market and Inwood and will head to downtown Brooklyn and the West Village Thursday and Friday nights.
De Blasio also announced the winners of the city's weekly vaccination contest Thursday. The prizes this time included 20 two-day staycations at local hotels.
To date, about 55% of the city's adult population is fully vaccinated but that number plunges to 44.2% when the entire population, including those not yet eligible, is included. Dose rates have plateaued in the last six weeks across the board, but given the impact de Blasio says they've had on COVID rates, he's not letting up.
Neither is Cuomo, whose best-in-nation 0.60% rolling positivity rate is in the midst of a 59-day stretch of decline. New York also notched a single-day positivity rate low of 0.44% on Thursday, though the number of total tests are markedly down.
"COVID rates across the state have never been lower and hospitalizations are under 1,000 for the first time in 8 months, all while businesses are reopening and people are coming back together again," Cuomo said in a statement. "Our state is back, and that's a testament to the New Yorkers who have stayed tough and smart over the last year - but most of all, it's a testament to the more than 19 million vaccinations we've put in arms."
"The vaccines are safe, free, and effective, period, and the sooner we get each and every eligible New Yorker vaccinated, the sooner we can finish off this pandemic once and for all," the governor added.
---
Not sure how the process works? Check out our handy tri-state vaccine site finder and FAQs here
---
New York City and New Jersey Vaccine Providers
Click on each provider to find more information on scheduling appointments for the COVID-19 Vaccine.
Data: City of New York, State of New Jersey • Nina Lin / NBC
To further beat back a disease confirmed to have taken nearly 43,000 New York lives to date -- and one that likely is accountable for thousands upon thousands more fatalities — de Blasio and Cuomo have rolled out a growing number of lucrative incentives in recent weeks to engage those less inclined to get vaccinated.
So far, the most potentially live-changing incentive introduced by the state is a five-week program offering full college scholarships to any SUNY or CUNY university to kids age 12 to 17 who get at least one vaccine dose by July 7. A total of 50 free college educations will be raffled off over the course of the five-week program.
Cuomo announced the first 10 winners on Wednesday. See the first group of winners below.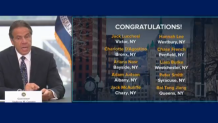 Daily Percentage of Positive Tests by New York Region
Gov. Andrew Cuomo breaks the state into 10 regions for testing purposes and tracks positivity rates to identify potential hotspots. Here's the latest tracking data by region and for the five boroughs. For the latest county-level results statewide, click here
Source: ny.gov
Kids can sign up for the weekly drawings even if they were vaccinated before Cuomo announced the program. Those who are interested can sign up here to be notified when each drawing begins.
The New York governor added yet another carrot to the pile Thursday, announcing horse racing fans who get vaccinated at a new mobile pop-up vaccinate site at Belmont Park earn complimentary general admission to the 2022 Belmont Stakes.
Cuomo said the site, which will use the single-dose Johnson & Johnson vaccine, will run next to the Clubhouse Entrance of Belmont Park on Friday from 12 p.m. to 6 p.m. and Saturday from 9 a.m. to 5 p.m. This year's big race kicks off not long after that. It will be televised live on NBC.
Nationally, 48.6% of the eligible U.S. population is fully vaccinated to date, though that number climbs to nearly 52% when only adults are considered, CDC data shows.
The highest full vaccination rates are among those 65 and up, 74.9% of whom are immunized. That number has held pat for some time, though, suggesting those willing and interested in getting vaccinated have already done so.
President Joe Biden has declared June a "Month of Action" as he aims to have at least 70% of U.S. adults at least partially vaccinated by July 4.
Anheuser-Busch announced Wednesday it would buy 200,000 Americans "a round of beer" once that goal is met.
The vaccination goals come as the U.S. eclipsed 600,000 totals deaths from COVID, according to an NBC News tally on Thursday. It took 102 days since the last grim threshold of 500,000 in February, which is a marked improvement considering the country saw 200,000 deaths in about a two-month span between December and February.