What to Know
Gov. Andrew Cuomo has announced the first 10 winners of his new full four-year scholarship vaccine incentive program for New Yorkers age 12 to 17; 40 more full rides will be raffled off in the next four weeks
Both NYC and state are reporting their lowest positivity rates since that metric started to be reported; Mayor Bill de Blasio plans to launch an in-school vaccine pilot at Bronx schools later this week
In New Jersey, which is also reporting its lowest daily COVID fatalities in some time, a new poll finds Black and Latino registered voters are more likely to say they'll get vaccinated now than 4 months ago
New York City has long said that when it comes to vaccinations, it will go wherever the people are in order to reach them. Starting this week, that means school.
Mayor Bill de Blasio announced Wednesday the city will open vaccination sites at four schools in the Bronx on Friday as part of a pilot program to more expeditiously reach kids age 12 to 17. It will expand to all five boroughs in the next few weeks, de Blasio said. He's partnering with the unions to get the job done.
These schools will launch the pilot Friday, with vaccine sites open from 10 a.m. to 6 p.m. through the weekend, the mayor's office said:
Bronx Writing Academy: 270 E. 167th St.
JHS Jordan L. Mott: 270 E. 167th St.
JHS 118 William W. Niles: 577 East 179th St.
MS 180 Dr. Daniel Hale Williams: 750 Baychester Ave.
With millions of more kids in New York City having become eligible for vaccination in just the last three weeks since the CDC authorized Pfizer's regimen for emergency use to those 12+, de Blasio says the five boroughs are "doubling down" on outreach to those kids, their parents and their pediatricians.
It's working, according to the mayor, and with just a few weeks before school wraps for the summer, now is the time to take advantage of the centralized location. De Blasio said Thursday he's also planning youth vaccination parties for kids, parents, pediatricians and others to get the information they need and answer questions.
Nearly 120,000 New York City kids age 12 to 17 have gotten at least one dose so far, de Blasio said, which is about 23% of the city's population in that age range and surpasses the national average (22%) for the same group, the mayor noted.
"We are doing something here that's working and we want to build on it and go farther especially in the neighborhoods hard-hit by COVID," de Blasio said, which is why he's first rolling out the in-school vaccine pilot to a few Bronx schools. "This is a way of finding the best approach and then applying it more broadly."
To reach kids a bit older, de Blasio said Thursday that a new "Shots and shots" program will send mobile vaccine buses to nightlife areas. The buses have already visited Bushwick, Astoria, the Lower East Side, Bronx Night Market and Inwood and will head to downtown Brooklyn and the West Village Thursday and Friday nights.
Also on Wednesday, the mayor announced the opening of the New York Aquarium vaccine site, the latest addition to the city's already vast repertoire of providers. With the reopening comes yet another incentive for parents to bring their kids age 12 and up: Those who do earn a free ticket to a future visit at the iconic aquarium.
The Bronx Zoo and American Museum of Natural History offer similar perks. Walk-ins are accepted as well as appointments, which has been the norm for all city and state-run sites for weeks now as officials look to boost vaccination rates.
---
Not sure how the process works? Check out our handy tri-state vaccine site finder and FAQs here
---
New York City and New Jersey Vaccine Providers
Click on each provider to find more information on scheduling appointments for the COVID-19 Vaccine.
Data: City of New York, State of New Jersey • Nina Lin / NBC
"Parents are really responding to this. It is a joy to bring your kid someplace they love, get them vaccinated, know they're healthy and know they'll get to enjoy that wonderful location again," de Blasio said.
The new incentives come as New York has the lowest seven-day average positivity rate in the nation, according to Gov. Andrew Cuomo. After 58 consecutive days of decline, the state is now at a rate of just .64 percent, Cuomo said. That still-declining number will allow more events to return, and allow more people to attend those kind of events.
The Mets will be expanding full capacity sections for fully vaccinated fans to 90 percent of the stadium starting on June 11, enabling more than 32,000 to attend games. Also returning will be one of the biggest events in the car world each year: the New York Auto Show at the Javits Center. America's first and largest auto show will dedicate nearly a full floor to electric vehicles this year, and will be made available at pre-pandemic attendance levels from Aug. 20-29.
But with vaccination rates among New York adults in the midst of a weeks-long plateau (57.3% fully vaccinated to date statewide), both the mayor and Cuomo are looking at younger kids who may be less inclined to get vaccinated -- or whose parents might be less inclined to have them dosed -- as a critical opportunity.
While that age group is less likely than others to get severely ill or die from COVID, they can infect others more at risk, Cuomo has said. Kids 12 to 17 are testing positive for COVID-19 at higher rates than their representation in the total test pool, the governor said last week -- and have vastly lower vaccination rates compared with their representation in the state's population.
As of Wednesday, Cuomo said 9% of New Yorkers age 12 to 17 were fully vaccinated -- a far cry compared with the next age group, those 18 to 25 (38%). To capitalize on the untapped vaccine market, Cuomo unveiled a new free college education incentive -- and the state held the first of what will be five weekly drawings raffling off 50 full college scholarships on Wednesday.
Ten full tuition, room and board scholarships to any SUNY or CUNY university — valued by the governor at around a $100,000 value — will be awarded each week through July 7 for a total of 50 free rides. Nearly 49,000 New Yorkers eligible for that contest have been vaccinated since the contest launched.
See the first group of winners below. Kids can sign up even if they were vaccinated before Cuomo announced the program. Those who are interested can sign up here to be notified when each drawing begins: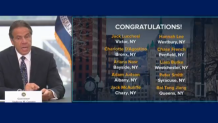 In neighboring New Jersey, kids age 12 to 17 account for just 3% of total doses administered in the state -- well below their representation in the community. Gov. Phil Murphy, like Cuomo, has focused on reaching them as well as communities of color, which have been underrepresented since the start of the vaccine rollout.
Black and Latino residents account for just 7% and 14%, respectively, of total vaccine doses administered in New Jersey to date, despite representing 15% and 21% of the state's population, respectively, state and U.S. Census data show.
The gap could soon start to close, though. A new Project Ready poll of 1,200 residents released Tuesday found that the share of Black registered voters willing to get the vaccine increased from 62% in February to 69% in May.
Four months ago, 77% of Latino voters said they would get vaccinated. That number jumped to 83% in May.
The apparent decline in hesitancy was also evident among parents of color. Fifty-four percent of Black parents of eligible New Jersey kids polled by Project Ready and 59% of Latino ones said they would get their children vaccinated, while a lower percentage of white parents polled (39%) felt the same, Project Ready found.
Project Ready Executive Director Shennell McCloud credited the increases among people of color to state outreach. The share of white voters who said they would get vaccinated also increased, by 2%, but the poll found those voters were also more likely than voters of other races to definitively say they wouldn't get vaccinated.
While it's unclear from the poll how much incentives or outreach have contributed to the swings in vaccine readiness, it doesn't appear the CDC's new mask guidance for fully vaccinated people wasn't a major influencer. According to Project Ready, government trust and side effect concerns appear more significant indicators.
"The two biggest reasons cited by those who haven't been vaccinated are side effects and trust in government, suggesting that government and public health officials must continue to work directly with people to build trust and deliver vaccines to their neighborhoods from providers they trust," McCloud said.
For his part, Murphy said Wednesday that state data shows Black and Latino workers are disproportionately likely to avoid vaccination because they're concerned about missing any employment time to get dosed or because of potential side effects they may experience afterward.
The governor reminded the people of his state and their employers those concerns should not be an obstacle.
"Employers are to honor earned sick leave for any worker to travel to-or-from a vaccination location, or to take a day off if their side effects may require," Murphy said.
Overall, New Jersey ranks seventh among U.S. states in percentage of total population fully vaccinated (48.88%), which includes not-yet eligible recipients younger than 12, according to The Becker's Hospital Review.
New York comes in at No. 11 (47%), while Connecticut outpaces the rest of the tri-state to land at No. 4 (53.68%). Vermont leads all states on that metric, followed by Maine and Massachusetts, the Review says.
Nationally, 51.7% of U.S. adults are fully vaccinated, though that number drops to 48.5% when expanded to all eligible residents age 12 and up and lower (40.9%) when considering the country's entire population, CDC shows. Nearly 63% of U.S. adults have gotten at least one dose. President Joe Biden has said he aims to have at least one dose administered to 70% of U.S. adults by July 4.
Copyright NBC New York