What to Know
New York's COVID hospitalizations have topped 7,500 and are at their highest level since May 8; early post-holiday data shows alarming positivity rate jumps, though Gov. Cuomo wants further study
In New Jersey, new test mandates take effect for United Airlines travelers from the UK to Newark Monday, the same day the state launches its vaccination program in long-term care facilities
The U.S. topped 19 million cases and 332,000 deaths over the holidays; a virus that was just beginning to make global headlines this time last year has now killed 1 in every 1,000 Americans
New York is poised to eclipse 30,000 confirmed COVID-19 deaths this week (though the actual toll is likely much higher already) as hospitalizations continue to climb amid an anxious wait for the dreaded holiday surge upon surge in cases.
Securing hospital capacity has been the top priority for Gov. Andrew Cuomo over the last month as the numbers slowly -- and then more steadily -- climbed. Nearly 7,600 (7,559) people were hospitalized with the virus statewide as of Monday, an increase of almost 400 over the previous day and the highest total since May 8, a harbinger of more potential tragedy to come.
The state has reported at least 100 new COVID deaths a day for nearly two weeks now. The total number of confirmed fatalities is now 29,629, though the CDC and experts say the virus is likely blamed for thousands upon thousands more deaths.
In his first post-Christmas COVID briefing Monday, Cuomo said he hoped New Yorkers had adhered to his mantra: "Celebrate smart, stop the shutdowns."
"There is nothing pre-ordained here," Cuomo said Monday. "What will happen will be a consequence of our actions -- a year where we felt out of control we're actually in ultimate control because we control the spread of the virus."
Already, there are some alarming signs. New York state's positivity rate with the micro-clusters is 8.33 percent as of Monday, the highest number in some time. The rolling seven-day average is 5.9 percent, again a marked increase as of late.
"This is a jump from Friday, Saturday to Sunday," Cuomo explained. "We have been talking about the potential for spread during Christmas. For it to go up in two days is dramatic and very, very fast. We're studying what the uptick actually means."
Daily Percentage of Positive Tests by New York Region
Gov. Andrew Cuomo breaks the state into 10 regions for testing purposes and tracks positivity rates to identify potential hotspots. Here's the latest tracking data by region and for the five boroughs. For the latest county-level results statewide, click here
Source: ny.gov
In New York City, Mayor Bill de Blasio reported yet another day of new hospital admissions topping his 200-threshold Monday.
The seven-day rolling positivity rate topped 7 percent over the weekend for the first time in recent memory and climbed to 7.24 percent as of Monday, according to the mayor's data, which trends higher than state reporting.
Staten Island continues to drive a disproportionate share of the increase, a fact that Cuomo says is due to an ongoing lack of public adherence to precautions. The only borough with a COVID positivity rate below five percent was Manhattan.
These positivity rates do not even reflect any potential holiday effect, which may take weeks to materialize. Cuomo warned it's too soon to jump to conclusions.
Increased positivity rates could be associated with lower testing numbers of a smaller population showing symptoms, he noted. For example, a flood of people got tested just before the holidays to ensure safety if they were visiting family or friends. After the holidays, the likelihood was higher that people getting tested were experiencing symptoms, and that fewer people were tested as a precaution.
New York has been testing more than 200,000 people a day lately. On Sunday, the day that positivity rate hit 8.33 percent, fewer than 125,000 tests were conducted.
More should be known about the direction of the trends in the coming days.
Despite warnings from the CDC to stay home for the holidays, more than 10 million people traveled by air in the U.S. over the past 10 days, according to TSA data. Sunday was the highest air traffic day (1.28 million travelers) of all of them and marked an increase of nearly 100,000 from the previous post-pandemic high.
With more than 200,000 new COVID cases being reported across the U.S. each day, infectious disease expert Dr. Anthony Fauci warns any holiday spike connected to the heightened flow of travel could overwhelm hospitals.
"We very well might see a post-seasonal — in the sense of Christmas, New Year's — surge, and as I've described it, as a surge upon a surge," Fauci told CNN.
The threat of a holiday spike has only been compounded by concerns about the U.K. variant, which evidence indicates could be up to 50 percent more transmissible and may more easily infect children. It hasn't yet been identified in the United States, but now has been confirmed in about a dozen other countries.
At least a half-dozen nations reported their first cases since Christmas Eve.
Finland, Ireland, Canada, France, Japan, Germany and South Korea all confirmed at least one case of the variant since Christmas Eve, adding to a list that includes Denmark, the Netherlands, Belgium and Australia. A growing number of countries have implemented all-out travel bans or varying restrictions involving the U.K.
Mayor de Blasio announced new measures last week to protect New York City from the variant, saying members of the sheriff's office would personally deliver quarantine orders to U.K. travelers who arrive in the five boroughs -- and then door knock to make sure they're honoring the order if they haven't tested out.
No numbers have been given publicly as far as how many encounters like that there may have been since de Blasio made the announcement Wednesday.
Though it hasn't yet been detected locally, Cuomo believes the new strain is already in New York -- if something spreads globally, it ends up here. But he wants to know when it's confirmed, and where it's been detected. The governor has ordered hospitals across the state to test for the mutation.
Identifying a viral mutation requires an exhaustive genetic code sequencing of individual COVID-19 samples. As of last week, The Wadsworth Center, the state's public health lab, had sequenced at least 3,700 samples and not found the strain. That's just about 0.4 percent of the 922,000 cases New York has confirmed.
Similarly, the CDC has only conducting genetic sequencing on about 0.5 percent of America's confirmed cases. The agency acknowledges the variant may have slipped through those analyses and been circulating in the U.S. for some time.
Travelers from the U.K. to New York via British Airways, Virgin Atlantic and Delta must provide proof of a negative COVID test before departure, according to an agreement Cuomo reached with the respective airlines last week. That same mandate now applies for United Air travelers from the U.K. to Newark Airport.
Asked about the new strain Monday as the new rules took effect, Gov. Phil Murphy said, "We're operating assuming that this strain is upon us."
The governor said he believed the newly imposed requirements in New Jersey and New York would become national policy in short order. In the meantime, his Department of Health medical director, Dr. Edward Lifshitz, said Monday he expected the vaccines to work for that strain as well, echoing other experts.
New Jersey took another step on the vaccine front Monday in launching the process in its long-term care centers, which have accounted for 40 percent of all its confirmed virus deaths. Murphy was on hand to witness the first shots in that phase at Old Bridge's Roosevelt Care Center Monday morning.
New Jersey already has 291 long-term care facilities scheduled and more than 83,000 residents and staff slated to receive vaccinations through the beginning of February 2021 as part of the Federal Pharmacy Partnership for Long-Term Care Program. More sites are expected to be added in the coming weeks.
Thus far, New Jersey has administered more than 46,200 vaccine doses, not including any done over the holiday weekend. The state has been allocated more than 405,000 vaccines this month, Department of Health Commissioner Judy Persichilli said Monday. It has received a bit more than half that so far and expects the remainder to be delivered by the end of this week, she added.
Frontline essential workers are slated for the next phase of New Jersey's rollout.
New York, meanwhile, started its nursing home vaccination program last week. To date, the state has administered 140,000 first vaccine doses, Cuomo said. It expects to receive another 259,000 doses this week from Pfizer and Moderna.
Priority populations expand this week, with urgent care center workers, people administering vaccines and residents of state addiction programs and support facilities, which also are congregate settings, next up.
Cuomo said he expects to open distribution to ambulatory care health workers and public-facing public health workers next week. Meanwhile, vaccinations continue for high-risk health workers and nursing home patients and staff.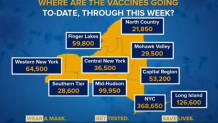 The race to scale couldn't be more urgent, with the goal of "herd immunity" still months away and the U.S. yet to slow its latest surge. Cuomo says New York's economy cannot stay as hampered as it's been for another six to nine months.
He has said state health officials are looking into a potential pilot program with the Buffalo Bills that could serve a critical role in determining whether rapid testing and contact tracing could enable larger venues, like an NFL stadium or Madison Square Garden, to reopen before herd immunity has been achieved.
Cuomo said Monday more news would come soon as far as that development.
Meanwhile, the national picture continues to grow darker. The country topped 19 million cases and 332,000 virus deaths over the Christmas holiday, according to NBC News. All in all, a virus that was just beginning to make global headlines this time last year has now claimed the lives of one in every 1,000 Americans.
Long the epicenter of the national crisis, New York has since ceded that unenviable position to states like California, Florida and Texas. The state -- especially New York City -- still holds a disturbing share of the national tragedy.
As of Monday, New York City has confirmed more than 17,300 virus deaths, though research shows another 10,000 more may be attributable to COVID-19 in some way. New Jersey is fast approaching the 20,000-mark.
Since March, New York, New Jersey and Connecticut have confirmed nearly 60,000 COVID deaths and well more than 1.5 million cases.
Copyright NBC New York