What to Know
10 new mass vaccination sites open across New York on Friday; appointments for those sites open up for booking Wednesday, the same day the next essential worker class is eligible statewide
Gov. Andrew Cuomo got his Johnson & Johnson vaccine Wednesday; he also announced more reopening moves, including an end to some curfews, the return of indoor fitness classes in NYC and other steps
New Jersey and Connecticut have expanded eligibility significantly in recent weeks; CT Gov. Ned Lamont says he plans to open access to people age 45-64 as early as Friday and 16-44 as early as April 5
Indoor fitness classes allowed in New York City. No more curfews for bowling alleys and movie theaters. An end to all the state's remaining cluster zones.
Gov. Andrew Cuomo announced a bevy of reopening moves on tap for New York state in the next few weeks during a conference call with reporters Wednesday afternoon. On March 22, indoor fitness classes in the city can resume; the same rules previously ascribed for such classes in the rest of the state will apply. Gyms had reopened in the five boroughs already, but indoor classes were off the table.
That same day, the remaining cluster zones in the state -- precautionary designations for parts of Washington Heights, the Bronx, Queens and Newburgh -- will expire along with the related restrictions, the governor said. Cuomo left just those five as he erased more than two dozen existing zones across the state in late January as the numbers began to improve.
The governor previously announced New York's residential and social gathering limits will double, at least, starting Monday, March 22, as well. And that's not all.
Starting April 5, Cuomo said the 11 p.m. curfew in place for casinos, movie theaters, bowling alleys, billiards halls and gyms across the state will end. The 11 p.m. curfew for restaurants and bars as well as the 12 a.m. curfew for catered events will remain in place for now, but the governor said his health team is actively assessing the data. An updated announcement is expected in early April.
"New York is moving forward with reopening our economy and looking forward to a post-COVID world," Cuomo said. "We know the vaccine is the weapon that defeats this invisible enemy and we are getting more shots in arms than ever before. As we re-open and an increasing number of New Yorkers receive their vaccines, it is more important than ever to continue the practices we know stop the spread of COVID-19."
While businesses and patrons are likely to cheer the move, not all are on board. NYC Mayor Bill de Blasio's press secretary tweeted late Wednesday night that the sudden reopening changes are not what the COVID numbers would suggest is right.
"Cuomo is making public health decisions without any public health rationale. He's clearly putting politics before the data and science," Bill Neidhardt said in a tweet.
Cuomo made his latest reopening announcements hours after receiving his single-dose Johnson & Johnson vaccine in a pop-up community center. His age of 63 has made him eligible since he expanded access to that group last week. The next class of essential workers became eligible Wednesday, adding more people to an ever-widening pool that has well topped 12 million. That now includes municipal workers, non-profit employees and building staffs.
Also starting Wednesday: Those 12 million-plus eligible New Yorkers can get vaccinated at practically any of the thousands of sites available statewide.
Pharmacies are the only providers limited to serving people age 60 and older and teachers, which Cuomo permitted them to start doing last week when all New Yorkers age 60 and older earned eligibility (including the governor).
New York's newly eligible group includes social service and child service caseworkers, sanitation and DMV workers, county clerks, building service, nonprofit and election workers as well as public works employees and government inspectors. No further eligibility dates have been announced by the state yet for more groups and it's not clear who will be next to get in line.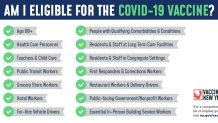 Ten new mass vaccination sites will open on Friday, including three on Long Island, which will bring the state's total number of mass vaccination hubs to 23. (click here for details on all 10 new locations). Appointments for those spots opened up at 8 a.m. Wednesday. Qualifying New Yorkers can schedule theirs via the NYS COVID-19 Vaccine Hotline at 1-833-NYS-4-VAX or check here.
---
Not sure how the process works? Check out our handy tri-state vaccine site finder and FAQs here
---
New York City and New Jersey Vaccine Providers
Click on each provider to find more information on scheduling appointments for the COVID-19 Vaccine.
Data: City of New York, State of New Jersey • Nina Lin / NBC
Cuomo has said the state's already sprawling distribution network and vaccination pace need to dramatically increase in order to meet President Joe Biden's plan to have all U.S. adults eligible for vaccination in May. In addition to the new mass sites, the state and city have opened hundreds of community-based pop-up clinics and six FEMA-run sites with special federal dose allocation.
Stories of frustration and being turned away from appointments continue to pervade the state and city. On Tuesday, the Javits Center had to turn people away because it ran out of doses. Cuomo has asked New Yorkers to be patient, given limited supply and the rapidly expanding pool of people eligible for doses.
Both he and New York City Mayor Bill de Blasio expect federal distribution to increase significantly next month.
The pace of vaccinations has scaled up rapidly in recent weeks -- the state did more than a million doses in the last seven days, including almost 135,000 in a single 24-hour span -- but herd immunity remains a seemingly far-off goal. Cuomo has put the low end of the herd immunity threshold at around 75 percent.
As of Wednesday, New York state had administered at least one dose to nearly 4.7 million people, about a third of the people currently eligible and 23.5 percent of the state's population. More than 2.4 million -- 12.2 percent of the populace -- have completed their shot series, state data shows.
The governor got his own vaccine shot on Wednesday -- Johnson & Johnson's single-dose regimen -- and later told New Yorkers concerned about the different brands, "They all work. Take whatever vaccine you can get."
In New York City, 1.7 million people (21 percent of the population) have gotten at least one dose, while nearly 856,000 (10.2 percent of the population) have both. The city did almost 375,000 total doses last week alone, de Blasio said. The mayor is also newly eligible for vaccination as a public-facing government worker.
He has said he would get the Johnson & Johnson shot as well but didn't establish a timeframe other than saying "soon" when asked about it on Wednesday.
Across the river, New Jersey recently expanded vaccine eligibility as well and will do so again on March 29. It has doubled-dosed more than 1,051,000, nearly 12 percent of its population.
It took the state roughly 55 days to hit the first million doses, but just three weeks to move from that benchmark to the 2 million- milestone. It took much less time to hit the next million, which it did on Monday.
Gov. Phil Murphy's initial goal is to vaccinate 70 percent of New Jersey's adult population in the coming months. As of Wednesday, he said the state was at roughly 45 percent of that goal in terms of people who received at least one dose.
Murphy on Wednesday also called for all school districts in the state to reopen, including the 98 that have yet to open school buildings at all. The governor said all should at least go to a hybrid model.
"Now is the time for all of our schools to meaningfully move forward with a return to in-person instruction, whether it be full-time or through a hybrid schedule," Murphy said.
The state's education commissioner promised resources are on the way to help address lingering health and safety concerns at older school buildings. The Murphy administration said more than $1 billion in federal money is now available to help schools fix ventilations and other problems.
But despite vaccine eligibility and promises of better airflow in classrooms, some teachers in the state's biggest urban districts remain hesitant, and places like Newark, Jersey City and Paterson are not planning on doing in-person learning until various dates next month.
Over in Connecticut, more than 14 percent of the population is also fully vaccinated. The Constitution State ranks seventh among U.S. states in terms of population percentage fully vaccinated, according to CDC data, though state-level reporting may indicate a higher number than the federal agency's data.
Gov. Ned Lamont said Monday he would accelerate Connecticut's age-based vaccination rollout given the latest federal dose boost. This Friday, he expects to open eligibility to people age 45 and older. By April 5, Lamont plans to be the first tri-state governor and one of few in the U.S. to open eligibility to anyone 16 and older regardless of whether they have an underlying health condition.
Mississippi became the second U.S. state to open vaccination to all people 16 and older earlier this week. Alaska was the first to do it eight days ago; it's also the state with the highest share of its population fully inoculated (18 percent).
Daily Percentage of Positive Tests by New York Region
Gov. Andrew Cuomo breaks the state into 10 regions for testing purposes and tracks positivity rates to identify potential hotspots. Here's the latest tracking data by region and for the five boroughs. For the latest county-level results statewide, click here
Source: ny.gov
It's unclear when New Jersey and New York could similarly open up shots but de Blasio has said that he hopes for everyone in the city at least to be eligible by June. Getting shots in all their arms, though, is a separate challenge entirely.
Nationally, about 15 percent of U.S. adults 18 years and older have been fully vaccinated, according to the CDC. Nearly 28 percent of that same population has received at least one dose, which 65 percent of those 65 and older have done.
The race, more of a marathon, has taken on heightened urgency in recent weeks as officials fight to maintain low hospitalization and death rates while battling to contain the spread of new cases, which top federal officials say have plateaued at a "very high" level across the country. With spring break coming up, and officials worried about lax COVID protocol among people traveling, the message is stark.
Don't let down your guard. Keep wearing a mask. Get vaccinated when it's your turn. And it doesn't matter which of the three brands you get. As New York City's health commissioner says, "The best vaccine is the one you can get now."
Copyright NBC New York