What to Know
Indoor dining and gyms across New York City could close in the next week or two, the mayor warned, as the latest yellow and orange zone restrictions take effect in parts of the city and neighboring suburbs on Wednesday
The number of COVID-19 patients in NY hospitals has increased to about 2,900 patients. Over the past three weeks, hospitalizations are up 128 percent
New Jersey has been facing steeper upticks than New York; Its largest city of Newark on Wednesday begins a 10-day stay-at-home advisory
The fight to control and eventually eradicate COVID-19 continues, including in New York City where new restrictions begin Wednesday for parts of the Big Apple as COVID-19 patients overwhelm hospitals in one of its boroughs.
Part of the fight against coronavirus involves COVID-19 testing. According to Mayor Bill de Blasio, New York City has been at the forefront of testing, with more than 1 million COVID tests given since the start of the pandemic.
An astonishing feat when one considers that at the start of the pandemic, the city of New York couldn't get federal help to assist in providing COVID tests, de Blasio said during his daily coronavirus briefing Wednesday -- Thanksgiving Eve.
De Blasio acknowledged that due to the ongoing health crisis, the holidays will be "different" and "tough" for many people. In the days leading up to holiday, he has urged people to not travel this holiday season. However, he is not the only official to make this plea.
Indoor dining and gyms across New York City could close in the next week or two, the mayor warned, as the latest yellow and orange zone restrictions take effect in parts of the city and neighboring suburbs on Wednesday.
By the state's accounting, New York City as a whole has not reached a 3 percent positive test rate on a seven-day rolling average — the governor's main metric for setting orange zones where schools, indoor dining and risky nonessential businesses are shuttered. But City Hall says there's little doubt it's coming.
Detailing his own plan for Thanksgiving, de Blasio told CNN on Tuesday that he will not be traveling as he usually does and will stay at Gracie Mansion to celebrate.
"Do not travel. Stay local. Keep it small. If you love people, if you love your extended family, help them stay alive so we can all celebrate together in person next year," de Blasio said. "It won't be a traditional Thanksgiving but we just have to get through this once."
As COVID-19 continues to spread across the United States, and at a much faster rate than ever before, health officials have warned for weeks against traveling for the winter holidays, but it appears that not everyone is taking their advice. The TSA said Wednesday that 6.49 million air travelers have gone through checkpoints in the last seven days, the highest number since late March.
And there's more to come -- AAA estimates around 2.5 million people will fly across the country between Wednesday and Sunday.
Predicting another surge in coronavirus cases after the holidays, Gov. Andrew Cuomo says he's worried about the number of people hospitalized, and ordered a field hospital to reopen on Staten Island at the request of local hospitals that have become overwhelmed from the recent spike.
"This is where I think if we're going to get in trouble, you're going to see it in a few days, seven days after this Thanksgiving weekend, you'll start to feel the number," Cuomo said at a press conference Wednesday in Rochester.
The number of COVID-19 patients in New York hospitals has increased to about 2,900, which is almost one-and-a-half times the number hospitalized on Nov. 1. Over the past three weeks, hospitalizations are up 128 percent.
Of the 173,085 tests reported Tuesday, 6,265 were positive (3.62 percent of total).Total hospitalizations are at 2,982, with 41 COVID fatalities, Cuomo said Wednesday. This marks the first time since April 24 the state topped 6,000 cases in a day. However, it should be noted that in late April, New York was testing about a quarter of the people being tested today.
On Wednesday, de Blasio once again said he was concerned about rising number of COVID-19 coronavirus hospitalizations in city after announcing 141 additional admissions and 1,447 confirmed cases in a single day. The mayor went on to say that the percent of New Yorkers who tested positive is at 2.74 percent -- with the 7-day rolling average still above 3 percent, a rate that has prompted the closure of schools last week.
The mayor delayed announcing a plan of when in-person learning might return until next week, but offered a hopeful message on Wednesday.
"We will be back. And next week, we will announce the details of how we will come back. It will be in stages," the mayor said, stressing that students will be subject to far more testing.
New York has reported an average of about 5,500 new coronavirus cases per day over the last seven days, up 70% from two weeks ago.
The southern half of Staten Island is now in an orange zone under Cuomo's weeks-old micro-cluster plan, which will require schools and high-risk businesses like gyms to close temporarily, halt indoor dining at restaurants and limit gatherings inside houses of worship to no more than 25 people. Some gym owners are unhappy with the forced closure, asking for proof that their facilities are responsible for COVID growth. Cuomo has repeatedly stated that gyms, personal care businesses and restaurants are clear vectors of the disease.
New yellow zones, which require mandatory testing of students, also went into effect Wednesday in parts of Upper Manhattan, Riverhead, Hampton Bays, Great Neck and Massapequa Park. Going forward, Cuomo said the state is developing a new winter plan that would tweak the rules for red, orange and yellow zones. The idea is to impose restrictions based not just on infection rates, but also hospitalization numbers too.
"We're going to take a serious look at that hospitalization rate increase. We have an area in the state, Staten Island, where we have already opened a field hospital ... this is reminiscent of the bad old days," Cuomo said. "The greatest fear is you overwhelm the hospital system."
The same restrictions placed on parts of Brooklyn and Queen last month have led to protests and lawsuits from religious institutions; one establishment on Staten Island has declared itself an "autonomous zone," saying it will defy the governor's latest order.
"We refused to abide by any rules and regulations put forth by the Mayor of NYC and Governor of NY State," Mac's Public House said on social media last week. "Every day small businesses are living in fear, not just of this virus, but that our governments will take our livelihoods away, even as we're being safe. Just to clarify, we acknowledge this virus as a real threat and are still taking necessary precautions. What we do not acknowledge is that our government has the right to shut us down when we're operating in a safe manner."
With the restrictions now in effect, the restaurant could face fines up to $15,000 per day.
On Thanksgiving Eve, Cuomo held a press conference, not only announcing that the state was giving away 50,000 turkeys for Thanksgiving, but also as a final plea for residents to not travel or hold large gatherings on the holiday, particularly since cases and deaths are increasing once again with statewide positivity at 3.04 percent.
Cuomo said New York is working on a winter COVID plan after health officials advised the state to prepare in anticipation of accelerated increase in cases from December to February. The plan will focus on the areas with the highest case rate and hospitalization. The plan will continue on a micro-cluster approach because it stresses community responsibility and accountability. It will also take a look at keeping elementary schools open and safe. The plan, which the governor said will be worked on Thanksgiving weekend through next week, will also assess the impact of the Thanksgiving holiday and a potential spike in cases.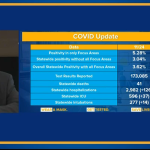 The day before, while speaking at a news conference on Long Island, Cuomo advised against traveling and said he changed his plan to celebrate Thanksgiving with his 89-year-old mother in person.
For those who choose to travel, they will have to fill out a questionnaire once they arrive back in New York. If a traveler fails to show proof of a recent negative COVID test, they're required to quarantine for 14 days.
New York City Sheriff Joe Fucito said he is setting up vehicle checkpoints at key bridges and crossings throughout New York City, as well as at curbside stops for buses entering and leaving the city. Deputies will advise travelers of quarantine rules.
He cited potential fines of $1,000 a day for people who violate travel rules, though officials have previously acknowledged that enforcement mostly works on the honor system.
In another grim warning earlier this week, Cuomo reminded people to think of what the city went through during the spring and once again asked them to follow all health guidelines if they decide to gather.
"How do you forget about all the pain that we went through. If we're not careful we will go back there," Cuomo stressed. "We were storing bodies in refrigerated trucks. 800 people died in one day."
Also on top of mind for the governor is what he coined Monday as the "37 days of socialization": a several week period over the holidays that could send the state's numbers on an unpredictable tailspin. Cuomo said the state recorded 5,906 new cases, bringing New York's total past 600,000 on the day after the entire tri-state broke 1,000,000.
Daily Percentage of Positive Tests by New York Region
Gov. Andrew Cuomo breaks the state into 10 regions for testing purposes and tracks positivity rates to identify potential hotspots. Here's the latest tracking data by region and for the five boroughs. For the latest county-level results statewide, click here
Source: ny.gov
Under Cuomo's orange zone rules, schools also move all-remote, a moot point now for New York City public schools, after de Blasio ordered buildings to close due to the city's calculation of its positivity rate.
De Blasio on Tuesday said testing will be a key component of returning in-person learning at some point, which will take "immense logistical effort." He suggested that the monthly testing standard for students will have to be more frequent and hinted that students may have to get tested ahead of their return to school buildings. All students could be required to have a test consent form on file, the mayor told CNN.
When, and if, schools in the city get the green light, the mayor said reopening will start with District 75 schools, then early childhood education, 3K and pre-K, before moving to the rest of schools. But the city will need buy-in from its teachers to make the plan work, and the head of the teachers union said Tuesday he did not see how schools could reopen before January at the earliest.
The numbers are even more alarming across the river in New Jersey. The state's largest city of Newark on Wednesday began its 10-day stay-at-home advisory. Mayor Ras Baraka advised "everybody close down" and get tested during that holiday period. Only grocery stores, pharmacies, gas stations and laundromats will be allowed to stay open in Newark; restaurants can be open for takeout until 8 p.m.
The test positivity rate in Newark is 21 percent, twice the number across the state, and in the Ironbound section of the city, Baraka on Saturday said the number is an alarming 41 percent.‍
"We cannot risk a continual spread of COVID-19 in our community. We cannot go back to where we were in April and May. But what we can do is urge everyone to be responsible, cautious, and think of the greater good. People's lives depend on this," he said.
New Jersey Gov. Phil Murphy has expressed the same concerns for travel, noting that for all the restrictions the state has put in place, people ultimately have to do the right thing themselves.
"There is only so much you can do, so we're pleading with people keep Thanksgiving really small, immediate family, don't travel and don't let your guard down just because you're at home," Murphy said in a "Good Morning America" interview. "We expect this to get worse before it gets better."
And since the holiday rush is taking place, despite officials warning against traveling and hosting events during the holidays, Murphy issued a statement on Thanksgiving Eve on the state's travel advisory guidance.
"As COVID-19 cases continue to rise at an alarming rate throughout our nation, New Jersey will no longer utilize previously outlined metrics to inform its travel advisory. Given the increased risk of spreading COVID-19 for both residents who travel outside the state and for visitors into the state, New Jersey continues to strongly discourage all non-essential interstate travel at this time," Murphy's statement reads in part.
Travelers and residents returning from any U.S. state or territory beyond the immediate region (New York, Connecticut, Pennsylvania, and Delaware) should self-quarantine for 14 days, Murphy added. The Department of Health will issue additional information in the coming days regarding travel precautions.
As of Wednesday, New Jersey reported 4,073 new positive cases with a total of 317,905 cases in the state since the start of the pandemic. New Jersey informed of 50 new confirmed deaths for a total of 15,057 total deaths. As hospitalizations also continue to increase, reaching 2,902 in the latest state update. According to the state, 52 percent of the 545 people in intensive care are on ventilators.
Two weeks ago, Gov. Murphy halted indoor dining between 10 p.m. and 5 a.m., and last week he lowered the limit on indoor gatherings from 25 people to 10 and urged people to stay home for Thanksgiving.
Meanwhile, nearby in nearby Connecticut, Gov. Ned Lamont said Wednesday that the state has seen the largest increase in hospitalizations since the apparent second wave hit, with a total of 77 new hospitalizations since the day before. The state had been averaging hospitalizations in the low 20s. The state has also seen an alarming increase in deaths with 45 additional people passing away due to COVID. Prior to this number, the state had been averaging 15 deaths a day.
Lamont said the state will also start fining business that don't adhere to COVID-19 capacity measures as much as $10,000. The fine previously was $500, and there are more penalties as well, such as: $500 for organizing an event over capacity, $250 for attending such an event, $100 for failing to wear a face mask and $500 for violating Connecticut's travel advisory.
As the country's uncontrolled spread led the Centers for Disease Control and Prevention to renew calls for Americans not to travel for Thanksgiving, the United States topped 12 million cases of COVID-19 over the weekend, according to a tally by NBC News.
Thus far, the U.S. has recorded more than 260,000 COVID-related deaths, according to NBC News.
Copyright NBC New York