Travelers coming into New York will have to provide a negative coronavirus test before they enter the state starting Wednesday if they want to avoid a mandatory two-week quarantine. They'll also have to take a test four days after arriving.
If not, they'll have to complete the 14-day quarantine. The sweeping new testing policy, which was announced by Gov. Andrew Cuomo over the weekend, replaces the previous quarantine list, which applied to 41 states as of its last update.
More states -- including New Jersey, Connecticut, Pennsylvania, Massachusetts, and most recently New York itself -- met the criteria for inclusion.
The latest developments come amid the ongoing U.S. case surge, which has left no state untouched. New York City, the former epicenter of the national crisis, has seen its key indicators rise substantially in recent weeks.
On Wednesday, Mayor Bill de Blasio reported the highest new daily hospital admissions in recent memory (114). He described that as "cause for concern." The daily case average topped 600 (628) for the second time in two days Wednesday -- and for the first time since de Blasio started publicly tracking that case average over a seven-day rolling basis. That's also a concern, he said.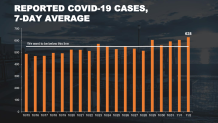 The seven-day rolling positivity average, which de Blasio calls the "most objective measure" of the city's standing in its ongoing coronavirus fight, stood at 1.74 percent Wednesday. It has hovered around there after a steady increase over the course of the last month or so. De Blasio had warned indoor dining could be shuttered across the five boroughs again if that rolling rate hits 2 percent.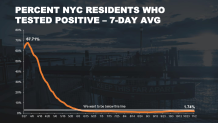 Statewide, COVID hospitalizations are in the midst of a two-week stretch above 1,000 for the first time since breaking that streak in June. Wednesday's hospitalizations were the highest since June 18 (1,253). More death may follow.
Mayor de Blasio continues to urge people to avoid holiday travel unless absolutely necessary. He has also called for a national testing mandate for air travel, both domestic and international. In the meantime, Cuomo's new policy will have to do.
Daily Percentage of Positive Tests by New York Region
Gov. Andrew Cuomo breaks the state into 10 regions for testing purposes and tracks positivity rates to identify potential hotspots. Here's the latest tracking data by region and for the five boroughs. For the latest county-level results statewide, click here
Source: ny.gov
New Yorkers returning from travel under 24 hours outside the state do not need to take a test before coming back, under Cuomo's new policy, but must still take a test after re-entering. Everyone else, in the general categorization, must take a test within three days of traveling to New York via any transit means, Cuomo said.
The newest testing mandate for people entering the state does not apply to neighboring New Jersey, Connecticut, Pennsylvania and Massachusetts due to regional proximity. While acknowledging rising virus positivity in nearby states, Cuomo said there is too much daily travel across their borders to regulate.
"It would disrupt everything if you quarantined those states," he added.
Cuomo continues to urge New Yorkers, to the extent they can, to avoid nonessential travel between those nearby states for as long as they meet the quarantine threshold. Govs. Phil Murphy and Ned Lamont have issued similar pleas to the people of New Jersey and Connecticut in recent weeks.
Those states have continued their quarantine advisories despite New York's decision to move to a different system. On Wednesday, Murphy added two states -- California and Massachusetts -- bringing the total number of restricted U.S. states and territories to 43. Those are: Alaska, Arizona, Alabama, Arkansas, California, Colorado, Delaware, Florida, Georgia, Guam, Iowa, Idaho, Illinois, Indiana, Kansas, Kentucky, Louisiana, Massachusetts, Michigan, Minnesota, Mississippi, Missouri, Montana, Nebraska, Nevada, New Mexico, North Carolina, North Dakota, Ohio, Oklahoma, Puerto Rico, Rhode Island, South Carolina, South Dakota, Tennessee, Texas, Utah, Virginia, West Virginia, Wyoming and Wisconsin.
Both New Jersey and Connecticut have seen severe upticks as of late. Connecticut rolled back some of its reopening in the last week, while the Garden State is seeing daily case totals it hasn't seen since early May.
On Wednesday, Murphy reported 2,472 new positives, the highest total since May 6. It was the second time in less than a week the state saw daily cases top 2,000. The latest upticks are sprawling across the entire state -- and Murphy says much of the spread is tied to small household gatherings, which he can't regulate.
Instead, he urges people to be smart. Wash hands, socially distance and mask up.
Nationally, the country once again set a record for the number of daily coronavirus cases, passing a grim threshold along the way. Wednesday marked the first time that the U.S. had more than 100,000 COVID cases in a single day, finishing out the day at more than 102,000. The surging cases and hospitalizations reflect the challenge that either President Donald Trump or former Vice President Joe Biden , whomever wins the still-undecided presidential election, will face in the coming months over the pandemic, with winter and the holidays approaching.