What to Know
Gov. Andrew Cuomo says he will lift virtually all remaining COVID rules for businesses and social settings once 70% of New York adults have gotten at least one vaccine dose; he says the number is now 68.6%
Indoor school mask mandates will remain in place statewide for now, though Cuomo says individual school districts can lose outdoor masks for all, regardless of vaccination status, immediately if they so choose
The developments come after a Friday letter from the state health commissioner to the CDC appeared to indicate indoor school mask mandates would be dropped on Monday barring any agency objection
70%. That's the magic number. When New York administers at least one vaccine dose to 70% of its adult population, virtually all remaining COVID restrictions will be lifted across commercial and social settings, Gov. Andrew Cuomo said Monday.
As of Monday, the Empire State is a little shy of that goal, currently sitting at 68.6 percent as, the governor said. It may seem a near-immediate objective to hit, but vaccination rates have stalled significantly.
"When we are at 70% I feel comfortable to lift restrictions," Cuomo said, describing that as the benchmark for getting life as back to normal — "or as normal as you can be post-COVID." The governor and state health officials took educated guesses as to when that threshold might be crossed, with answers ranging from a week to three weeks.
"I am saying eight days," Cuomo guessed.
At that point, New York's industry-specific guidelines -- including capacity restrictions, social distancing, cleaning and disinfection, health screening and contact information for tracing -- will be optional for retail, food services, offices, gyms, amusement centers and personal care services, among other businesses.
Large-scale event venues, pre-K to 12 schools, public transit, homeless shelters, correctional and healthcare facilities and nursing homes will be exempt from the restriction lift and must continue to follow state COVID guidance. The CDC's latest recommendations on face masks, including in schools and for unvaccinated people in other settings, is still the rule in New York, Cuomo said.
The latest developments come as Cuomo's administration backpedals -- a term he denies fits this case -- from a Friday announcement that mask mandates would be lifted across all schools and camps statewide on Monday barring CDC objections.
The state Department of Education leaped into the fray Sunday with its own letter saying no mask policy change would be implemented without a direct response from the CDC. When asked about that development Sunday, a spokesperson directed News 4 to the Friday letter from Health Commissioner Dr. Howard Zucker.
That letter, in closing, said, "If there is any data or science that you are aware of that contradicts moving forward with this approach, please let me know as soon as possible. We plan to make this guidance effective on Monday, June 7."
On Monday, Cuomo said the CDC didn't plan to update its mask guidance for several weeks. In the interim, New York state is allowing schools to lose their mask mandate as it relates to the outdoors, regardless of vaccination status. For now, they will remain protocol indoors across the state.
"The numbers show that the risk of transmission by children is extremely low, especially in this state, which has an extremely low positivity rate. We spoke with the CDC, and since they're not going to change their guidance for several weeks in New York State, we're going to modify the CDC guidance and allow schools to choose no mask outside for children," Cuomo said Monday. "We'll leave that up to the local school district and we spoke to the CDC, which has no objection."
"It's very important that people understand the logic between these decisions and that they're rational and based on the science and the data," the governor added. "We have a disconnect right now between the school guidance and the camp guidance, and it's important to rectify it because if people don't think the rules are logical, then they're not going to want to follow the rules."
Any statewide change to New York's school mask policy would merit a significant overhaul of a core mandate that has remained in effect since schools reopened in person for the first time amid the pandemic last fall. It would have been a dramatic change in protocol with only about 14 school days left of this academic year for the nation's largest public school district in New York City.
Some districts, like one on Long Island, have called for ditching masks in schools in recent weeks as core COVID rates improve. Others, like New York City's vast public school network, vowed to keep mask rules in place for the rest of this year anyway.
Zucker's Friday letter had given individual school districts the latitude to impose stricter mask standards on mask when the state expected to lift that mandate Monday. New York City Mayor Bill de Blasio and the city's Department of Education made it clear that same day they would not loosen mask rules this academic year.
Schools have been one of few places where masks are still required for fully vaccinated people as well as nonvaccinated people since Cuomo adopted the CDC's recommendations on face masks for immunized New Yorkers in mid-May.
Should the CDC change its indoor guidance on schools before the end of the year, it's likely Cuomo would adopt the policy since he has done so with the agency's other recommendations on masks and social distancing, among other protocols.
At this point, it appears unlikely the CDC would issue new school recommendations before the end of this academic year, given the amount of time left and Cuomo's statement that it'd take "several" weeks for the agency to debut new guidelines.
The governor's administration gave individual school districts the latitude to implement stricter standards around continued mask use in its Friday letter detailing its plans to the CDC. That same day, New York City Mayor Bill de Blasio, along with his education department, made it clear masks would remain the indoor norm for all public schools across the five boroughs for the rest of this academic year, which is slated to wrap up its unprecedented session on June 25.
---
Not sure how the process works? Check out our handy tri-state vaccine site finder and FAQs here
---
New York City and New Jersey Vaccine Providers
Click on each provider to find more information on scheduling appointments for the COVID-19 Vaccine.
Data: City of New York, State of New Jersey • Nina Lin / NBC
Cuomo's office had said it was looking to make the move to align school guidance with COVID protocol for summer camps. Some educators and administrators were baffled by the drastic change in policy with so few days left to go in the school year.
"The public school districts in the state of New York didn't receive any updates from Dr. Zucker nor the New York State Department of health. We've not received any changes in the guidance … so at 4 o'clock in the afternoon on Friday, moms and dads throughout the state of New York were spinning," Joseph Ricca with Lower Hudson Council of School Superintendents said on Sunday.
A number of parents were uncomfortable with the sudden change in policy, too, despite the fact that in-school COVID rates have been well below the average of the surrounding neighborhood since classes first resumed in person. The vast majority of the city's 1.1 million public school students aren't yet vaccinated and those enrolled in half the grades -- kindergarten through grade 6 -- aren't even eligible yet.
"They're still small kids and we have no vaccination for them. Keep the masks for the kids and just wait a little longer," said Giovanni Urena of New York City.
While kids are less likely to experience severe outcomes from COVID like hospitalizations or death, they can become infected and they can infect others who might be more vulnerable. Adolescent COVID hospitalization rates are also rising.
On Friday, the CDC told The Associated Press that it still recommends schools and childcare facilities continue to follow COVID-19 prevention strategies, including consistent indoor mask use, for the remainder of the 2020-2021 school year.
"Current evidence demonstrates that consistent mask use indoors among people two and older who are not fully vaccinated, along with other preventive strategies, is key to reducing the spread of COVID-19," Public Affairs Specialist Jade Fulce said.
"The recommendation to continue with these prevention strategies is based on youth aged 12-15 not being able to be fully vaccinated before the end of the current school year and youth under 12 not yet being eligible for vaccinations," she added. "Additionally, schools need time to make systems and policy adjustments."
As vaccination rates among adult New Yorkers stall, Cuomo and de Blasio have targeted outreach to kids age 12 to 17, offering everything from free four-year college educations to complementary New York aquarium tickets, among other freebies, to incentive them (and their parents) to get dosed.
The slate of incentives does keep expanding for older New Yorkers as well. De Blasio is holding weekly vaccine contests, offering prizes ranging from two-day staycation packages to free yearly gym memberships, while Cuomo expanded his lotto scratch-off program another week. Prizes are worth up to $5 million.
The governor added a few more carrots to the pool on Monday as New York crawls closer and closer to that just identified 70% benchmark for partial vaccinations.
More than 58% of adult New Yorkers are fully vaccinated to date (56.2% of New York City adults), while just 6.2% of New York residents age 12 to 15, the newest group eligible, are fully vaccinated, state data shows. That latter percentage, though, has risen markedly in the last two weeks or so. A quarter of that youngest age group has had at least one dose, the latest state numbers show.
The state's Friday mask development came shortly after the CDC dropped new data showing rising adolescent COVID hospitalization rates among adolescents in March and April, a trend the agency's director described as "deeply concerning."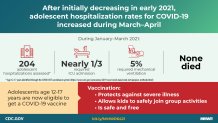 "I am deeply concerned by the numbers of hospitalized adolescents and saddened to see the number of adolescents who required treatment in intensive care units or mechanical ventilation," CDC Director Dr. Rochelle Walensky said in a statement Friday.
"Much of this suffering can be prevented," she added. "Until they are fully vaccinated, adolescents should continue to wear masks and take precautions when around other who are not vaccinated to protect themselves, and their family, friends, and community."
Overall, the national COVID outlook has improved considerably as more Americans have gotten vaccinated. The U.S. has now topped a 300 million dose milestone. About 53% of U.S. adults are fully vaccinated and core COVID rates have dropped at national, state and local levels as a direct result of that effort, officials say.
Daily Percentage of Positive Tests by New York Region
Gov. Andrew Cuomo breaks the state into 10 regions for testing purposes and tracks positivity rates to identify potential hotspots. Here's the latest tracking data by region and for the five boroughs. For the latest county-level results statewide, click here
Source: ny.gov
New York, the one-time epicenter of the pandemic, has seen new positive COVID cases fall below 1,000 for 10 straight days, while the rolling positivity rate of 0.51% is the nation's lowest, Cuomo says, and in the midst of a 63-day stretch of decline.
Statewide hospitalizations have fallen below 800 for the first time since Oct. 8, while daily death tolls are in the low double digits on a regular basis. Cuomo reported a single-day toll of nine COVID fatalities statewide on Monday.
The improvement in these numbers combined with ongoing vaccinations has empowered the governor to lift nearly all remaining COVID restrictions -- and those that are left appear on track to be gone for good sooner rather than later.
"We have never been in a better position vis-à-vis COVID than we are today," the governor said Monday. "The light at the end of the tunnel is to remove the remaining COVID restrictions. We're only 1.4% away from hitting that goal. Get vaccinated."
"With numbers trending at record lows, it is clear that the vaccine is effective and that it is an invaluable tool against the virus," Cuomo added. "While we have come so far it is still imperative that those who have not received the vaccine do so, so that they may enjoy the state's reimagined reopening to the fullest extent possible."
New Jersey has also experienced dramatic declines in its core viral metrics in recent weeks. Its largest city, Newark, has gone from a longtime hotspot to at times reporting new daily case counts in the single digits. To date, about half of New Jersey's entire population, including those not yet eligible, is fully vaccinated.
Gov. Phil Murphy, the last of the three tri-state governors to adopt the CDC's mask recommendations for fully vaccinated people, announced a minor tweak to his state's face covering policy on Monday.
Given the sweltering weather conditions, Murphy says school officials can relax mask requirements for students and staff in the extreme heat if they so choose. His overall mask requirement in school buildings statewide remains in effect. New COVID guidance for summer camps is also expected by mid-week, he said.
Copyright NBC New York