What to Know
Gov. Andrew Cuomo's "PAUSE" order is set to expire May 15; he has indicated he may let it expire in some parts of the state while extending it in others
Cuomo outlined details of his regional reopening strategy for New York state; it's based on four core factors comprising seven metrics
As of Monday, three regions meet the seven metrics to reopen. They'll have to finalize logistics before Friday, Cuomo said
Gov. Andrew Cuomo has said he expected to allow his "PAUSE" directive to expire in some parts of the state after May 15, kicking off a pivotal week in the weeks-long shutdown.
Reopening is an "art form," Cuomo previously said. It's far more complicated than shutting the state down. However, a number of regions seem to be in good standing to begin reopening, the governor said.
On Monday, during his daily coronavirus press briefing, Cuomo stressed once again that regions must meet seven key metrics in order to reopen:
Regions must have at least a 14-day decline in hospitalizations or under 15 new hospitalizations (3-day average)
Regions must have at least at least a 14-day decline in hospitalized deaths or under 5 new deaths (3-day average)
Regions must have under 2 new hospitalizations per 100,000 residents (3-day rolling average)
Regions must have a certain share of total beds available (have at least 30 percent of available beds in case of potential resurgence)
Regions must have a share of ICU beds available (have at least 30 percent of available ICU beds in case of potential resurgence)
Each region must have the capacity to test 30 per 1,000 residents monthly (7-day average of new tests per day)
Regions must have a baseline of 30 contact tracers for every 100,000 residents, and additional tracers based on the projected number of cases in the region
A number of regions have met his requirements to begin reopening after Friday, while others will remain closed.
"A new chapter starts today," Cuomo said. "This is the next big step of this historic journey."
Cuomo has broken the state into 10 regions, each ranked across the seven key metrics that must be met before they can begin to reopen. As of Monday, three regions -- the Southern Tier, Mohawk Valley and the Finger Lakes -- had achieved all seven goals. They'll have to finalize logistics before Friday, Cuomo said.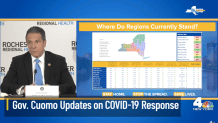 Just last week, none of the regions had achieved more than five of the metrics.
Central New York and the North Country check off six of the seven boxes. New York City and Long Island have made progress since Cuomo first specified the regional reopening criteria. However, as of Monday, neither region is ready, meeting four and five of the metrics, respectively.
Regions that meet the criteria can, after May 15, enter the first of four reopening phases, which includes construction and manufacturing business. These are deemed the "most essential" with the "lowest risk" of infection spread.
Region by Region Status
Source: New York State; Report as of May 18
The second phase involves retail, finance and professional services, while the third addresses food and hospitality. Education and entertainment will be the last sectors to resume, Cuomo has said.
Cuomo and New Jersey Gov. Phil Murphy previously announced that their states' schools will stay closed for the rest of the academic year. Connecticut Gov. Ned Lamont issued the same decision.
A two-week monitoring period is required between phases; should regions see setbacks, they must pull a "circuit breaker," effectively pausing the reopening process until they manage the issues.
Regions will also need to put these precaution plans in place in order to reopen and allow businesses to operate:
Adjust workplace hours and shift design as necessary to reduce density in the workplace
Enact social distancing protocols
Restrict non-essential travel for employees
Require all employees and customers to wear masks if in frequent contact with others
Implement strict cleaning and sanitation standards
Enact a continuous health screening process for individuals to enter the workplace
Continue tracing, tracking and reporting of cases
Develop liability processes
Here's the breakdown on businesses that will be allowed to operate in the first phase of reopening:
Construction
Building Equipment Contractors
Building Finishing Contractors
Foundation, Structure, and Building Exterior Contractors
Highway, Street and Bridge Construction
Land Subdivision
Nonresidential Building Construction
Residential Building Construction
Utility System Construction
Agriculture, Forestry, Fishing & Hunting
Greenhouse, Nursery, and Floriculture Production
Other Animal Production
Other Crop Production
Support Activities for Animal Production
Support Activities for Crop Production
Support Activities for Forestry
Retail Trade
Phase One includes delivery and curbside pick-up service only for the following businesses:
Clothing Stores
Direct Selling Establishments
Electronics and Appliance Stores
Electronic Shopping and Mail-Order Houses
Furniture and Home Furnishing Stores
Florists
General Merchandise Stores
Health and Personal Care Stores
Jewelry, Luggage, and Leather Goods Stores
Lawn and Garden Equipment and Supplies Stores
Office Supplies, Stationery, and Gift Stores
Used Merchandise Stores
Shoe Stores
Sporting Goods, Hobby, Musical Instrument and Book Stores
Other Miscellaneous Store Retailers
Manufacturing
Apparel Manufacturing
Computer and Electronic Product Manufacturing
Electric Lighting Equipment Manufacturing
Fabricated Metal Product Manufacturing
Furniture and Related Product Manufacturing
Leather and Allied Product Manufacturing
Machinery Manufacturing
Nonmetallic Mineral Product Manufacturing
Paper Manufacturing
Petroleum and Coal Products Manufacturing
Plastics and Rubber Products Manufacturing
Printing and Related Support Activities
Textile Mills
Textile Product Mills
Wood Product Manufacturing
Other Miscellaneous Manufacturing
Wholesale Trade
Apparel, Piece Goods, and Notions Merchant Wholesalers
Chemical and Allied Products Merchant Wholesalers
Furniture and Home Furnishing Merchant Wholesalers
Household Appliances and Electrical and Electronic Goods Merchant Wholesalers
Machinery, Equipment, and Supplies Merchant Wholesalers
Metal and Mineral (except Petroleum) Merchant Wholesalers
Paper and Paper Product Merchant Wholesalers
Professional and Commercial Equipment and Supplies Merchant Wholesalers
Wholesale Electronic Markets and Agents and Brokers
Miscellaneous Durable Goods Merchant Wholesalers
Miscellaneous Nondurable Goods Merchant Wholesalers