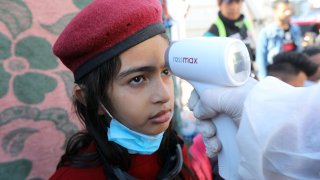 As the novel coronavirus spreads around the globe, sickening more than 90,000 people and killing about 3,000, doctors have noticed something curious: Very few children have been diagnosed with it. And of those who have, most have had mild cases, NBC News reports.
In China, where the outbreak started, children comprise just 2.4% of all reported cases of COVID-19, the illness caused by the new coronavirus, a World Health Organization-China Joint Mission report from last month found. Of those, only a sliver — 2.5% — experienced severe symptoms, and an even tinier proportion — 0.2% — became critically ill. Worldwide, there have been no deaths reported so far in young children.
The coronavirus' mercy on children is a relief and a mystery to pediatric infectious diseases experts, who have a handful of working theories but no definitive answers for why.