What to Know
Paterson became the second major New Jersey City this week to impose new virus control measures as its COVID numbers continue to spiral; they're up across the board in New Jersey, officials say
New York state reported nearly 2,500 new cases Thursday, the highest total since mid-May, and 19 deaths, another recent high; the state also conducted a record number of tests the day before
The tri-state concerns are reflective of a deeply concerning national plight; the country set a new daily case record for the fourth time in a week Thursday, prompting new calls for a U.S. mask mandate
"It's coming. And it's coming now."
That's how New Jersey Gov. Phil Murphy described the threat of a second wave of the coronavirus Thursday as he said cases continue to rise "exponentially."
Murphy has reported well more than 1,000 new cases a day for more than a week straight. Along with those increases have come upticks in hospitalizations, which hit 1,072 Thursday, the highest total since the last week of June.
Daily deaths have increased marginally, though those tend to lag increases in hospitalizations, which lag increases in cases. Compared with the spring, all the metrics remain remarkably low -- but no one in the hard-hit tri-state area can even fathom the experience of hitting that crisis peak again.
Murphy once again Thursday urged New Jerseyans to double down on the mitigation efforts that helped them flatten the curve in the first place.
Hours earlier, Mayor Bill de Blasio emphatically called for the same in New York City as he expressed mounting concern over the recent growth of its seven-day rolling positivity average, which he calls the "most objective" measure of standing.
On Thursday, the mayor said that metric hit 1.92 percent, the highest average in months and precariously close to the 2 percent-threshold he has warned could lead to the re-closure of indoor dining across all five boroughs.
While that 1.92 percent, which is higher than state reporting, is extremely low compared with what major U.S. cities are seeing, de Blasio called it "worrisome," as is the city's daily positivity rate of 2.7 percent. He also said that a possible second wave could lead to "huge restrictions."
"The growth is what worries me. We cannot allow that number to keep growing," de Blasio said. "We must be really strong at this moment. Where we're telling people to play it safe, it's not just an idle message. People should not travel for the holidays unless it is absolutely necessary. We've got to be really careful."
Travel represents about 10 percent of all the city's new cases over the last few weeks, officials said (7 percent domestic, 3 percent international). More cases have been connected to indoor gatherings; the slow upticks are evident citywide. New deaths were reported in every borough but Staten Island overnight, as Gov. Andrew Cuomo added nearly 2,500 new cases, the highest since mid-May, to the statewide toll, which now stands at more than 503,000.
Should any move be made on indoor dining in the city, de Blasio acknowledged it would be by the decision of the state. Though much of the city's latest COVID increases have stemmed from clusters in Brooklyn and Queens, the mayor said he worried the issue was starting to become more generalized -- and pointed to generic evidence of heightened risk associated with bars and restaurants.
"I know they're looking at the same data with concern," de Blasio said of the state. "The important thing here is just be led by the facts and the data, be led by the science, because it's really about not letting a second wave in that would lead to huge restrictions on all of us."
Daily Percentage of Positive Tests by New York Region
Gov. Andrew Cuomo breaks the state into 10 regions for testing purposes and tracks positivity rates to identify potential hotspots. Here's the latest tracking data by region and for the five boroughs. For the latest county-level results statewide, click here
Source: ny.gov
The upticks come amid a new national surge that saw the United States smash its daily case record for the fourth time in a week on Thursday, the day after New York topped a half-million confirmed cases and another New Jersey city imposed a virus curfew as its numbers continued to spiral. De Blasio said he fears the county is "playing with fire," as no state has been immune from the latest virus surge sweeping the nation, according to NBC News data.
Connecticut has begin to feel the wrath of the surge lately as well. On Thursday, the state reported a positivity rate of 6.1 percent, its highest since June 1. The city of Stamford is returning to Phase II restrictions, including a 50 percent capacity on indoor dining, libraries and personal services, and caps on private and religious gatherings as well.
"I look hard to find a silver lining, and I can't find it in these numbers," said Gov. Ned Lamont. "We've gone from one, to two, to three, and this 6.1 may be a harbinger of things to come. And it's going to get worse before it gets better, but we're going to weather it together."
If trends don't change soon, the nation's top infectious disease expert, Dr. Anthony Fauci warned, "there's gonna be a whole lot of pain in this country with regard to additional cases and hospitalizations, and deaths," as colder weather moves in and the holidays hit.
While some states are breaking their single-day case records almost daily, others, like New York and to some degree, New Jersey, are experiencing it more modestly. New Jersey still ranks among the 12 states with the lowest positivity rates, but it is reporting its fastest rate of spread in months.
While Murphy has described New Jersey's numbers as increasingly "sobering," he hasn't indicated new statewide restrictions are imminent. There's no evidence that indoor dining or gyms, for example, have contributed to the latest upticks; that, he could regulate -- and he's kept capacity strictly limited in those businesses as is. Now, he's focusing on shoring up PPE supplies and outreach to hotspot areas.
Murphy says data increasingly shows new cases are stemming from smaller family household gatherings, where people let their guards down; he can't control what happens within private homes, and is urging people to avoid holiday travel.
Some major cities within New Jersey, though, have tried taken matters into their own hands regarding new restrictions. In Hoboken, the city council held an emergency virtual meeting Friday — a day the city had its highest number of daily positives since April — to approve a fine of up to $1,000 for house parties of 25 or more. That did not pass, however, after only four of the nine councilmembers showed up to the online event.
Earlier in the week, Paterson imposed a curfew due to a recent spike in COVID cases. The city's number of new cases has nearly tripled over the past few days in Paterson, prompting its mayor to issue an executive order clamping down on indoor dining and nightlife starting at midnight Thursday. Compliance has also become an issue; Paterson officials shared photos and videos of crowds partying and gathering closely inside bars, nightclubs and hookah lounges without masks.
The move in Paterson comes on the heels of the mayor of Newark's decision earlier this week to impose new restrictions as its case growth threatened to spiral. Newark recorded more new cases of coronavirus than all of the other cities in Essex County combined on Monday; some neighborhoods there have recorded positivity rates above 25 percent, more than five times the state average.
The city overall has a positivity rate of nearly 12 percent, still more than double the state average. Mayor Ras Baraka said nonessential businesses, including indoor dining, would have to close by 8 p.m. each night; he also imposed new cleaning requirements on health clubs and gyms and said salons and barbershops could stay open only if they conduct business by appointment only.
It wasn't immediately clear if any summonses had been issued since the executive order took effect at 8 p.m. Tuesday. When asked about Baraka's decision earlier in the week, Murphy said he supported the mayor.
His administration announced Thursday it had established "hotspot teams" to deploy to high-risk areas like Newark and Paterson for better-coordinated assistance on testing, enforcement, communication and other fronts.
Daily Percentage of Positive Tests by New York Region
Gov. Andrew Cuomo breaks the state into 10 regions for testing purposes and tracks positivity rates to identify potential hotspots. Here's the latest tracking data by region and for the five boroughs. For the latest county-level results statewide, click here
Source: ny.gov
Those "hotspot teams" are a less restrictive version of the micro-cluster strategy Cuomo rolled out in New York about a month ago. The Empire State boasts the second-lowest positivity rate in the nation despite topping the 500,000-case milestone Wednesday -- and Cuomo says the sustained low statewide positivity rate proves his hyper-local focus is an effective containment tool.
Even New York's so-called "hotspots," which have sparked significant public anxiety amid fears of a wider resurgence, are averaging a rolling weekly positivity rate of 3.09 percent as of Thursday, the same day a new daily record number of tests (168,353) was reported statewide. That' 3.09 percent is more than 10 times lower than what some U.S. states and major cities are seeing on a daily basis.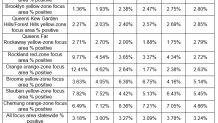 Cuomo has said he expects the micro-cluster approach to be the norm over the coming months. He anticipates flare-ups like the ones the state has seen recently but says they needn't causes larger concern if they're stamped out immediately.
"New York continues to closely monitor the data and increase its testing capacity to new highs, one of which we've achieved today," Cuomo said. "It's important to put our state in context -- we're pushing ahead in the midst of increasing cases in the United States and around the globe."
Cuomo has urged New Yorkers to avoid nonessential travel, to the extent they can. That extends to the neighboring states of New Jersey, Connecticut, Massachusetts and Pennsylvania, all of which meet the criteria to be included on his quarantine list but are not because he says proximity makes it impractical.
New York has confirmed nearly 26,000 COVID deaths, far more than any other U.S. state and many countries worldwide, though its actual toll is likely much higher. It has the fourth-highest case total behind Texas, California and Florida.
To date, the United States has confirmed more than 9 million coronavirus cases and reported more than 229,000 deaths, about 70,000 more than the next-closest country (Brazil), according to Johns Hopkins data. Researchers have warned the death toll could hit or even top 500,000 by February without a national mask mandate and near-universal compliance by Americans on that mandate.
Cuomo and Mayor de Blasio have called for that for some time. Fauci recently expressed support for a national mask mandate for the first time amid the latest surge, while Democratic presidential candidate Joe Biden also has called for one. President Donald Trump continues to claim "we are turning the corner on the pandemic," in stark contrast to the numbers being seen nationwide.
Copyright NBC New York