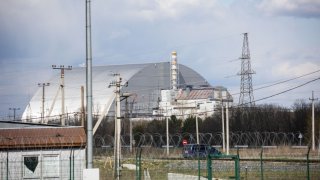 The Russian invasion of Ukraine is also endangering the wreckage of the Chornobyl Nuclear Power Plant (Chernobyl NPP), source of one of the worst man-made disasters in history.
Ukrainian President Volodymyr Zelenskyy tweeted Thursday morning that Russian forces were trying to seize the plant and the Chornobyl Exclusion Zone, the area around the plant left radioactive after the 1986 disaster.
Less than 3 hours later, Zelenskyy advisors said the Russians had succeeded in taking the plant and surrounding areas.
There have been fears for weeks that if Russia did invade Ukraine, the Chornobyl exclusion zone could be one path for Russian forces to attack Kyiv.
Chernobyl Containment
Roughly 70 miles north-northwest of Kyiv, the ruins of the exploded Chornobyl Reactor No. 4 are still considered highly dangerous, with massive quantities of contaminated material inside a giant metal sarcophagus.
The long-term impact of the reactor's explosion is still a source of heated debate.
The official death toll remains a few dozen, but some have predicted 90,000 people or more could ultimately die of Chornobyl-linked cancers, just from the contamination already spread at the time.
Copyright NBC New York