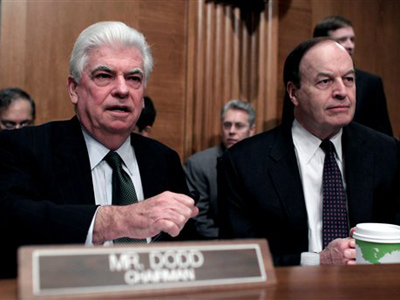 It's no big secret that Sen. Christopher Dodd is pretty good at raising money from A.I.G. employees, as well as those from other financial industry firms.

And this report in the Washington Times Monday might explain why. It says Joseph Cassano, who was chief executive of A.I.G.'s Financial Products division, sent an e-mail in mid-November 2006 to ask others in the company to donate to Dodd.

It called Dodd "next in line" to be chairman of the Senate committee that oversees insurance, the paper reports, meaning he would "have the opportunity to set the committee's agenda on issues critical to the financial services industry."

Soon thereafter, Dodd's Senate campaign took in $160,000, reports the Times.

Financial disclosure statements confirm that the employees of AIG -- the three most feared initials in all of business these days -- helped fund Dodd's Senate campaigns to the tune of $223,478 in the 2008 cycle, $121,378 in 2006, $45,578 in 2004, $50,705 in 2002, $44,300 in 2000, $41,300 in 1998. An AIG political action committee, or its employees, also gave $98,100 to Dodd's failed 2008 presidential bid.

Dodd has acknowledged that he added a critical amendment to legislation that allowed company executives to take home millions in bonuses, at the same time A.I.G. was given an $85 billion federal bailout.

Late Friday, NBC Connecticut reported that A.I.G. bonuses could be closer to $450 million, according to the Attorney General and two key Connecticut lawmakers. Attorney General Richard Blumenthal is asking Federal Reserve Chairman Ben Bernanke to halt the additional $230 million in awards.

In recent weeks, many executives with the company have either returned or donated their bonus awards.
Bryan DeAngelis, a spokesman for the senator, told the Washington Times: "Senator Dodd's fund raising has always been above board, transparent, and in accordance with campaign finance rules."