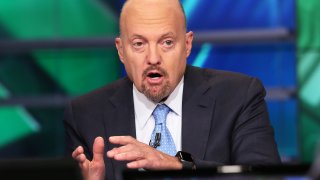 (This article was sent first to members of the CNBC Investing Club with Jim Cramer. To get the real-time updates in your inbox, subscribe here.)
What I am looking at December 7, 2021:
Where did all of those bozo sellers go from two weeks ago?... including the oil sellers... you cannot expect this market to be able to allow so many people to sell at once...panic is not a strategy...jokers to the left of me: the early morning tape painters — those who would try to make the market look bad, disappeared…perhaps after they were exposed last night on Mad Money?
Intel (INTC) can't do it with earnings so they do it with break-up?... Intel to take self-driving unit public...$15.3 billion paid in March of 2017... Brian Krzanich bought it...new customer list needed... BMW is a client but BMW is the principal client of Nvidia (NVDA)... have they solved black ice?... (Brian now at CDK Global, software for car companies)...
Coupa Software (COUP) —twilight of the idols?... seeing slight growth slowdown in cloud/digital ordering/procurement...
MongoDB (MDB)... still strong and surprising given that it was down 18% ahead of the print...more enterprise software... are there too many of these? Cloud based data management... we have so many of these... cloud-based this, cloud-based that... where's the real biz?... Piper raises price target from $525 to 585...
Restaurant Brands (QSR)...hold to buy at Evercore ISI... are we supposed to like Burger King, Wendy's and McDonald's?
Merck (MRK) downgraded by Guggenheim...another bust for Merck after anti-viral fails to beat that of Pfizer (PFE)...
CarMax (KMX) upgraded by JPMorgan…better than peers for labor and bottlenecks... I like Carvana (CVNA) and Lithia Motors (LAD) much more... Carvana fast and reliable but analyst lowers price target because of labor  costs and capacity constraints... Lithia growing through incredible acquisition, but nobody even knows it because it was founded in Ashland, Oregon...owner lives next to where my daughter lived... good guy...Bryan Deboer... (Note: Lithia is based in Medford, Oregon)...
Starbucks (SBUX)...upgraded to buy from neutral at MKM... $1B investment is a short-term drag...
Micron (MU)... Dram price pick-up says Citi... you missed twenty points but better late than never... can lead the tech rally...
Apple (AAPL)... own it, don't trade it... Morgan Stanley's Katy Huberty with huge call: price target raised from $164 to $200... where is the supplier weakness, Apple telling them business is weak call now?... iPhone supply and app store surprising to the upside... this is an incredible comeback from the Bloomberg story that shook so many out of the stock at $162... Katy's calling it a "flight to quality" name...
PPG Industries (PPG)... Evercore ISI upgrades it even as last two quarters have been misses... They downgrade Linde (LIN) — a charitable trust name — even as the last two quarters have been lights out... analyst growing neutral on industrial gas stocks....
JPMorgan upgrades Bumble (BMBL)... feels more confident after meeting with management: dating relationship eco system v. slowing app payer growth...
China... politburo says growth is highest priority – which has caused the Chinese stocks to run…Wait three days and sell? ... U.S. stocks with China business running too...
AT&T (T)... Citi cuts PT from $31 to $29... hate it, don't own it...
While UBS keeps Tesla (TSLA) as a neutral, analyst does raise PT from  $725 to $1000.. How can you keep it a neutral with that price bump?...How can you not go to a buy? ... Tesla in bear market...
Musk with hair like North Korean president comes out against Biden proposals for $12,500 assembled by union workers... really benefits Ford (F)... He wants it canned...
Analyst Weiss at Morgan Stanley likes the franchise players Adobe (ADBE), Intuit (INTU), Microsoft (MSFT), Salesforce (CRM) and Palo Alto (PANW).
The CNBC Investing Club is now the official home to my Charitable Trust. It's the place where you can see every move we make for the portfolio and get my market insight before anyone else. The Charitable Trust and my writings are no longer affiliated with Action Alerts Plus in any way.
As a subscriber to the CNBC Investing Club with Jim Cramer, you will receive a trade alert before Jim makes a trade. Typically, Jim waits 45 minutes after sending a trade alert before buying or selling a stock in his charitable trust's portfolio. If the trade alert is sent pre-market, Jim waits 5 minutes after the market opens before executing the trade. If the trade alert is issued with less than 45 minutes in the trading day, Jim executes the trade 5 minutes before the market closes. If Jim has talked about a stock on CNBC TV, he waits 72 hours after issuing the trade alert before executing the trade. See here for the investing disclaimer.
 (Jim Cramer's Charitable Trust is long NVDA, AAPL, LIN, F.)
Correction: Lithia is based in Medford, Oregon, An earlier version misstated the location.
Copyright CNBC