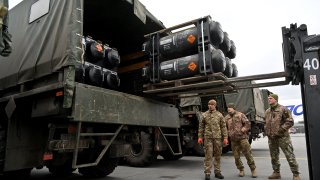 This has been CNBC's live blog covering updates on the war in Ukraine. [Follow the latest updates here.]
The Russian missile cruiser Moskva was set aflame and evacuated after suffering a Ukrainian missile attack in the Black Sea, according to Ukrainian authorities.
Russian State Media service TASS, quoting the Russian Ministry of Defense, confirmed the ship caught fire after being "seriously damaged" and that the entire crew had been evacuated.
U.S. President Joe Biden announced another $800 million in weaponry for Ukraine on Wednesday, following an hour-long phone call with the country's president, Volodymyr Zelenskyy.
Biden said the new weapons package will include systems already deployed to the fight, as well as new artillery weapons, artillery rounds, armored personnel carriers and helicopters.
Meanwhile, a report from the Organization for Security and Co-operation in Europe said Russia has committed human rights abuses and broken international humanitarian law during its invasion.
Details revealed on $800 million U.S. weapons package for Ukraine
U.S. Secretary of Defense Lloyd Austin on Wednesday night revealed details about the latest military aid package the United States will send to Ukraine, which includes 300 armored vehicles, artillery and anti-chemical protective equipment.
A post on his official Twitter account listed 200 M113 armored personnel carriers and 100 other armored, wheeled vehicles. The M113 is an older, tracked vehicle that the United States began using before the Vietnam War.
Among the newer weapons in the package are 500 Javelin missiles and 300 Switchblade attack drones. Ukrainian defenders have used the Javelin and other shoulder-launched weapons to devastating effect against Russian tanks and other vehicles.
Eight howitzers and 40,000 artillery rounds are also part of the newest U.S. arms shipment.
The list includes "protective equipment" against chemical, biological and radiological attacks, as well as 30,000 sets of body armor and helmets.
Military observers and others have voiced fears that Vladimir Putin may use weapons of mass destruction against Ukrainian troops and civilians as Russia continues to suffer defeats on the battlefield.
"We continue to stand with the brave Ukrainian people in their fight for freedom," Austin said. "To that end, this latest support package contains many of the highly effective weapons systems we have already provided along with critical new capabilities."
— Ted Kemp
Presidents of Poland, Lithuania, Latvia and Estonia visit Ukraine
The presidents of Poland, Lithuania, Latvia and Estonia visited Ukraine on Wednesday and underscored their support for the embattled country.
The presidents of the four NATO countries on Russia's doorstep saw heavily damaged buildings and demanded accountability for what they called war crimes carried out by Russian forces. The visit was a strong show of solidarity by the leaders of the countries on NATO's eastern flank, three of them like Ukraine, once part of the Soviet Union.
They traveled by train to the Ukrainian capital, Kyiv, to meet Ukrainian leader Volodymyr Zelenskyy and visited Borodyanka, one of the towns near Kyiv where evidence of atrocities was found after Russian troops withdrew to focus on the country's east.
"The fight for Europe's future is happening here," Lithuanian President Gitanas Nauseda said, calling for tougher sanctions, including against Russia's oil and gas shipments and all the country's banks.
Appearing alongside Zelenskyy in an ornate room in Kyiv's historical Mariinskyi Palace, the European leaders — Lithuanian President Gitanas Nauseda, Estonian President Alar Karis, Poland's Andrzej Duda and Egils Levits of Latvia — reiterated their commitments to supporting Ukraine politically and with transfers of military aid.
Duda described what is happening not as war but as "terrorism," saying accountability must extend not just to soldiers who committed atrocities but also those who gave the orders.
"We know this history," Duda said. "We know what Russian occupation means. We know what Russian terrorism means."
— Associated Press
Ukraine claims it has damaged a Russian warship in the Black Sea
Ukraine claimed it has damaged a Russian warship, the Moskva, stationed in the Black Sea after striking it with Neptune missiles.
"It has been confirmed that today the missile cruiser 'Moscow' went exactly where it was sent to by our border guards on Zmiinyi Island! Neptune missiles which are guarding the Black Sea caused very serious damage to the Russian ship," Maksym Marchenko, the governor of the Odesa region, said in a Telegram post.
Russian State Media service TASS, quoting the Russian Ministry of Defense, confirmed the ship caught fire after being "seriously damaged" and that the entire crew had been evacuated.
According to the Russian ministry, the fire started after ammunition was detonated onboard the warship. "As a result of a fire, ammunition detonated on the Moskva missile cruiser. The ship was seriously damaged. The crew was completely evacuated," TASS quoted the Russian the ministry as saying.
Ukrainian Presidential Advisor Oleksiy Arestovych claimed that 510 Russian crew members were on board the ship during a television interview. During the interview, Arestovych sarcastically said two sailors must have caused the fire by smoking in the wrong place, or maybe they were just unlucky.
Arestovych also said the Moskva was the same warship that asked Ukrainian soldiers on Snake Island (a Ukrainian island on the Black Sea) to surrender at the start of the conflict, with the Ukrainian troops telling the marines on the ship to "go f--- yourself." Audio recordings of this incident went viral back in February.
Unlike the Russian logistics vessel Orsk which Ukraine destroyed last month, the guided missile cruiser Moskva is an offensive warship designed to attack targets from a distance. Moscow used the ship off the coast of Syria in 2015.
—NBC News, Riya Bhattacharjee, Ted Kemp
International Criminal Court's chief prosecutor visits mass graves at Bucha
Prosecutor of the International Criminal Court, Britain's Karim Khan (fourth from right), visits a mass grave in Bucha, on the outskirts of Kyiv, amid Russia's military invasion launched on Ukraine. 
Editor's note: Graphic content. The photographs below depict mass graves and death
The Kyiv suburb of Bucha is now synonymous with scores of atrocities against civilians discovered in areas abandoned by Russian forces.
— Getty Images
UN warns of conflict-related sexual violence in new report
The United Nations High Commissioner for Refugees said it has been "made aware of increasing reports of Ukrainian women feeling at risk" from sponsors in a British program called Homes for Ukraine.
The agency warned in a statement that it was concerned about potential UK hosts turning out to be a "potential threat to the safety of the refugee."
The calls for more oversight of the British program come as the United Nations brings to light more than 3,200 verified cases of rape and other conflict-related sexual violence crimes amid the new war in Ukraine.
"Every new wave of warfare brings with it a rising tide of human tragedy, including new waves of war's oldest, most silenced, and least-condemned crime," said Pramila Patten, special representative of the secretary-general on sexual violence in conflict, before the UN Security Council.
— Amanda Macias
Defense giants meet with Pentagon officials
Representatives from Boeing, L3 Harris, Raytheon, Lockheed Martin, BAE, Huntington Ingalls, General Dynamics and Northrop Grumman met with leaders at the Pentagon as the U.S. Defense Department lines up more weapons for Ukraine.
"It was part of a normal routine conversation that we have with different industry leaders," Pentagon spokesman John Kirby said, adding that the meeting was focused on "the kinds of systems and weapons that have been relevant in the Ukraine war."
Kirby said the department wanted to have "a good, honest, candid discussion" with the companies' CEOs about what they're producing, how fast they are making it and whether or not they could accelerate and ramp up production "based on the heavy draw on our inventory to support Ukraine."
Earlier in the day, a senior Defense official told reporters on a conference call that the meeting was not the first roundtable with defense CEOs. The official also downplayed concerns that U.S. arsenals were depleted following seven installments of military assistance to Ukraine.
"We have been giving an awful lot of stuff to the Ukrainians and so it would be the prudent thing to do before it becomes a crisis issue for our own readiness to have a discussion with them [defense industry] about accelerated production and advanced production," the official said.
— Amanda Macias
U.S. authorizes another $800 million in firepower for Ukraine
President Joe Biden announced another $800 million in military assistance for Ukraine on Wednesday following an hour-long phone call with the war-torn country's President, Volodymyr Zelenskyy.
Biden said the latest weapons package would be a mixture of systems already deployed to the fight as well as "new capabilities tailored to the wider assault we expect Russia to launch in eastern Ukraine."
"These new capabilities include artillery systems, artillery rounds, and armored personnel carriers. I have also approved the transfer of additional helicopters," Biden wrote in a statement announcing the additional arms package.
The latest security package comes on the heels of recent U.S. intelligence reports that say the Kremlin will soon intensify its military campaign in eastern and southern Ukraine after weeks of stalled ground advances on the capital city of Kyiv.
— Amanda Macias
Russia deliberately attacked civilians and committed 'war crimes,' report finds
Russia committed human rights abuses and broke international humanitarian law during its invasion of Ukraine, according to a new report from the Organization for Security and Co-operation in Europe.
The 108-paged report published by the group's experts found that Russian forces deliberately targeted and killed civilians in Ukraine and those who ordered attacks on a maternity hospital and theater in Mariupol committed war crimes.
Michael Carpenter, the United States ambassador to the organization, told reporters on a conference call that the report found evidence of attacks on medical facilities, rape, executions, looting and forced deportation of civilians to Russia.
Carpenter said that due to the deadline of this fact-finding mission, the report does not include more recent reports of Russian attacks on civilians.
"The world has been horrified by the scenes of large-scale civilian killings at the hands of Russian forces in the northern suburbs of Kyiv, in Bucha and Irpin," Carpenter said, adding "And of course, more recently, we also had the egregious barbaric missile attack on the railway station in Kramatorsk."
— Amanda Macias
Zelenskyy and Biden discuss additional sanctions in hour-long call
Ukrainian President Volodymyr Zelenskyy said that in his most recent discussion with U.S. President Joe Biden, the two discussed potential "Russian war crimes" as well as additional sanctions measures.
The call, which Zelenskyy announced via Twitter, was confirmed by the White House and lasted about an hour. The last known call between Biden and Zelenskyy was on March 30.
The call comes as Zelenskyy presses the U.S. and its allies for additional weapons assistance amid claims that Russia is preparing for a renewed fight in eastern and southern Ukraine.
— Amanda Macias
Russia's war leave 1.7 billion vulnerable to poverty and hunger, UN says
Russia's war in Ukraine has left a huge swath of the world population vulnerable to systemic issues that are "triggering increases in poverty and hunger," United Nations Secretary-General Antonio Guterres said.
"The impact of the war is global and systemic," Guterres said Wednesday at a UN briefing to discuss a new report on the effect of the crisis on food, energy and finance systems.
As many as 1.7 billion people are "highly exposed" to disruptions in those systems, Guterres said, noting that "36 countries count on Russia and Ukraine for more than half of their wheat imports, including some of the poorest and most vulnerable countries of the world."
His remarks painted a dire picture of the global economic landscape, which was already facing historic challenges as a result of the ongoing coronavirus pandemic. Wheat and maize prices are up 30% since the start of the year, Oil prices are up 60% year-over-year and natural gas prices are up 50% in recent months, he said.
— Kevin Breuninger
Majority of Russian airstrikes are targeting Mariupol, U.S. Defense official says
A senior U.S. Defense official said the majority of Russian airstrikes are targeting the coastal city of Mariupol and the Donbas region as the Kremlin shifts its military focus to eastern and southern Ukraine.
The official, who spoke on the condition of anonymity in order to share new details from the Pentagon's latest war assessment, said the Russians "clearly still want" the strategic city of Mariupol.
The Pentagon has observed more than 1,550 Russian missile launches into Ukraine since the Kremlin's late-February invasion.
"We continue to see movements and activity of Russian forces in Belarus and in Russia. They continue to reassemble their forces, stage them, equip and materially support them," the official said, adding that the Russians are currently staging helicopters and artillery for the fight.
"We continue to believe there's going to be a renewed push," the official said, adding that the Pentagon was still monitoring a new miles-long convoy of Russian vehicles traveling through eastern Ukraine.
— Amanda Macias
Zelenskyy calls for urgently needed firepower
Ukrainian President Volodymyr Zelenskyy said his country urgently needs heavy artillery, heavy armored vehicles, air defense systems and aircraft.
In a video posted from his account on messaging app Telegram, Zelenskyy requested allies send multiple rocket launch systems, including Lockheed Martin's M142 High Mobility Artillery Rocket System (HIMARS), armored vehicles and infantry fighting vehicles, German or American tanks, S-300 air defense system or similar Western systems and aircraft.
The Ukrainian leader also asked allies for "as much as possible" of artillery shells and artillery ammunition.
A senior U.S. Defense official told reporters on a call that another military cargo flight of Javelin missiles is expected to arrive in the next 24 hours. The official, who spoke on the condition of anonymity in order to share not yet released information, said that more Switchblade drones are also slated to arrive in Ukraine in the next day.
— Amanda Macias
U.S. to announce $750 million more in weapons for Ukraine, officials say
 U.S. President Joe Biden's administration is expected to soon announce another $750 million in military assistance for Ukraine for its fight against Russian forces, two U.S. officials familiar with the matter told Reuters.
The equipment would be funded using Presidential Drawdown Authority, or PDA, in which the president can authorize the transfer of articles and services from U.S. stocks without congressional approval in response to an emergency.
One of the officials said final determinations were still being made about the mix of equipment.
A senior congressional aide said the equipment to be announced would likely include heavy ground artillery systems to Ukraine, including howitzers. White House officials did not immediately respond to a request for comment.
— Reuters
India's largest oil refinery abruptly excludes Russian crude from its latest purchase
Amid mounting public pressure from the United States to stop buying Russian oil, India's largest oil refinery has purchased 4 million barrels of crude oil via tenders from Abu Dhabi and West Africa, the Economic Times of India reports, citing traders.
The contract purchase by the Indian Oil Corporation follows an abrupt decision by the company to exclude several types of high-sulfur crude -- most notably, Russian Urals crude.
India has faced criticism for continuing to buy oil from Russia despite its brutal invasion of Ukraine, much of it deeply discounted after Western buyers self-sanctioned in opposition to the Kremlin's war.
The IOC announcement excluding Russian Urals crude from the tender was reported one day after President Joe Biden and Indian Prime Minister Narendra Modi held a virtual meeting, during which Biden asked Modi to phase out future purchases of Russian oil.
India has a longstanding partnership with Russia, which supplies New Delhi with both energy and defense equipment.
--- Christina Wilkie
Nearly 1.4 million people are without water in eastern Ukraine, UNICEF says
Nearly 1.4 million people are without access to piped water in eastern Ukraine and an additional 4.6 million people across the country are at risk of losing their water supply, UNICEF wrote in a statement.
"Water is essential for life and a right for everyone," said Osnat Lubrani, UN resident coordinator in Ukraine. "The health risks, particularly for children and the elderly, caused by water stoppages are severe, as people are forced to use dirty water sources, resulting in diarrhea and other deadly infectious diseases," added Lubrani.
The humanitarian aid organization said that there have been at least 20 separate incidents of damage to water infrastructure recorded in eastern Ukraine.
"The intensification of fighting in the east and the widespread use of explosive weapons in populated areas threatens to further decimate the water system, which is now at risk of complete collapse, following 8 years of low-grade conflict on an already ailing network," UNICEF wrote in a statement.
— Amanda Macias
UN says 1,932 civilians killed and 2,589 injured in Ukraine
The United Nations has confirmed 1,932 civilian deaths and 2,589 injuries in Ukraine since Russia invaded its ex-Soviet neighbor on Feb. 24.
Of those killed, the U.N. has identified at least 31 girls and 54 boys as well as 72 children whose sex is unknown.
The Office of the UN High Commissioner for Human Rights adds that the death toll in Ukraine is likely higher, citing delayed reporting due to the armed conflict.
The international body said most of the civilian casualties recorded were caused by the use of explosive weapons, including shelling from heavy artillery and multiple launch rocket systems, as well as missiles and airstrikes.
— Amanda Macias
Officials continue to exhume bodies from mass graves in Bucha
Editor's note: Graphic content. The following photos contain images of dead bodies being removed from mass graves in the Kyiv suburb of Bucha.
Officials continue to exhume the bodies of civilians who died during the Russian attacks, from a second mass grave, found behind St. Andrea's Church in Bucha. 
— Anadolu Agency / Getty Images
JPMorgan's Jamie Dimon warns of economic challenges ahead from Ukraine war
JPMorgan Chase reported a 42% drop in first-quarter profits from a year earlier, thanks in part to market upheaval over the Russia-Ukraine war.
The bank chalked up $524 million in losses due to markdowns and widening spreads after Russian's invasion of its neighbor.
CEO Jamie Dimon said he remained optimistic about the U.S. economy in the short term, but "[we] see significant geopolitical and economic challenges ahead due to high inflation, supply chain issues and the war in Ukraine."
— Natasha Turak
Finland set to make NATO membership decision in weeks, not months: Finnish PM
Finland is set to make its decision on applying for NATO membership within the coming weeks rather than months, its Prime Minister Sanna Marin said Wednesday at a joint press conference in Stockholm along with Swedish Prime Minister Magdalena Andersson.
"There are different perspectives to apply [for] NATO membership or not to apply and we have to analyze these very carefully," Marin said. "But I think our process will be quite fast, it will happen in weeks."
Neighboring Russia's invasion of Ukraine has triggered a U-turn in Finnish public opinion on joining the 30-member alliance, which it has refrained from joining since World War II in a bid to maintain neutrality. Moscow has warned of severe consequences and instability in the Nordics if Finland, which shares an 830-mile border with Russia, were to join.
Finland needs to be prepared for action from Russia already during the NATO evaluation process, Marin said.
If Finland joined the alliance, Sweden would likely follow suit. Finland and Sweden, as well as Ukraine, are already "Enhanced Opportunity Partners" for NATO, the closest form of partnership with the alliance, and partake in military exercises with NATO states.
— Natasha Turak
Japan is looking into further aid for Ukraine: Defense minister
Japan will continue to look for additional support it can provide to Ukraine, the country's Defence Minister Nobuo Kishi said after holding talks with his Ukrainian counterpart Oleksii Reznikov.
Reznikov thanked Japan for its recent military aid, Kishi said, which included helmets and other non-lethal military equipment. By late March, Japan had provided about $100 million in emergency humanitarian aid to Ukraine and countries around it taking in refugees.
Shortly after Russia's invasion began in February, Japan imposed sanctions on Russia prohibiting Russian bond issuances in Japan, freezing the assets of some Russian individuals, and restricting travel to Japan.
— Natasha Turak
UK announces sanctions on 206 more Russians, including wealthy Putin allies
The U.K. announced it is putting sanctions on 206 more Russians, including six oligarchs and their family members, targeting them with asset freezes and travel bans.
Those being sanctioned include wealthy Putin allies Viktor Medvedchuk and Lukoil president Vagit Yusufovich Alekperov, Putin assistant Andrei Fursenko, the Russian foreign minister's wife Maria Lavrova, and former Russian railways head Vladimir Yakunin.
Medvedchuk, a pro-Kremlin Ukrainian politician and business oligarch, was captured by Ukrainian forces this week after escaping house arrest and Zelenskyy has offered to release him in exchange for the return of Ukrainians forcibly taken into Russia. His ties with Putin are such that the Russian president is godfather to his daughter, and he has long served as a leading conduit between Kyiv and Moscow serving the Kremlin's interests.
Alekperov, a Russian–Azerbaijani oligarch, is president of major Russian oil company Lukoil. In 2021, the Bloomberg Billionaires' Index gave him an estimated net worth of $19.6 billion, making him the 94th richest person in the world and fifth-wealthiest person in Russia.
— Natasha Turak
Zelenskyy accuses Russia of using phosphorus bombs on Ukrainian civilians
Zelenskyy accused Russia of using phosphorus bombs in Ukraine during a virtual address to the Estonian parliament, saying Moscow was using terror tactics on civilians.
The Ukrainian leader did not provide evidence for his claims and NBC has not been able to independently confirm them. But the U.K.'s Ministry of Defence has warned of heightened risk that Russia could use these bombs as part of its siege of the Ukrainian port city of Mariupol. Russia denies targeting civilians, despite well-documented evidence to the contrary.
Phosphorus bombs are known for their incendiary effects and the severity of the injuries they cause, notably the burning of human flesh. While not banned, their use is highly regulated and it is illegal under international law to use phosphorus bombs in civilian settings.
Zelenskyy in his address also stressed that ways must be found to force Russia to stop forcibly taking Ukrainians into the country and said that sanctions on Moscow needed to continue in order to pressure the Russian president to agree to peace.
— Natasha Turak
Presidents of Poland, Estonia and Lithuania en route to Kyiv
The presidents of NATO member countries Poland, Estonia and Lithuania headed to the Ukrainian capital Kyiv Wednesday to show support for their Ukrainian counterpart Volodymyr Zelenskyy.
"On our way to Kyiv, to a city that has suffered terribly due to Russian war since my last visit. Together with Presidents @AndrzejDuda, @GitanasNauseda & @valstsgriba we visit #Ukraine to show strong support to people, will meet dear friend President @ZelenskyyUa #SlavaUkraini" Estonian President Alar Karis tweeted, posting photos of the leaders at a train station.
— Natasha Turak
Ukrainian police opens more than 3,050 criminal proceedings against Russian military
Ukrainian police has started more than 3,050 criminal proceedings for crimes committed by Russia's military, according to Andrii Nebitov, head of Kyiv region police.
In the Kyiv region, more than 720 civilians have been killed in full-scale Russian military aggression, with more than 200 people still missing, Ukraine's Ministry of Internal Affairs said in a Facebook post, citing Nebitov.
The Office of the UN High Commissioner for Human Rights reported that 4,450 civilians have been killed or injured in Ukraine as of April 11, since Russia's invasion on Feb. 24.
— Chelsea Ong
Russia's appointment of new general shows attempt to centralize operations, UK MoD says
Russia's appointment of Army General Alexander Dvornikov to lead the war in Ukraine "represents an attempt to centralise command and control," the U.K.'s Ministry of Defense said in its daily defense intelligence update on Twitter, adding that "an inability to cohere and coordinate military activity has hampered Russia's invasion to date."
Dvornikov has experience commanding troops in Syria and has a reputation for brutality. He has also commanded Russia's Southern Military District bordering Ukraine's Donbas region since 2016.
Western and Ukrainian officials believe at least seven Russian generals have been killed in Ukraine since Russia's invasion began, an extraordinary rate, considering generals typically do not engage in frontline combat. Military analysts say the deaths reflect logistical and operational failures and poor morale among frontline soldiers, requiring more senior commanders to step in and thereby face greater risk of being killed.
"Dvornikov's selection further demonstrates how determined Ukrainian resistance and ineffective pre-war planning have forced Russia to reassess its operations," The U.K. MoD said.
— Natasha Turak
Zelenskyy offers to exchange captured Putin ally Medvedchuk for Ukrainian civilians held by Russia
Hours after Ukraine announced the capture of fugitive and longtime Putin ally Viktor Medvedchuk, the country's president has offered to turn the former media mogul over to Russia in exchange for Ukrainian civilians currently being held captive.
"I offer the Russian Federation to exchange this guy of yours for our boys and our girls who are now in Russian captivity," President Volodymyr Zelenskyy said in a video address.
Medvedchuk is a pro-Kremlin politician who has been living in Ukraine. He has been on house arrest on treason charges since last year, but allegedly escaped shortly after Russia invaded Ukraine in late February.
The United Nations Human Rights Monitoring Mission in Ukraine has documented about 109 cases of suspected detention or enforced disappearances among civilians since the invasion began.
Local officials in Ukraine say this figure does not take into account tens of thousands of Ukrainians who have been deported from Russian-controlled regions and taken to Russia via "filtration camps."
— Chelsea Ong
Putin and Lukashenko have a new false narrative about the atrocities in Bucha
Russian President Vladimir Putin and his closest ally, President Alexander Lukashenko of Belarus, are promoting a new false narrative about who's to blame for the murders, rapes and torture of hundreds of civilians in Bucha, Ukraine. 
They insist it was not Russian soldiers who went on a month-long rampage of looting and killing, even as witnesses, satellite imagery and forensic evidence have suggested otherwise.
The real culprits are British operatives who conducted a "psychological special operation" in the leafy suburb of Kyiv, Lukashenko claims without evidence.
Lukashenko and Putin spoke at a space launch facility in Vostochny, in Russia's Far East. It was Putin's first public appearance outside of Moscow since Russia launched its brutal Feb. 24 invasion of Ukraine.
The British Embassy in Washington did not immediately respond to a request for comment.
— Chelsea Ong
S&P chief economist on how a Russia-Germany 'trade rupture' could cause a financial shock
A "trade rupture" between Germany and Russia could set off a macro financial shock, S&P Global's chief economist said.
German manufacturing – one of three global manufacturing centers besides the U.S. and China — could be dented as a result of the rupture, Paul Gruenwald told CNBC's "Squawk Box Asia."
"Looking at a downside scenario … there's kind of several different ways to play that but we think the one that would really move the macro needle is some sort of trade rupture between Russia and Europe,"
"That would feed through to ... lower GDP, lower employment, lower confidence — and then we would get a kind of a macro financial shock out of that. So that's the sort of scenario we're worried about that could move the needle," he warned.
— Weizhen Tan
Read CNBC's previous live coverage here:
Biden calls Putin's actions in Ukraine 'genocide'; Putin warns Russia cannot be isolated from the West
Copyright CNBC