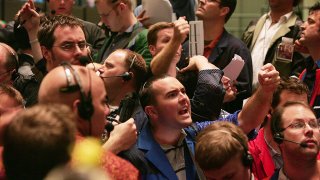 U.S. Treasury yields were little changed on Wednesday following the release of the Federal Reserve's minutes from its latest meeting.
The yield on the benchmark 10-year Treasury note dipped slightly to 0.875%, while the yield on the 30-year Treasury bond fell to 1.597%. Yields move inversely to prices.
The Fed's minutes from its Nov. 4-5 policy meeting showed policymakers discussed possible ways to provide more accomodation.
"Participants noted that the Committee could provide more accommodation, if appropriate, by increasing the pace of purchases or by shifting its Treasury purchases to those with a longer maturity without increasing the size of its purchases," Fed minutes stated. "Alternatively, the Committee could provide more accommodation, if appropriate, by conducting purchases of the same pace and composition over a longer horizon."
Fed members also noted the resurgence of the coronavirus and the risks to the economic outlook, which they believed were "tilted to the downside."
On the data front, first-time claims for unemployment benefits rose to 778,000 last week, the Labor Department said Thursday. Economists surveyed by Dow Jones were expecting the number to total 733,00.
Treasury yields slipped on Wednesday after the Dow Jones Industrial Average breached 30,000 points for the first time on Tuesday.
Investors were showing an increased appetite for risk, by putting more money into the stock market, amid signs of more political clarity after the Trump administration accepted that President-elect Joe Biden's transition into the White House must begin.
Biden has also been sharing picks for his Cabinet team, which included naming former Federal Reserve Chair Janet Yellen as his choice for Treasury Secretary and nominating Antony Blinken as his secretary of State.
Auctions will be held Wednesday for $30 billion of 4-week bills, $35 billion of 8-week bills, $25 billion of 105-day bills and $30 billion of 154-day bills.
Copyright CNBC