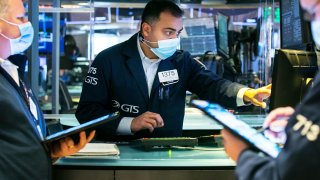 The Dow fell from its record high and snapped a seven-day winning streak on Tuesday ahead the Federal Reserve's upcoming policy announcement.
The Dow Jones Industrial Average fell about 129 points, or 0.4%, to 32,825.95. The S&P 500 slipped 0.2% after setting a record high intraday and finished at 3,962.71, while the tech-heavy Nasdaq Composite clung to a gain of about 0.1% to close at 13,471.57.
The S&P 500 and Dow are still close to record highs, but there's growing concern among investors that interest rates may continue to climb, snuffing out the comeback for equities. The market fell to its session lows when the benchmark 10-year Treasury yield briefly rose above 1.62% in afternoon trading.
Traders will get more guidance from the Federal Reserve on rates and inflation on Wednesday. The central bank kicks off its two-day meeting on Tuesday, followed by a statement and briefing from Chairman Jerome Powell the following day.
"The markets are going to be tuned in to every word" of Powell's press conference, said Rick Rieder, BlackRock's CIO for global fixed income. "If he says nothing, it will move markets. If he says a lot it will move markets."
The recent jump in bond yields has prompted a rotation out of growth stocks, as the companies' future cash flows begin to look less attractive relative to other assets.
"The distribution of COVID-19 vaccines is bringing us closer to a fully reopened economy and is likely the most important factor in assessing economic growth prospects for 2021," noted strategists at LPL Financial. "We expect interest rates to fade as a threat to markets," the firm added.
The market on Tuesday was supported by megacap tech stocks, with Apple and Google-parent Alphabet each rising 1.3% and 1.4% and Amazon adding 0.3%. Apple and Amazon have underperformed in recent months as investors have shifted from growth stocks to value plays, but some of the more mature tech stocks now appear less expensive, according to some strategists.
"These are highly profitable businesses with excellent balance sheets," said Angelo Kourkafas, an investment strategist at Edward Jones. "They could be relative underperformers, but I have hard time, based on the valuations they're trading at, imagining that they could have a severe or sustained pullback."
February retail sales fell by more than expected, down 3%, data released Tuesday showed, reflecting in part a month marked by severe weather across the United States. However, January's retail sales figures was revised upward to a 7.6% jump from a 5.3% increase, so the markets largely ignored the number.
The calm in stocks on Tuesday was reflected in the Cboe Volatility Index, which fell below 20 and hit its lowest level since February of last year. The index measure the size of expected future price moves for stocks implied by options pricing.
Tuesday's market action followed a positive day for the three major indexes. During Monday's session, the Dow jumped 174 points, notching its 21st record intraday high of the year and 14th record closing high of 2021. The S&P 500, meanwhile, gained 0.64% for its 13th record closing high of the year, and the Nasdaq Composite gained 1.05%.
Copyright CNBC