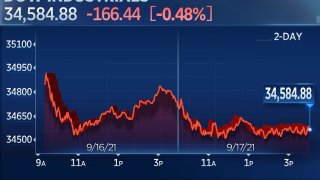 Stocks dipped on Friday as investors remain cautious due to a resurgent Covid virus, a Federal Reserve meeting next week and a historical tendency for September to be a weak month for equities.
The Dow Jones Industrial Average lost 166.44 points or 0.5% to close at 34,584.88, dragged down by a nearly 2.9% drop in Dow Inc. The S&P 500 shed 0.9% to 4,432.99 and the Nasdaq Composite lost 0.9% to close at 15,043.97.
Mega-cap technology stocks were mostly in the red, with social media giant Facebook dropping 2.2% and Alphabet falling just shy of 2%. Apple lost 1.8%, and Microsoft slipped 1.7%.
The Food and Drug Administration advisory committee on Friday rejected a plan to administer booster shots of Pfizer and BioNTech's Covid-19 vaccine to the general public. Pfizer fell 1.3% and BioNTech dropped 3.6%. Moderna lost 2.4%.
History is not on the market's side with the S&P 500 averaging a 0.4% decline for September, the worst of any month, according to the Stock Trader's Almanac. Friday in particular begins a historically weak period for stocks as those September losses typically come in the back half of the month.
Some of the volatility that comes during September is often surrounding so-called quadruple witching, which occurred at the close Friday. This is the expiration of stock index futures, stock index options, stock options, and single-stock futures.
"We expect volatility to increase over the next month driven by a seasonal pickup in investor uncertainty, continued virus uncertainty, and significant monetary and fiscal policy catalysts," wrote John Marshall, head of derivatives research for Goldman Sachs, in a note Friday. Marshall cited data showing S&P 500 volatility typically increased by 27% from August to October.
Still, stocks closed on Friday with losses for the week. The Dow slipped less than 0.1% this week, for its third straight week of declines. The Dow has not had a 3-week losing streak since September 2020. The S&P 500 fell nearly 0.6% since Monday for its second straight week of losses. The Nasdaq Composite dropped close to 0.5% this week.
For the month, stocks are also trading in negative territory. The Dow is down about 2.2% in September. The S&P 500 is off by nearly 2% this month but still just 2.5% from its all-time high. The Nasdaq has lost 1.4% this month.
The Federal Reserve meets for two days next week and on Wednesday is expected to give further clues as to when it may start to slow its $120 billion in monthly bond purchases that have supported the recovery, but also perhaps aided in a jump in inflation.
The U.S. 10-year Treasury hopped 4 basis points to nearly 1.37% on Friday.
Fed Chief Jerome Powell has said the so-called tapering could occur this year, but investors are waiting for more specifics. Some investors fear a decline in asset prices as the central bank begins to take away its easy policies.
Shares of Invesco jumped about 5.5% after the Wall Street Journal reported the money manager is in talks to combine with State Street's asset-management business. Invesco manages about $1.5 trillion.
Copyright CNBCs - CNBC