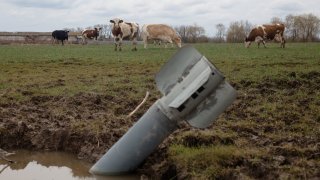 This has been CNBC's live blog covering updates on the war in Ukraine. [Follow the latest updates here.]
The World Bank expects Ukraine's economic output to be cut almost by half, as Russia's invasion of the country has shut or destroyed businesses and cut off its maritime shipping.
More than half of Ukraine's businesses are closed, while others still open are operating at well under normal capacity, the World Bank said. The closure of Black Sea shipping from Ukraine has cut off some 90% of the country's grain exports and half of its total exports.
Meanwhile, Austrian Chancellor Karl Nehammer said on Twitter that he plans to meet Russian President Vladimir Putin in Moscow on Monday, marking the first in-person meeting between Putin and a European Union leader since Russia invaded Ukraine in late February.
Nehammer visited Ukraine and met with Ukrainian president Volodymyr Zelenskyy on Saturday. Austria has been providing humanitarian aid to Ukraine during the war.
War to slash Ukraine's GDP output by over 45%, World Bank forecasts
Ukraine's economic output will likely contract by a staggering 45.1% this year as Russia's invasion has shuttered businesses, slashed exports and destroyed productive capacity, the World Bank said on Sunday in a new assessment of the war's economic impacts.
The World Bank also forecast Russia's 2022 GDP output to fall 11.2% due to punishing financial sanctions imposed by the United States and its Western allies on Russia's banks, state-owned enterprises and other institutions.
The World Bank's Eastern Europe region, comprising Ukraine, Belarus and Moldova, is forecast to show a GDP contraction of 30.7% this year, due to shocks from the war and disruption of trade.
For Ukraine, the World Bank report estimates that over half of the country's businesses are closed, while others still open are operating at well under normal capacity. The closure of Black Sea shipping from Ukraine has cut off some 90% of the country's grain exports and half of its total exports.
— Reuters
Death toll from the attack on the Kramatorsk railway station climbs to 57
A Ukrainian official said the number of deaths from the attack on the Kramatorsk railway station in eastern Ukraine rose to 57 people and 109 injuries over the weekend.
The strike came as hundreds of civilians were waiting to board trains departing the eastern part of the country.
Pavlo Kyrylenko, governor of the Donetsk region, also said that at least four civilians were killed due to Russian shelling in the east.
A senior U.S. Defense official said the devastating attack on the Kramatorsk railway station in eastern Ukraine was carried out by a Russian short-range ballistic missile fired from inside Ukraine.
The U.S. official, who spoke on the condition of anonymity in order to share new details the Pentagon has gathered about the war, added that the U.S. believes the missile was a Russian OTR-21 Tochka, also known as an SS-21 "Scarab" missile. The SS-21 is a Russian-made mobile, short-range, single-warhead ballistic missile with a warhead payload of about 1,000 pounds.
— Amanda Macias
European family includes Ukraine, president of the European Commission says
The president of the European Commission said the questionnaire she handed Ukrainian President Volodymyr Zelenskyy during her visit to Kyiv represents a very important step forward.
Ursula von der Leyen said Sunday on CNN's "State of the Union" that Ukraine's response will enable her to decide whether to recommend the nation as a candidate to join the European Union.
The process normally takes years, but she has said Ukraine's application could take just weeks to consider. She said Ukrainians "belong to our European family, without any question."
"Yesterday, somebody told me: "You know, when our soldiers are dying, I want them to know that their children will be free be and be part of the European Union," von der Leyen said. "They are in an extraordinary situation, where we have to take unusual steps."
"One thing is clear for me: After this war, when Ukraine will be rebuilt, when we support Ukraine in reconstructing this country, this will be accompanied by reforms. So, it is an extraordinary way to shape the country and to go down the path towards the European Union."
— Associated Press
Russia reportedly appoints new battlefield commander who oversaw brutal attacks in Syria
Russia has reportedly appointed a new commander to oversee its war on Ukraine, according to a U.S. official who spoke to the Associated Press on the condition of anonymity.
Russia has now turned to one of its most experienced military officers, Gen. Alexander Dvornikov, the official told AP.
Citing reports, NBC's Molly Hunter explained on Sunday's "Meet the Press" with Chuck Todd that the 60-year-old general has a record of brutality against civilians in Syria and is "apparently one of Putin's favorites."
"What we know is that he was the one who called in many of the airstrikes and is accused of calling in many of the airstrikes on residential buildings in Syria, on hospitals, accused of atrocities, of carrying out Russia's scorched earth policies," Hunter said.
"This really fills a power vacuum, that apparently Russia has been missing a key battlefield commander," she added. "And this comes as this shift focuses to the east of the country."
— Lauren Thomas
'Bureaucracy' is no excuse for failing to provide critical weapons and ammunition to Ukraine
A Ukrainian delegation warned U.S. officials in Washington this week that security assistance packages are not arriving quick enough in the besieged country, a plea that comes amid Western security claims that the Kremlin will soon intensify its military campaign.
"The six-year-old boy who is visiting his mother's grave in his backyard does not want to hear about bureaucracy as an excuse for not delivering weapons to Ukraine," Daria Kaleniuk, who runs Ukraine's Anti-Corruption Action Center, a national organization that assists Ukraine's parliament and prosecutor's office.
"This is an extraordinary situation where extraordinary measures have to be done. Lift your bureaucracy, lift it now. The president of the United States has huge power, Congress has huge power. We know it's possible," she added.
Earlier in the week, Ukrainian Foreign Minister Dmytro Kuleba also made a plea to NATO allies to catalyze the delivery of their arms commitments.
"Either you help us now, and I'm speaking about days not weeks, or your help will come too late," Kuleba told reporters at NATO's headquarters on April 7.
– Amanda Macias
Ukrainian forces head home after weeks of specialized training on U.S. bases
A small number of Ukrainian soldiers departed the United States today after receiving weeks of side-by-side training with American service members.
The Ukrainian troops were participating in a pre-scheduled training at the Naval Small Craft Instruction and Technical Training School, a program run by the U.S. Special Operations Command, in Biloxi, Mississippi, when Russia invaded Ukraine on February 24.
The Ukrainians received training on patrol craft operations and communication systems, as well as additional advanced tactical training on systems the U.S. recently agreed to provide to Ukraine, including Switchblade drones.
The Switchblades, dubbed "kamikaze" drones, are equipped with cameras, navigation systems and guided explosives. The weapons can be programmed to strike targets that are miles away automatically, or can loiter above a target until engaged by an operator to strike.
Deploying Switchblades to the fight in Ukraine could be the most significant use of the weapons in combat, as it is not clear how often the U.S. military has used the killer drones on the battlefield.
— Amanda Macias
Austrian head of state Nehammer says he plans to meet Putin in Moscow
Austrian Chancellor Karl Nehammer said on Twitter that he plans to meet Russian President Vladimir Putin in Moscow on Monday.
This would be the first face-to-face meeting between Putin and a European Union leader since Russia invaded Ukraine in late February.
"I'm going to meet Vladimir #Putin in Moscow tomorrow," Nehammer wrote. "We are militarily neutral, but [have] a clear position on the Russian war of aggression against #Ukraine. It must stop! It needs humanitarian corridors, ceasefire & full investigation of war crimes."
Nehammer added that he has briefed other European "partners" regarding his visit, including European Commission President Ursula von der Leyen, European Council President Charles Michel, German Chancellor Olaf Scholz, Turkish President Tayyip Erdogan as well as Ukrainian President Zelenskyy.
This comes after Nehammer visited Ukraine and met with Zelenskyy on Saturday.
Austria has been providing humanitarian aid to Ukraine during the war. Nehammer, a conservative, has said he wants to show Zelenskyy his support.
— Lauren Thomas
White House says President Biden wants India to oppose war
The White House said that President Joe Biden is planning to press Indian Prime Minister Narendra Modi to take a tougher stance on Russia's Ukraine invasion.
The two will meet virtually on Monday, according to Press Secretary Jen Psaki, where they will discuss cooperation on a range of issues including ending the Covid-19 pandemic, countering the climate crisis and strengthening the global economy.
India's neutral stance on the war in Ukraine has raised concerns around Washington while earning the praise of Russian Foreign Minister Sergey Lavrov. He recently applauded India for not judging "the situation in its entirety, not just in a one-sided way."
India has also recently purchased advanced Russian air defense systems, a move which could theoretically lead to U.S. sanctions.
In a statement released Sunday, Psaki said Biden will talk in the meeting about how Russia's war on Ukraine is destabilizing the global food supply and commodity markets. She said Biden will also address the need to strengthen the global economy while "upholding a free, open, rules-based international order to bolster security, democracy, and prosperity."
— Lauren Thomas
European Commission president says EU 'has to do more' for Ukraine
Ursula von der Leyen, the president of the European Commission, said on CNN's "State of the Union" that the European Union "has to do more" for Ukraine as it fights Russia, including providing military supplies and potentially imposing additional sanctions.
"We have to deliver arms, weapons so the Ukrainian people can defend themselves. It's really urgent right now. A lot has been done but more has to be done. We have to support the refugees in Ukraine, but also very important we have to financially support Ukraine," she said.
Von der Leyen visited Bucha last week to witness aftermath of Russia's invasion first hand.
— Jesse Pound
The search for bodies continues in Borodyanka
Editor's note: Graphic content - The following post contains photos of dead civilians in Borodyanka.
Rescue workers search for bodies at an apartment building on April 9 in Borodyanka, Ukraine. The Russian military's retreat from towns near Kyiv has revealed scores of civilian deaths and the full extent of devastation from Russia's attempt to seize the Ukrainian capital. 
— Getty Images
Chornobyl nuclear plant carries out second shift change of the war
Ukraine has carried out the first staff rotation in three weeks at the Chornobyl Nuclear Power Plant, the International Atomic Energy Agency announced.
This is just the second shift change at the plant since Russia attacked the plant in late February.
Ukraine also told the agency that equipment the plant's analytical laboratories used for radiation monitoring was damaged, disabled or stolen, according to a press release.
— Jesse Pound
Zelenskyy says Ukraine's survival depends on more support from U.S.
Ukrainian president Volodymyr Zelenskyy told "60 Minutes" he has doubts about whether the United States will meet his request for supplies and weapons for the next phase of the war against Russia, according to a preview of the interview released by CBS.
"All depends on how fast we will be helped by the United States. To be honest, whether we will be able to survive depends on this," Zelenskyy said. "I have 100% confidence in our people and in our armed forces, but unfortunately I do not have the confidence we will be receiving everything we need."
The Ukrainian leader also said he believes Russia is increasing its military equipment near the front as the fighting shifts toward the southern and eastern parts of Ukraine.
— Jesse Pound
U.S. needs to be more aggressive in helping Ukraine, McConnell says
Senate Minority Leader Mitch McConnell said on "Fox News Sunday" that the Biden administration has still not been as aggressive as he would like in helping Ukraine win the war and expel Russian forces.
"I think the administration has been better, but they've had to be pushed every step of the way to be more aggressive, sooner," the Kentucky Republican said.
"I think they're getting better, but they still don't understand the goal. The goal is for Ukraine to win," McConnell added.
White House press secretary Jen Psaki said earlier on the show that U.S. leaders are in regular contact with their Ukrainian counterparts to get weapons and supplies into the country.
"We are assessing, reviewing, every single day, the requests from the Ukrainian military and Ukrainian leadership... If we can't meet what they need, we're working with our allies and partners," Psaki said.
— Jesse Pound
U.S. lawmakers arrive in Poland
A bipartisan group of U.S. lawmakers arrived in Poland to meet with American forces, allies and Ukrainian refugees.
Led by House leader Rep. Kevin McCarthy, R-Calif., the group included House Whip Steve Scalise, R-La. and Reps. Michael McCaul, R-Texas; Michael Turner, R-Ohio; Ken Calvert, R-Calif.; French Hill, R-Ark.; Kathleen Rice, D-New York; Stephanie Murphy, D-Fla.; Mike Garcia, R-Cal. and Michelle Fishbach, R-Minn.
"We are here—as representatives of the United States—to ensure we are doing what is right to support Ukrainians as they defend themselves and their democracy," McCarthy said in a release.
The leaders traveled to Warsaw to meet with the Prime Minister and Defense Minister of Poland, as well as the U.S. Ambassador to Poland. In Northeast Poland, they met with Ukrainian officials, refugees and U.S. soldiers.
The group said more stops will be announced in the coming days.
— Jessica Bursztynsky
War is having a limited impact on Europe vacation bookings, experts say
The war in Ukraine does not appear to be making a major dent in European travel, according to travel agents and experts.
Jennifer Griscavage, founder of Runway Travel, said she is having a busy bookings season, especially for countries that are not bordering on the war zone.
"Italy, Greece and France in particular have been very popular," Griscavage said.
Audrey Hendley, president of Global Travel and Lifestyle Services at American Express, said the eastern European countries that are closer to the conflict are not major travel destinations in typical years.
— Kenneth Kiesnoski, Jesse Pound
Zelenskyy and Germany's Scholz discussed additional sanctions on Russia
Ukrainian President Volodymyr Zelenskyy said he discussed further sanctions on Russia with his German counterpart Olaf Scholz.
The two spoke of the possibility of new sanctions via phone, as well as additional defense and economic support for Ukraine, Zelenskyy reported via Twitter.
A separate conference call between Zelenskyy and other Ukrainian officials focused on the development of a sixth package of EU sanctions for Russia.
— Natasha Turak
Russia confirms prisoner exchange with Ukraine
Russian Human Rights Commissioner Tatiana Moskalkova confirmed on Sunday that Russia and Ukraine had carried out a prisoner exchange on Saturday.
Moskalkova said that among those returned to Russia were four employees of state atomic energy corporation Rosatom, soldiers and some other civilians.
"Early this morning they landed on Russian soil," Moskalkova said in an online post.
On Saturday an exchange of truck drivers between Russia and Ukraine was also conducted, Moskalkova said, with 32 Russian truck drivers, 20 Ukrainians and a number of Belarus nationals exchanged.
— Reuters
Jake Sullivan downplays genocide label, says focus should be on the crimes
Editor's note: Graphic content. The following post contains a photo of civilian casualties in Bucha.
White House National Security Adviser Jake Sullivan deemphasized the importance of labelling Russia's atrocities on Ukrainians as "genocide."
"The label is less important," Sullivan said on CNN's "State of the Union." It shouldn't distract from the fact that "these acts are cruel and criminal and wrong and evil and need to be responded to decisively."
The U.S. is still determining whether the actions in Ukraine constitute genocide, Sullivan later said on ABC's "This Week."
"I think we can all say that these are mass atrocities. These are war crimes. These are shocking and brutal acts that are completely unacceptable, beyond the pale for the international community. So whatever label one wants to affix to them, the bottom line is this, there must be accountability," Sullivan said.
Before the war began, the Kremlin had planned to target civilians who opposed the invasion, U.S. intelligence has shown. That's led to "broad-scale war crimes" across the Eastern European nation.
Some Russian troops may also be acting out of frustration, Sullivan told ABC News.
"They had been told they were going to have a glorious victory and just ride into Kyiv without any opposition with the Ukrainians welcoming them," Sullivan said. "And when that didn't happen, I do think some of these units engaged in these acts of brutality, these atrocities, these war crimes even without direction from above."
"But make no mistake, the larger issue of broad-scale war crimes and atrocities in Ukraine lies at the feet of the Kremlin and lies at the feet of the Russian president."
— Jessica Bursztynsky
UN says 69 children are among the 1,793 civilians killed in Ukraine
The United Nations has confirmed 1,793 civilian deaths and 2,439 injuries in Ukraine since Russia invaded its ex-Soviet neighbor on Feb. 24.
Of those killed, the UN has identified at least 69 children.
The Office of the UN High Commissioner for Human Rights adds that the death toll in Ukraine is likely higher, citing delayed reporting due to the armed conflict.
The international body said most of the civilian casualties recorded were caused by the use of explosive weapons, including shelling from heavy artillery and multiple launch rocket systems, as well as missiles and airstrikes.
— Amanda Macias
Russia declares missile strikes in Ukraine's Kharkiv, Dnipropetrovsk and Mykolaiv regions
Russia's military declared missile strikes on Ukraine's eastern Dnipropetrovsk and Kharkiv regions and southern Mykolaiv region Sunday. Russian defense ministry spokesman Maj. Gen. Igor Konashenkov said in a statement:
"During the night in the village of Zvonetske — Dnipropetrovsk region — high-precision sea-based missiles destroyed the headquarters and base of the Dnipro nationalist battalion, where reinforcements from foreign mercenaries arrived the other day."
"High-precision air-launched missiles in the area of the settlement of Stara Bohdanivka, Mykolaiv region and at the Chuhuiv military airfield [in Kharkiv region] destroyed launchers of Ukrainian S-300 anti-aircraft missile systems identified by reconnaissance," the statement added.
CNBC was unable to independently verify the claims, but Ukrainian military spokespeople said there has been frequent shelling in the Dnipropetrovsk region for the past 24 hours.
Moscow says it is not targeting civilians, despite well-documented evidence to the contrary.
— Natasha Turak
Satellite images show convoy of armed forces heading towards Donbas region
Satellite images from Maxar Technologies show a convoy of military forces heading south toward the Donbas region on April 8.
Maxar works with U.S. government agencies to provide commercial satellite imagery. The following images are from Maxar and have not been independently verified by NBC News.
— Maxar Technologies via Reuters
Nine humanitarian corridors in eastern Ukraine agreed for Sunday
Ukraine's Deputy Prime Minister Iryna Vereshchuk announced an agreed nine humanitarian corridors for Sunday via a Telegram post. The news comes as thousands of people desperately try to flee Ukraine's east in anticipation of a major battle in the Donbas.
One corridor will run in the Donetsk region from Mariupol to Zaporizhzhia, by private vehicle only. Three other corridors have been established to the Zaporizhzhia region from Berdiansk, Tokmak and Energodar, running by both bus and private transport. Five corridors will be open in the Luhansk region, Vereshchuk detailed.
There is no corridor from the southern city of Melitopol, which is under Russian control.
— Natasha Turak
Russia seeks to rebuild troop numbers with retired soldiers, U.K.'s MoD says
Russia's military is aiming to increase its troop strength with soldiers discharged in the last decade after suffering heavy losses in its invasion of Ukraine, the U.K.'s Ministry of Defence said in its daily intelligence update on Twitter Sunday.
"In response to mounting losses, the Russian armed forces seek to bolster troop numbers with personnel discharged from military service since 2012," the bulletin read.
"Efforts to generate more fighting power also include trying to recruit from the unrecognised Transnistria region of Moldova," it added.
NBC could not immediately verify the report.
— Natasha Turak
Zelenskyy renews call for immediate embargo on Russian oil, says Ukraine can't wait
Ukraine's president has renewed calls for the "whole civilized world" to immediately ban Russian oil as "Ukraine does not have time to wait."
In his nightly address, Volodymyr Zelenskyy said: "Action must be taken immediately... And the oil embargo should be the first step."
It must be carried out "at the level of all democracies, the whole civilized world," he said. "Then Russia will feel it. Then it will be an argument for them — to seek peace, to stop pointless violence."
Zelenskyy has been pressing world leaders to impose a full embargo on Russian energy for weeks now.
"Oil is one of the two sources of Russian self-confidence, their sense of impunity," he said in the late night address. "Another source — gas — will also be shut down over time. It's just inevitable."
But the Ukrainian leader stressed the urgency, saying that "Ukraine does not have time to wait. Freedom does not have time to wait."
— Joanna Tan
Zelenskyy calls on other countries to follow UK on increasing aid
Ukrainian President Volodymyr Zelenskyy called on Western nations to increase their support for the embattled country after British Prime Minister Boris Johnson pledged more military and financial aid.
The two leaders met in Kyiv earlier in the day, leading Britain to increase support for the country.
"It's time to impose a full embargo on Russian energy, to increase the supply of all weapons to us," Zelenskyy said.
—Jessica Bursztynsky
Copyright CNBC