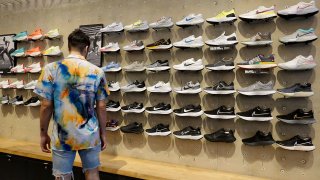 Annual spending among teens is down 1% compared to last fall, according to a Piper Sandler survey.
Nike, American Eagle and Lululemon are among the most preferred brands among teens.
The age group is shopping more at off-price retailers such as T.J. Maxx and Marshalls, and less at specialty stores and discounters such as Target and Walmart.
Teens are a notoriously fickle bunch — but the group is also often on the leading edge of many trends the rest of us eventually adopt.
In many ways, the cohort's spending habits reflect those seen in the U.S. at large.
Teens' self-reported annual spending is down 1% to $2,316 compared to last fall, and down 4% from the spring, according to Piper Sandler's biannual teen survey released Tuesday. Interestingly, male teens report spending 11% more than last fall, while females are spending 8% less.
High prices appear to be weighing on teens as much as they are on other age groups in the U.S. When asked about the biggest political and social issues today, inflation was second behind the environment — the economy was fifth.
When teens are spending, 37% said they are using funds earned from a part-time job, while 62% said parents contribute to spending.
One company reigned among teen spenders. Despite a rocky financial performance recently, Nike remains the favorite brand for apparel and footwear for both male and female teens for the 12th year running in the survey that has been conducted for 22 years. Other fashion and beauty brands have been moving around in preference during that time.
Clothing and apparel spending falls
Teens are spending 4% less on clothing compared to last year, down to $563 per year. Females are outspending males by about $180, slightly less than the difference in the spring version of the survey.
After Nike, American Eagle and Lululemon are the second- and third-most preferred brands among teens, the same as in the spring. While Shein moved up to the No. 4 spot from No. 5, overtaking H&M, the company's market share fell 1 percentage point. 
Teens are also putting less money into footwear. Spending dropped 3% to $305 a year. Males outspend females on shoes by about $80 a year.
Converse held the spot for the second-most favorite brand behind Nike but dropped in market share by 1 percentage point. Adidas held the No. 3 spot, and New Balance gained 2 percentage points of market share to become the fourth favorite brand. It surpassed Vans, which lost share and fell to the No. 5 spot.
Crocs and Crocs-owned Hey Dude come in at No. 6 and No. 7, respectively. On Running emerged in the top 10, claiming the No. 8 spot. Birkenstock, which is set to go public this week, did not make the top 10, and hasn't for at least the last four surveys.
Teens are shopping more at off-price retailers such as T.J. Maxx, Ross Stores, Marshalls and Nordstrom Rack, as well as online. They're buying less at specialty stores, discounters such as Target and Walmart, outlets and secondhand options.
Amazon dominates as the online shopping site of choice. Shein comes up second, but with just 7% of share compared to Amazon's 59%. StockX and Temu moved into the top 10 after not making the list in the spring. Princess Polly and GOAT fell out of the top 10.
When teens were asked what the top fashion trends were in school, "leggings/Lululemon" held the top spot for females as it has for at least the last four surveys. It was followed by crop tops and jeans at No. 2 and No. 3, respectively. They rose from the No. 4 and No. 5 trend in the spring, as UGG Australia boots dropped from second-most named trend for females to sixth. "Baggy/saggy pants" were the fifth-most named trend for females.
When asked about top trends, males named "Nike/Jordans" as No. 1, as they have for at least the last four surveys. Athletic wear was second, and "baggy/saggy pants" was third for male fashion trends. Hoodies fell to fifth from second in the spring, and short shorts popped up at No. 9 as a top trend for males in school.
Beauty booms
Teens are spending $324 a year on beauty, up 23% from last year. The jump was led by a 33% increase in cosmetics, marking the highest spending level in the category since 2019.
In cosmetics, e.l.f. remains the top makeup brand, and gained in share from the spring and last year. Selena Gomez's Rare Beauty held the No. 2 spot and gained share over last year. Maybelline held the third spot. 
Skin care spending grew 19% over last year, and CeraVe was the top skin care brand. The Ordinary, owned by Estée Lauder, comes in second and L'Oreal-owned La Roche-Posay gained two spots to land at No. 3.
Fragrance spending, meanwhile, grew 14% over last fall. Bath & Body Works is No. 1 in the category, but its market share fell 7 percentage points from last year. Hair care spending increased 5% from last year. Olaplex was the favorite brand, though it held the lowest share seen in this survey. 
Teens are shifting where they buy beauty. Sephora unseated Ulta as the top destination for beauty for the first time in five years. Both Sephora and Ulta have shop presences within other major retailers' stores, at Kohl's and Target, respectively.
Target, Amazon and Walmart make up the top five in the beauty category. T.J. Maxx made the list at No. 10 for the first time in at least the last four surveys. 
Methodology: Piper Sandler's survey results come from answers from nearly 9,200 teens with an average age of 15.7 years old, surveyed in 49 U.S. states with an average household income of $70,725.
Copyright CNBC