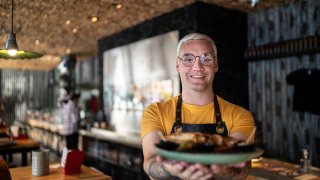 LGBTQ small business owners are having a difficult time getting back to business pre-pandemic.
Just over 20% are having a hard time finding employees, according to a new CNBC + Acorns and NGLCC Small Business Owner Financial Health Survey. The lack of workers could wind up hampering their efforts.
Of those facing a hiring crunch, more than 42% blame unemployment benefits.
LGBTQ business people aren't the only ones unable to attract employees. In fact, overall, the number of all small business owners struggling is higher. A record 48% reported unfilled job openings in May, according to the National Federation of Independent Businesses.
There has been an ongoing debate over whether government benefits, like the extra $300 in unemployment, are keeping people out of the workforce. The most recent jobs report for May reflected this, according to some economists.
That comes as 25 states are doing away with enhanced federal unemployment benefits earlier than Sept. 6, the official expiration date. Those states hope to encourage workers to reenter the labor force.
On the other side, those who support the continued $300 benefit argue the move will do more harm than good.
"This will cut aid to nearly four million impacted workers, despite the absence of compelling evidence that jobless benefits are causing problems in the labor market," Heidi Shierholz, senior economist and director of policy at the Economic Policy Institute, argued in a recent New York Times op-ed.
"Instead, we have considerable evidence that it is helpful."
Small business owners have acknowledged there may be more at play than just unemployment. Workers have found jobs in other industries and parents are still dealing with child-care issues.
More from Invest in You:
LGBTQ small businesses don't have succession plans in place
Start-ups boomed during Covid. How some entrepreneurs found a niche
Shoe company Birdies soared during the pandemic and learned a hard lesson
Still, 78.6%, of the LGBTQ small business owners surveyed think more people will look for work in September when benefits run out.
They are also optimistic about the future of their businesses: 78.1% said they expect to make a full recovery in 2022. Nearly 22% said they were very confident about the economic recovery ahead and almost 43% were somewhat confident.
—CNBC's Greg Iacurci contributed to this report.
Register now: Invest in Pride: Ready. Set. Grow. featuring Suze Orman. She will discuss the most pressing issues currently facing small business owners and answering their questions about how they can manage their personal and business finances.
SIGN UP: Money 101 is an 8-week learning course to financial freedom, delivered weekly to your inbox.
Disclosure: NBCUniversal and Comcast Ventures are investors in Acorns.
Copyright CNBCs - CNBC